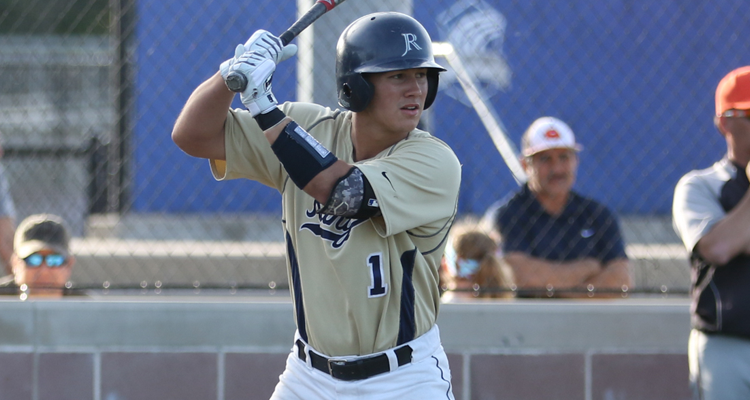 The Rangers entered district play in mid-March with a record of 10-8, looking to close out their regular season strong.
They had their eyes set on an 8th consecutive district crown, but sadly were unable to continue the streak. First, the varsity baseball squad faced the Coppell Cowboys on March 14th and 17th, falling in both games with final scores of 0-5 and 2-5. Senior pitchers Miles Okamoto and JJ Montenegro were unable to hinder a potent Cowboys offense, but put forth a strong effort in both outings.
Junior Paul Gramling described it as a "tough matchup… We had not really found our stride yet so we lost both games to them."
Next, the Rangers faced the Richardson High School Eagles and the Skyline Raiders to close out March.  The Rangers went a perfect 4-0 in the 4 games against those schools, scoring a combined 38 runs while holding their opponents to just 3 runs over a 4 game stretch!
Over the course of those 4 games, Jesuit wielded pitchers Heath Vankirk '17, Tyler Murrah '18, and Montenegro.  Vankirk was stellar in his pitching, allowing 0 runs in both of his starts while leading the offense to score a combined 23 runs in the games he played.
Gramling gave credit for the wins to the outstanding pitching rotation, saying, "We were able to put together a lineup that started to work and we were able to get on a roll."
Coming off 4 great games, the Rangers looked to continue their red hot play in early April against the JJ Pearce Mustangs, one of the best teams in the district.  The Rangers split their two game stand, losing the first game 2-6, but bouncing back just 3 days later for a tough 3-1 win.  Vankirk had 6 strikeouts on the mound, and junior left fielder Bijan Kamalipour recorded a pair of hits, a run, and an RBI in the game.  The Rangers capitalized on their win by winning another two games in district against Lake Highlands, winning 6-0 and 7-3 respectively.  Senior Mark Ready had great performances in both games, totaling 4 runs, 3 hits, 2 RBI's, and a walk.  
Jesuit's schedule had them pitted against W.T. White and Richardson Berkner to close out their regular season.  In the 4 game stretch the Rangers faced both teams, they dominated the opposition, going a perfect 4-0, totaling 33 runs, while only allowing 2 runs.  The high-powered offense and a potent pitching rotation carried Jesuit to the 4 victories.  Closing out the Jesuit season, Tyler Murrah '18 pitched 7 innings with 7 strikeouts, concluding his season with a perfect record of 6-0.  JJ Montenegro also tallied 7 strikeouts in his start against the second game against W.T. White.
The Rangers concluded their district schedule by finishing in 3rd place overall, behind the first overall Coppell Cowboys and then the JJ Pearce Mustangs.  Though Jesuit was not able to continue the long streak of district titles, they finished their district season in great form, going 11-3 over the stretch, winning their last 7 games.   
Looking ahead to the postseason, Gramling thinks they "need to execute and make as little mistakes as possible.  We also need our offense to start picking up a little bit and score more runs than usual as we start to face better teams."
The Rangers won their first playoff series against Sachse, winning 2 games to 1.  They begin their second round series against Rockwall Heath on Thursday at Jesuit.  Be sure to come out and support your Rangers as they look to defend their state title!