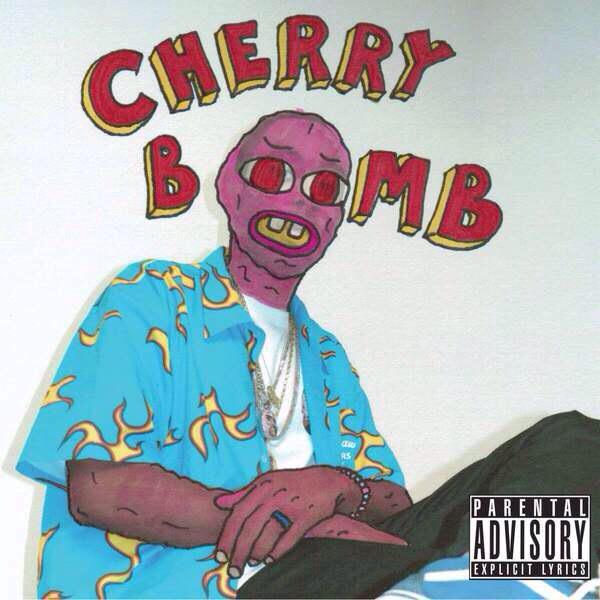 Tyler, The Creator
Cherry Bomb Album Review
Odd Future Records/Sony
Released April 13, 2015
Genre: Alternative Hip Hop, Hardcore Hip Hop, Neo-Soul
https://open.spotify.com/album/621OhgnZJ7Pz8iUazct1In
Tyler, The Creator's immaturity can be considered as one of his strengths, and at times one of his weaknesses. The Odd Future kingpin returns with his fourth studio LP, Cherry Bomb, and the result finds the rapper advancing in terms of musicianship and instrumentation, yet at times he falters in terms of songwriting and production.
The one difference most listeners will take away from this project is Tyler's style, which introduces a Neo-soul/rap rock change of pace. There are times when this formula works, such as the tastefully raucous "DEATHCAMP" and the smooth and soulful "F***ING YOUNG/PERFECT" which finds Tyler battling his lyrical themes by vacillating between being serious and nonsensical. Whatever the level of balance displayed, Tyler nonetheless brings his personality in, ushering in his vulgar and raunchy lyricism, to complete the package.
Alas, there are moments where the production operates on opposite sides of the spectrum. The vociferous, nauseating, and unnecessarily loud "CHERRY BOMB" is one of the loudest and most distorted sonic experiences you will ever encounter in this year's hip hop music. While "THE BROWN STAINS OF DARKEESE LATIFAH PART 6-12 (REMIX)" features some cool "watery" samples along the beginning and finds Tyler's lyricism sharp and witty. "SMUCKERS" is another strong track in album; featuring Lil Wayne and Kanye West, the trio bring forth one of the most self realized moments as Tyler's lyricism, production, and instrumentation reach a creative and admirable peak.
Yet like all artists, one must grow up and become mature. It's true that this immaturity and fun-natured attitude is what makes Tyler, hell all of Odd Future, fun and appealing. But as artists on the OFWGKTA start to grow up (Earl), it's as if Tyler is being left behind, reliving the glory days. The moments where Tyler experiments with better lyrical themes, and Neo soul instrumentation hint at a more straightforward and mature direction, but Tyler resorts back to his usual rhymes and rhythms.
Four albums in for an artist like this, Cherry Bomb isn't that unusual. The main problem is that the one thing that seems to be holding Tyler back from maturing and trying new styles, is himself. I heard a quote once, and I apologize for not citing him/her correctly. It goes like this: "A childish adult is a child that survived"; perhaps Tyler is a survivor. Perhaps not.
FAV TRACKS: DEATHCAMP, FIND YOUR WINGS, THE BROWN STAINS OF DARKEESE LATIFAH PART 6-12 (REMIX), F***ING YOUNG/PERFECT, SMUCKERS, OKAGA, CA
LEAST FAV TRACK: CHERRY BOMB
Score: (5.7/10)