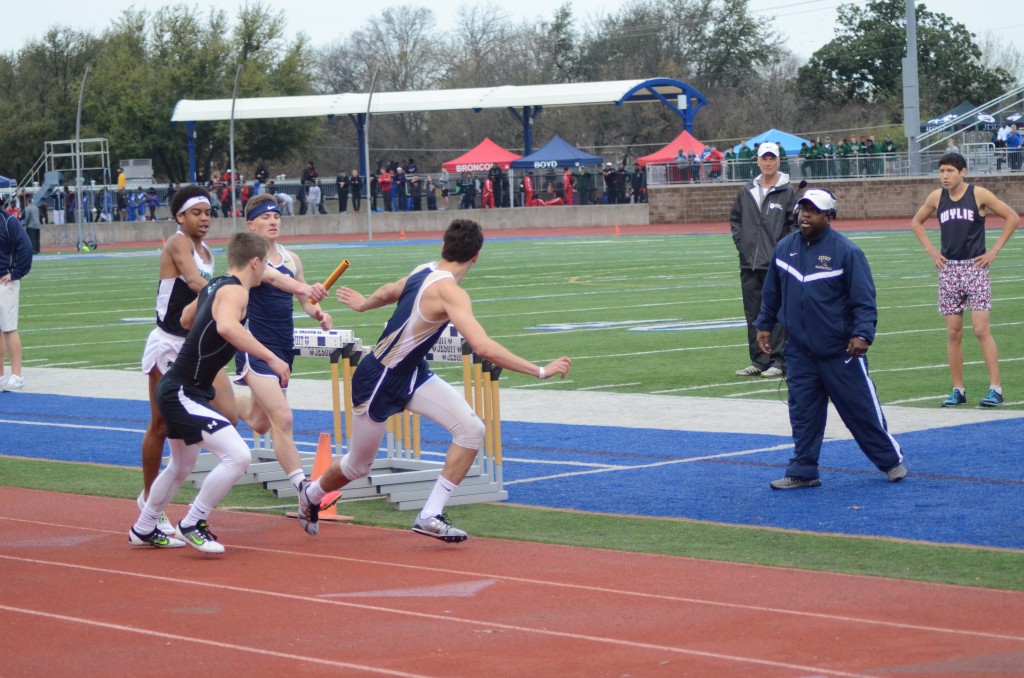 The goal had been clear since day one: win District. However, this ambition was not taken lightly. It was enforced by the track and field seniors, who were anxiously anticipating a fourth straight district championship, one for every year they attended Jesuit.
Before they could bask in the glory of victory, though, the athletes had to sacrifice their Easter Breaks to participate in one of two meets. On April 2nd, a group of pole vaulters, throwers, and long distance runners traveled to Prosper to participate in the Dan Christie Relays.
Notable performances included Connor O'Neill '17, Connor Garvey '16, and John Garvey '16 placing second, third, and fourth respectively in the 1600m race. Vance Holub '17 also placed third in the varsity shot put competition, while Dan Carver '15 placed fourth in the varsity pole vault.
Later that weekend, on April 4th, more of the runners participated in the Longhorn Classic at W.T. White. The 4x400m team finished at an outstanding second place. Furthermore, Matt Helm '15 finished 4th in the 300m hurdle race and 5th in the 110m hurdle race.
Coach Doug Robinson had this to say about his team's performance at the two Easter Break Meets: "It's difficult to assess the team's performances at Prosper and WT White since we split the team and were not at complete strength. However, we did see some encouraging individual performances in the throws, jumps, hurdles, and distance events. As the District Championships revealed, those events were the big point-getters that propelled our team to a District title."
On April 15th and 16th, the Jesuit Track and Field Team competed on its home turf and won its fourth consecutive district championship. Jesuit placed first in seven different Varsity events and sent sixteen athletes to the Area meet, which required a fourth place finish or higher. However, the accomplishment was a team effort, requiring points from every event, ranging from pole vault, to shot put, to the 100m dash.
The team gained most of its points from four categories of athletes: the jumpers (pole vault, high jump, long jump and triple jump), the throwers (shot put and discus), the distance runners (1600m run and 3200m run), and the hurdlers (110m hurdle race and 300m hurdle race).
The jumpers dominated the competition as Jesuit placed first in all but the triple jump. First, the pole vaulters swept the competition with Dan Carver placing first, Jack Whelan '16 placing second, and Jake Elrod '18 placing third. Then, in the high jump, Shawn Regan '16 jumped 6'2'' took home first, while Chris Cantrell jumped 5'11'', which earned him fourth place. In the long jump, Regan stunned again, placing first, followed by Cantrell in second, and Calvin Fields '15 in fourth. The success continued in the triple jump competition as Lucas Kincade '17 finished in second place. All athletes mentioned moved on to the Area meet.
Whelan attributed the vaulters' success to "lots of practice and great coaching." Both Whelan and Carver are hoping to move on to the state level. According to Whelan, "[Clearing] 14 feet gives me more than a decent chance at moving on to state, so I'm hoping I can make that happen."
Next, the throwers continued their usual dominance. Adam Bartlett' '15 and Nmesoma Nwafor '15 impressed as Bartlett took home first in discus and second in shot put, while Nwafor placed fourth in both events.
The distance crew came to play as well. Connor O'Neill won both the mile and two mile runs, while Connor Garvey placed second in the same events, and John Garvey placed third in the two mile run and fourth in the mile run.
Finally, the hurdlers added some points, led by senior Matt Helm. Helm finished fourth in the 110m hurdle race and first in the 300m hurdle race. Also in the 300m hurdles, Ethan Brownlee '16 placed second, and Joey Parks '16 placed fourth.
Pleased with his district performance, Matt Helm said that becoming district champion in the 300m hurdles was "one of my greatest accomplishments while being here at Jesuit." He also said that he was glad to "have another chance to run the [110m hurdle race] again" because he was not as pleased with that performance.
"I attribute my success to my hurdle coach, Dougie," said Helm. "He knows how to make me work hard and makes me want to get better every day. He encourages me to want to be a better athlete and leave it all on the track, and I have him to thank for my success."
Other athletes that moved onto District include Esteban Garcia '16, who placed fourth in the 400m, Ethan Brownlee, who placed fourth in the 800m run, and members of the 4x200m relay team, Garrett Amy '15, Calvin Fields, Sam Musso '16, and Stephen Rodrigues '17.
Coach Robinson was confident in his team's ability in the Area meet and beyond, saying, "Moving forward to Area and Regional Championships, we want to continue the progress of our training to be peaking at the big meets. Our goals are to maintain focus, trust the training we have put in, and go be champions."
While the athletes certainly celebrated their victory, many of them returned to practice, looking to move beyond the Area meet and hopefully all the way to State.