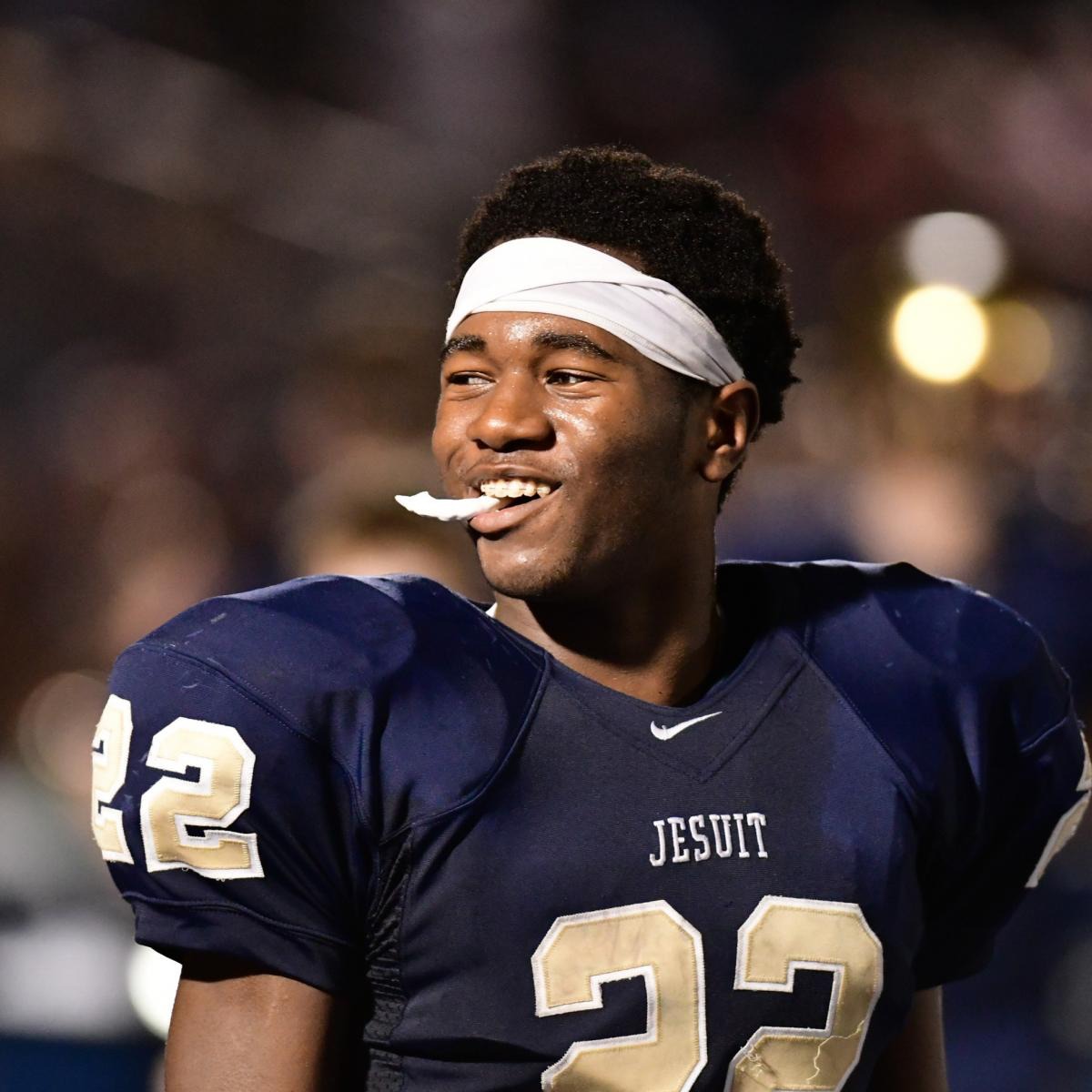 "TOUCHDOWN!" yell the commentators; the crowd erupts, and the Jesuit Varsity Football team celebrates. It is EJ Smith, the team's star running back, catching a touchdown pass to take the lead in Jesuit's first home football game! Currently a junior at Jesuit, EJ has caught the eye of many around Dallas and around the country. I was lucky enough to sit with EJ and talk about his football career and get to know him a little better.
Q: What age did you start playing football and why?
A: I played flag football before tackle obviously. I guess when I started playing tackle football I was 8 years old. I wanted to play it because I wanted to try it out. I'm an athlete so I love sports. So when I hit 8 years old I begged my dad if I could play tackle football. So I jumped in. I played for two years then stopped playing, then came back in 6th grade. Then I started taking off from there.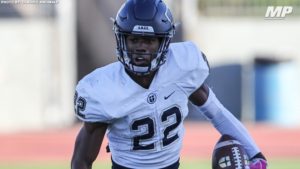 Q: What is something that you think people don't know about you?
A: Probably that I'm a big movie person, honestly. I'm very open to myself; I'm quiet sometimes but everybody knows me as a goofy person. But at home I'm quiet. But yeah, I'm a movie person; I love movies. I can watch movies all day.
Q: What movies do you like?
A: I don't really have a specific movie, but I like Back to the Future. I like Die Hard; that's one of my favorite movies. Kind of old, but you know the 90's movies were probably one of the best times. Something my family does for Christmas, all of my cousins, we watch scary movies. That's all we do: watch scary movies. Yeah, you know [those are] fun moment[s]. But most of the time we just criticize the movies, just [to] see if it was scary or not. Probably one of my favorite scary movies is Insidious. That was a good movie.
Q: What other sports do you like to play besides football and track?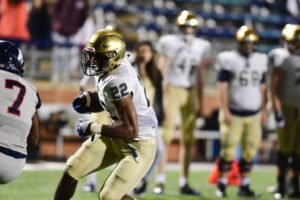 A: Sadly I had to stop playing them, but basketball and baseball were some of the sports I liked to play a lot. I played baseball for a little bit then I stopped playing basketball after my freshman year.
Q: Who is your favorite football player and mentor?
A: I don't know. I get information from everywhere really. I don't have a specific favorite player at all. I like certain skill sets that they have. But my favorite players would probably be Saquon Barkley, Todd Gurley, Alvin Kamara, Marshall Faulk, and LaDainian Tomlinson. Yeah those players [are my favorite].
Q: Do you have a routine?
A: Yes, so Thursdays we have film in the afternoon. After film is over, I drive to the chiropractor. I'm there for like an hour then I go home. [Then] study, I make myself study for an hour. Then I eat and then I take an ice-bath for about 20 minutes. Then I just watch film for a little bit. Then I pray and go to bed. The next day I blast my music. [Friday is the] only day I blast my music in the mornings. Then in the afternoon I go to a quiet spot, or a place where I can chill out for a little bit, without any noise. And before games I take ice-baths again.
Q: What does it feel like to go through an ice-bath?
A: First time it's terrible. It hurts. It's like numbing so if you move it gets really cold so you have to sit still. Then after you do it repeatedly it's not that bad. Your body is numb when you get out. There's a lot of tingling. The worst is that after [you take an ice-bath], your feet hurt because there is not enough blood flow yet. But other than that you feel really loose afterwards.
Q: What kind of music do you listen to?
A: Rap, I listen to rap. A little bit of country, but not that much. Yeah that's really it.
Q: Who is your favorite rapper?
A: A$AP Rocky and J Cole. Yeah those are my two favorite [rappers].
Q: What was your favorite football game that you've played in?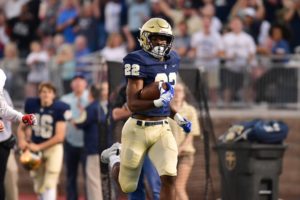 A: I guess it would be the DeSoto game. My sophomore year was my first game. That is probably one of my favorite games. It was a very important game for me. It was a test I had to take and thank God I passed it. God helped me out. It was a very memorable moment for me. That was my first varsity game. Leading up to that game I watched film all the time like during the summer. I wrote it down, sat in my room for an hour or two just going over the film. My dad, everybody, my whole family and everybody just around the area was talking about the game [and] wondering if I could do it, play up in varsity. It was a test. I enjoyed that game a lot.
EJ finished with 4 touchdowns and 139 yards versus DeSoto on September 1, 2017.
Q: What was the hardest game you ever played, mentally and physically?
A: Probably Arlington [this year]. It was different, that's really all I can say. It was really different. Competition was the same, it wasn't just the team. It was the same other team we played before, it was just a different time.
Q: What is your motivation in football?
A: My family. Well, everybody knows who my dad is, but at the same time I want to be able to be that person who provides for my family also. You know I put them on my shoulders and I go take off, and I put that on the field. I do it for my family.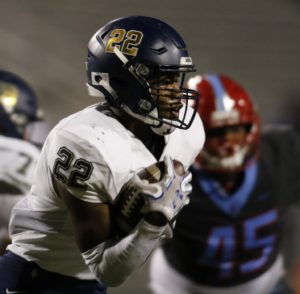 Q: What are your plans for next season, your last year here at Jesuit?
A: You know I just want to ball out. Do better than I did last year.
Q: Being the son of Emmitt Smith, a Hall of Famer, 3 time Super Bowl Champion, and possibly the greatest running back of all time, how do you deal with all the pressure of playing football?
A: At this point I just started to block it out really. You know I'm here to make my own name and people think I'm here because of who my dad is, but I put in the work and most statements aren't true. And even if [the statements were true], I'm setting the stage for myself and hopefully as the years go by I keep on succeeding in what I love to do. That's my goal, to be better than my dad. Not just at the position, but as a whole and as a player. You know I have the chance to, I have him as my mentor and he just wants the best for me.
Q: What do you think makes you different from your dad, football wise?
A: I'm able to run routes. My dad wasn't able to do that as much you know; he got the ball from the backfield. Running the whole route, he wasn't able to do that. He may have known what it was, but he just wasn't that type of player. And for me being able to do both is very helpful.
Q: Do you have any advice for people who want to pursue football?
A: You know just make sure you're having fun. Don't be scared of contact, because once you're scared, you can't fully reach your potential. You know as a kid you don't think you just go play. So just make sure you're having fun. If you love it, you love it. Just put in the time and the effort and you'll see the outcome.
EJ will be, as he stated, "ball[ing] out" next season. Be sure to support him and the Ranger Football team next year!
Stayed tuned to The Roundup for more news and GO RANGERS!