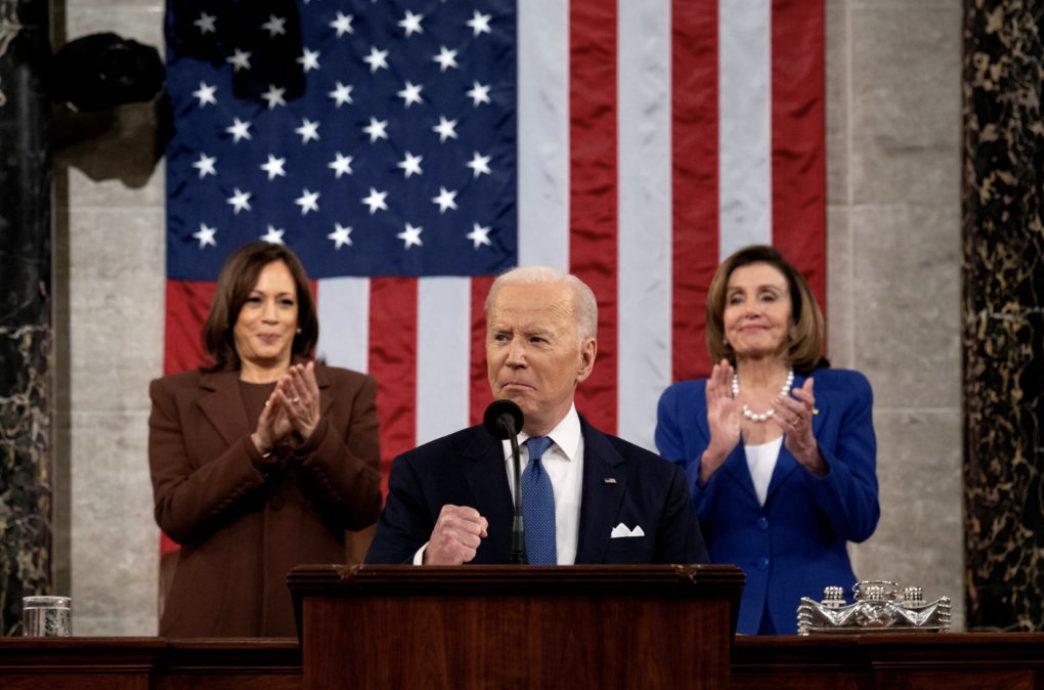 On Tuesday, Joe Biden gave his first State of the Union address of his presidency.
An Overview
Ukraine Conflict
Biden jumped right in, declaring the United State's support for the Ukrainian people. He began with sentiments of his admiration for the incredible strength displayed by the Ukrainians. Then, in a non-partisan moment, Biden rallied the support of his Republican and Democratic colleagues to stand with him in support of the Ukrainians. Thus, regardless of opinions about the administration's handling of the conflict as well as factors leading up to it, everyone can admire his methods of addressing it.
Additionally, Biden made popular remarks in support of our wonderful military and veterans. However, heckling comments from the crowd hindered the appeal as they remarked upon Biden's disastrous pullout from Afghanistan last year.
The Rundown
Biden declared that Americans no longer need to fear COVID and could rather return to their normal lives. He also promoted new alternative treatments such as anti-viral pills separate from just the vaccine. Biden criticized the tax cuts of the previous administration, misleadingly calling them support for the mere 1%. Thus, Biden pushed his plan to instead sharply raise taxes on wealthier Americans and corporations while giving his normal spiel about no American under $400,000 receiving an increase. Biden pushed for a decrease in the price of prescription drugs such as insulin. Ironically, the prices for these drugs were actually much lower under the Trump administration. This is due to a total repeal of Trump-era executive orders including ones disallowing price hiking of insulin.
Nonetheless, it can be achieved, ways to make these essential drugs affordable to Americans must be sought after. Additionally, Biden touted the building up of United States infrastructure. Especially in the EV and renewable energy market. Biden also pushed for an agenda of unity to unite a sharply divided political environment. In doing so, Biden requested help in passing a multitude of legislative measures. Biden also touted his record jobs numbers for his first year in office. While they may be skewed due to economic conditions resulting due to the pandemic. These are very strong numbers as of late.
The Unexpected
Surprisingly, Biden's intentions contrasted what might be originally assumed from the leader of the Democratic Party. Currently, a controversial point amongst the party is that of the police. While Biden has never openly supported defunding the police movements, he certainly removed any speculation as he denounced the act. Instead, Biden demanded that we must "fund the police," a point which did more to anger far-left members of his base than rally support for himself. However, this was not the last of Biden's uncharacteristic remarks as emphasized a need to manufacture American, a repetition of his use of Trump-era talking points. Furthermore, another portion of the speech could almost have been taken straight from Trump's mouth as he expressed that we must "secure our border," a shocking declaration from an administration marked by originally relaxed border regulation.
However, while it may already be glaringly obvious, under Biden so far, Chinese imports have greatly increased. So, while a revival of American manufacturing would be applauded across the political spectrum, his desire to do so is far more of a wish than anything reflecting the current state or trajectory set by the administration so far. Additionally, his claim that they will secure the border creates a complete one-eighty from his formerly relaxed enforcement. However, this should come as no surprise because of the absolute failure at the border following Biden's inauguration. This stemmed from inadvertently encouraging immigration as well as relaxing Trump-era restrictions notably creating a persistent crisis on our southern border for the duration of his term. Thus, it was clear they needed to address the issue in a different manner going forward whether or not it would come off as hypocritical.
Takeaways
Biden's State of the Union marks a pivot point for the Democratic Party. With plummeting approval rates, and fears looming over the midterms, the Democratic Party led by Joe Biden seems on the surface to be shifting their approach. Whether this is a legitimate shift or mere theatrical jargon, his approval rating did increase a decent amount following the speech.
While Biden stated the traditional claim of the State of the Union is "Strong," it is easy to disagree.
The Real State of Our Union (Opinion)
Rather than remarking upon bountiful accomplishments, Biden spent most of his speech merely talking about things they would do in the future. This is unsurprising as there is little to praise upon. Since Biden took office, despite inheriting Trump's Project Warpspeed with multiple already fully produced and distributed vaccines, Biden's administration saw the most deaths due to COVID in a year so far. This came after his now hypocritical attacks at Trump about not having a plan to fix COVID. Thus, while the Trump administration produced and successfully set up mass distribution of the vaccine, it appears it was really Biden who didn't have much of a plan. Despite a decent turnaround in the past few months, Biden's inheriting of a disheveled economy poised for instant success, and his subsequent humiliating job numbers and recovery metrics demonstrated early that his technically recovering economy is actually a major disappointment.
Additionally, inflation rates are through the roof following Biden's rise to power. Biden's solution, "lower prices," is more a statement of what it would mean to lower inflation than an actual plan of action to do so. In fact, controversial moves like shutting down the Keystone Pipeline, which would help to ensure energy independence for the U.S., have contributed to an astronomical rise in gas prices countrywide.
The Political Future
It appears on the surface that Biden has made a somewhat valiant attempt at pivoting the course of the party's political agenda, but the question remains if it will be enough ahead of the looming midterms. Since Biden's pullout of Afghanistan, his and the party as a whole's polling and approval ratings have plummeted. This leaves a murky outlook for Democratic odds of maintaining control after the elections. Furthermore, defeats in the house and the senate would ultimately squander any chance of Biden passing further partisan legislation such as pipe dreams like his now-defunct Build Back Better plan as well as giant recovery packages piling on huge amounts of the national debt.
Sources
Full Speech – https://www.whitehouse.gov/briefing-room/speeches-remarks/2022/03/01/remarks-of-president-joe-biden-state-of-the-union-address-as-delivered/
https://www.nbcnews.com/politics/meet-the-press/poll-numbers-are-pointing-midterm-shellacking-democrats-n1287624
https://www.natlawreview.com/article/recap-president-joe-biden-s-state-union-address
https://www.diabetes.org/blog/understanding-presidential-transition-and-what-it-means-insulin-pricing
https://www.npr.org/2022/03/04/1084463809/biden-approval-poll-ukraine-economy