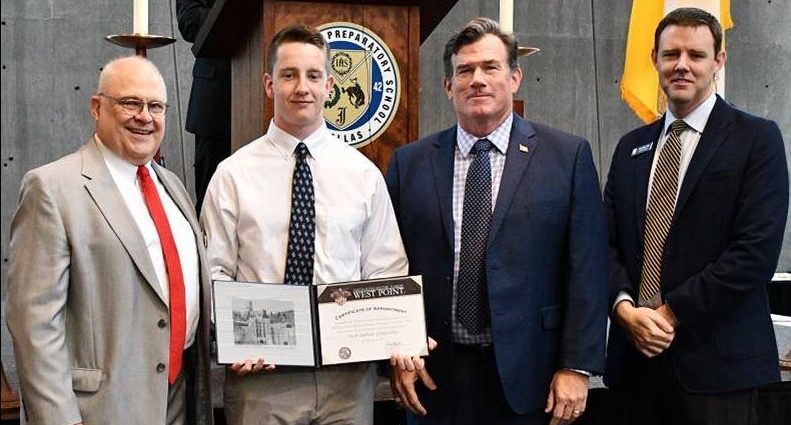 At Jesuit, some college applicants seek more than a regular college experience. Such is the experience provided by America's service academies, which go beyond typical academics and campus living. Schools like the Naval Academy, Air Force Academy, and West Point revolve their academic experiences around specific core values, such as discipline, honor, integrity, duty, and service, to curate the best possible U.S. military officers.
This year, senior Jack DeGroote '22 has received appointments to the United States Military and Naval Academies and will be attending West Point starting this summer. His extracurriculars and achievements have provided him with the discipline and leadership required to attend one of these academies. During his time at Jesuit, Jack has had outstanding academic performance, served in many capacities as a strong leader, and performed very highly in athletics. 
With only an 8% acceptance rate, earning a West Point Appointment is very difficult. Firstly, to apply for an appointment, one must also apply for and receive a nomination from a member of congress. They must submit SAT/ACT scores, a list of their extracurricular achievements, a transcript, essays, and four letters of recommendation for the academy and nominations. The applicant must also complete a rigorous fitness test known as the CFA, conduct interviews, and pass a medical screening by the Department of Defense Medical Evaluation Review Board.
I sat down with Jack to learn more about his motivation behind attending and the process he followed to apply.
Q: When and why did you decide you wanted to pursue school at a service academy? 
Jack: "For me, it started in seventh grade. My grandfather was killed in Vietnam on March 30, 1966, and I visited his grave at Arlington National Cemetery with my dad in 2017. I was taken to his grave by Lieutenant Walker, who assured me that my grandfather knew his 'why' when he gave his life. Standing in front of his grave, I, too, knew my 'why,' and I decided that day that I was going to serve in the Army. Having seen my grandfather's tombstone, I turned to my dad that day and told him that I wanted to go to West Point."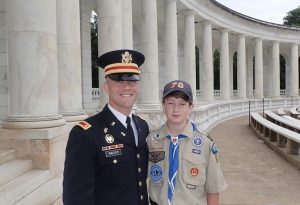 Q: When did you start the application process, and where did you begin? 
Jack: "I started the spring of my junior year by talking to as many West Point graduates and Cadets as possible. I wanted to learn as much as I could about being an effective officer in the Army. After that, the first step that I took was applying for a nomination from my Congressman and my Senators." 
Q: What are the essential characteristics and attributes of someone looking to apply?
Jack: "The attributes that make a strong Army officer are the same attributes important for admission to West Point. These attributes include strong character, fitness, intelligence, and leadership."
Q: How important are the nominations from your Congressman or Senator? How did you receive them? 
Jack: "You have to have a nomination to be considered for admission to a service academy. You apply by submitting essays, ACT or SAT scores, a resume, your transcript, letters of recommendation, and other additional information. I was nominated to West Point by both Senator Cornyn and Congressmen Allred. I received phone calls from both congressional offices to notify me of my nominations. Picking up the phone for those unknown numbers to hear that I was nominated are memories I will never forget."
Q: What is the CFA? How difficult was it?
Jack: "The CFA is the fitness test required for admission to the service academies. The fitness I gained throughout my years at Jesuit prepared me very well for the test, and I felt confident going into it."
Also, next fall, senior Mark Villalba '22 will be attending the Naval Academy. These young men will undoubtedly exemplify the discipline and strong leadership required to become a part of America's military. We wish Jack DeGroote (West Point) and Mark Villalba (Navy) the best of luck as they embark on these life-changing journeys.