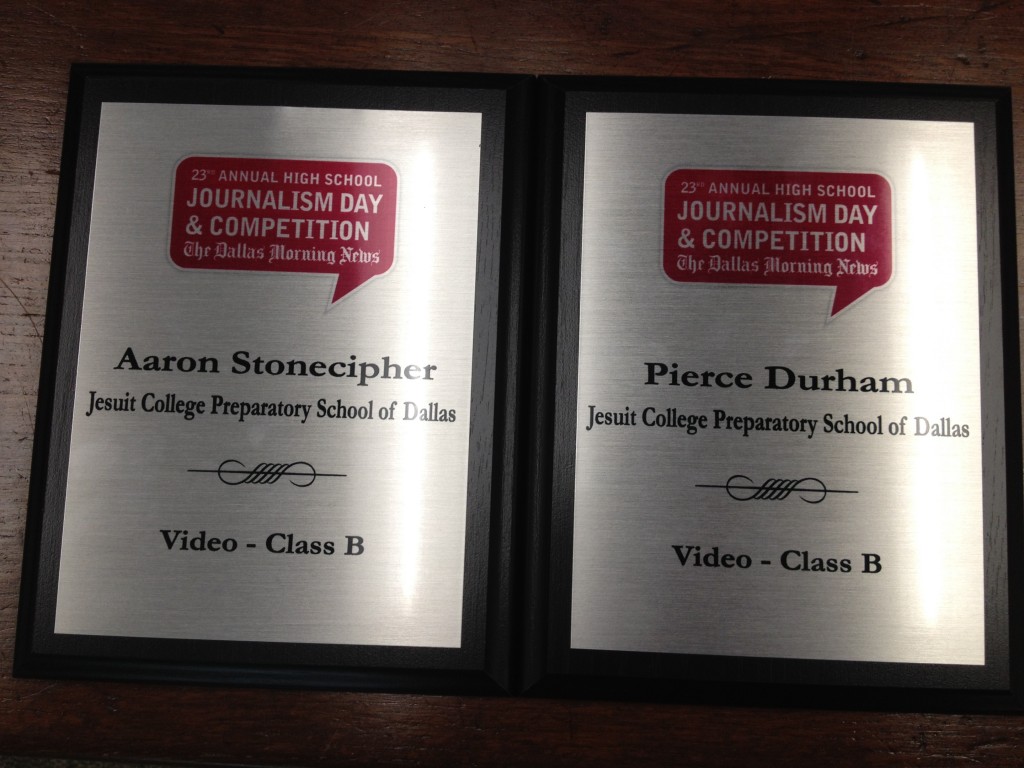 On Thursday, April 17, 2014, The Dallas Morning News hosted its 23rd annual High School Journalism Day & Competition, one of the most competitive journalism competitions in the DFW region. Throughout the day, students attended speeches given by news professionals in Dallas, participated in journalism workshops, and attended the final award ceremony to finish the day off. Over three dozen public and private high schools of all sizes submitted  1,115 entries for 40 different categories this year, all of which were judged by newsroom professionals at The News.
In 2013, headed by Editor-in-Chief Andrew Frank '13, The Roundup successfully submitted its first entries to the competition. After weeks of waiting for results, The Dallas Morning News announced that The Roundup had swept all but one category in photography, and its website received honorable mention (click here to read more). This year, led by Editor-in-Chief Aaron Stonecipher '14, The Roundup was named finalist for Best Editorial and Best Website. After much hard work, we are proud to announce that The Roundup was awarded 1st place for Best Video.
Back at the end of January, News Editor Pierce Durham '14 conducted a video interview with singer-songwriter Andrew Corey '14 where the two discussed Corey's love for music and his future plans. After a brief interview, Corey proceeded to play his original song "Now You're Gone." The footage was recorded by Jesuit Stage & Film, and Stonecipher went on to edit the final film. (Click here to watch)
When asked what it felt like to have received 1st place, Durham said, "It feels awesome … [Jesuit Stage & Film's] equipment took us to a completely new level. But, it was great filming, great effects and an awesome performance from Andrew."
He continued on to say, "I think The Roundup videos are going to be great to come, especially with all of the new technology we have to make it look professional. That has just now emerged as a good source of content for the site, so I'm sure it will only get more creative…it gives a much more personal look into the students than a written profile would. And I think all of the effects that we can now put on the videos will only make them more visually appealing."
In addition to receiving this great honor, Joshua Cobler's '16 editorial on "Why We Need More Ads Like Coca-Cola's" was named finalist for Best Editorial, a first for The Roundup since its online launch in 2010. This editorial spoke about the controversy surrounding the Coca-Cola ad during the 2014 Super Bowl, something that even some senior staff members were hesitant to cover. In addition, this was Joshua's second article, only adding to the impressiveness of this young reporter.
Cobler beamed with pride when speaking about his article, "For me, it's such an honor. I had no idea that my piece would be so well-received, not just by my peers but by such a big name like The Dallas Morning News. But of course, I'm just so glad that I had the opportunity to represent Jesuit and The Roundup in something this important."
When asked what inspired him to write on this controversial topic, Cobler said, "[My] identity has been a very important part of my life. Because my mom is Filipino and my dad is white, I've always had trouble figuring out what I belonged to—whether I was Filipino, white, American, Filipino American, mixed race, or all of the above. So when the Coca-Cola ad aired during the Super Bowl, it really resonated with me. Between some of the people I talked to the day after the Super Bowl, there was a range of opinions on it, from viewing it as un-American and politically divisive to seeing it as a much-needed message. One of my friends in The Roundup told me that I should write an article on it since I found the message of the ad really important, and that was really how I started."
Cobler went on to give much credit to Mr. Burrell, Jesuit's Director of Diversity, saying he bounced many ideas off of him, allowing him to really "identify the crux of what I was saying."
Finally, The Roundup's website was named runner-up for Best Website, a step up from last year's honorable mention. Much of this honor is because of our website manager, Mr. Joe Nava '02. With his hard work last summer and dedication to improving our website all year, The Roundup continues to have a strong online presence.
With all of these awards, The Roundup feels extremely proud of its accomplishments thus far. One interesting fact about The Roundup receiving these awards the past two years is that it stands as one of the few newspapers in the competition that functions without a supporting journalism curriculum. In other words, The Roundup is completely extra-curricular, meaning students volunteer their time after school as reporters and editors to work on this publication. To finish as finalist, runner-up, and 1st place proves just how successful The Roundup has grown to be since 2010.
Congratulations to all The Roundup staff members on their hard work this year. The Jesuit community only anticipates the future awards to come.