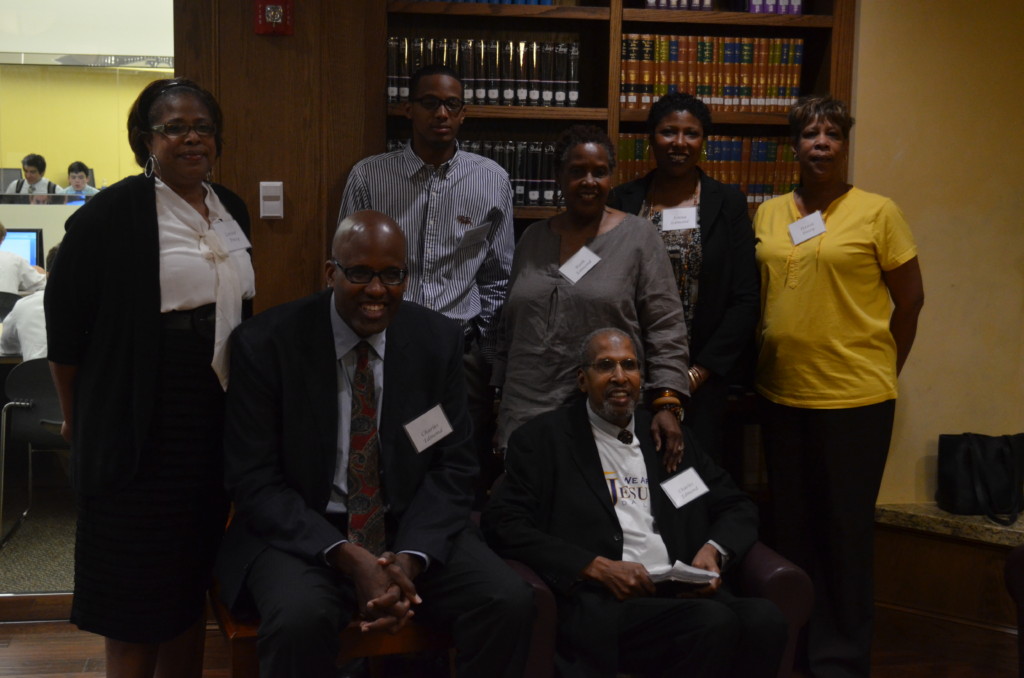 "I called him My Superman. And during his life, he personified the attributes of the Man of Steel."  Ruth Edmond, devoted wife of 53 years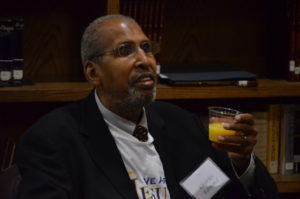 Jesuit's first black graduate Charles Edmond '58 passed into the embrace of God on April 12, 2018.  Battling Parkinsons Disease, he was 77.  He is survived by his wife Ruth, son Charles, daughter Jonna, and two sisters.
The Roundup staff was blessed to have interviewed Edmond and to have recorded his courageous story when in 1955 he entered the white hallways of Jesuit High School, alone.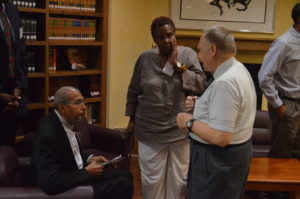 What follows is our tribute to Edmond's historic life, a collection of memories from some who knew him and a catalog of the stories The Roundup published about him.  His life testifies to one well served as a "Man for Others."  We cannot imagine today the journey Edmond experienced in the late 1950s as a black man navigating through a white world of Jim Crow laws and the bravery required to persevere toward a Jesuit diploma, but we need to remember his story and admire and model his gift to our world and to the students who have followed him.  His narrative models the path of Christ, who undoubtedly has welcomed Edmond into his arms, proclaiming, "A job well done, Charles."  And we agree. 
Sheryl Row, Jesuit Archivist, former co-moderator of The Roundup
"I finally met Charles when The Roundup staff and moderators flew to St. Louis in 2011 to interview him for a special article on Jesuit's integration, but I had talked with him and corresponded with him for almost ten years.
Having served for decades at Jesuit, I had often met Arthur Allen, because he had remained active in our school, even becoming a Distinguished Alumnus, but I had never heard of Charles until I began working as the school's archivist, and I wondered about him.  So, I tracked him down, and I am eternally grateful to have met such an inspirational person.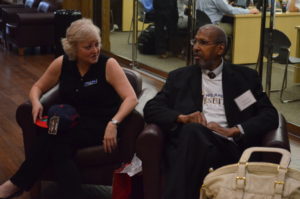 Charles and Arthur entered Jesuit in the same year, Arthur as a freshman and Charles as a sophomore.  So, Charles is our first black graduate, but no one knew him.  I called Charles to ask for his story, and believe me, it was quite a story, as you can read and hear about on The Roundup.
I often hinted that I would love to meet him, but it was not to happen until that eventful trip.  I learned then that Charles had never told his wife, Ruth, or other family members, about those years.  In fact, he never told Ruth that we were talking and corresponding.
I will tell you that as soon as Charles and Ruth entered the hotel where we had agreed to meet, I knew him.  During our long meeting that morning, Charles revealed parts of his life that astonished his wife.  Why?  Those years at Jesuit we're filled with positive experiences, but they were also filled with sadness, fear, and yes, danger.  So, he never talked about that time.
Fortunately for Jesuit, Charles agreed to visit his Alma Mater, where he had decades before picked up his diploma at Fair Park Coliseum, walked home, and never looked back.  Because of that visit, we know his Jesuit story. If you read The Dallas Morning News article about that visit, you will see him in a wheelchair.  Charles had never used a wheelchair before, but he collapsed with emotion in the Jesuit parking space after exiting his car.  Think for a moment about what he must have been feeling that day.
Charles had a visceral sense of dignity and kindness.  He was soft spoken and humble.  He had agreed to attend Jesuit because he knew it was his only way to attend college. He had a dream, and he achieved that dream through hardship and perseverance.
Above all else that I remember is Charles' reaction when I called him to say that Arthur Allen had died.  Ruth told me a few days later that Charles believed, that as the older student, he should have done more to protect Arthur while they were at Jesuit.  But how could he?  Both boys were simply trying to survive those fraught years."
DMN – "The first black student to graduate from Dallas' Jesuit High returns to relive memories": https://www.dallasnews.com/news/news/2012/05/02/the-first-black-student-to-graduate-from-dallas-jesuit-high-returns-to-relive-memories
Fritz Asche, The Roundup moderator
"I found him to be quiet, yet dignified. An unassuming individual that took you at face value without any pre-judgment regarding who you were or what your character was like.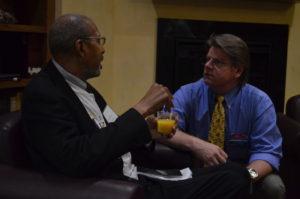 To me he seemed to hold back a long-buried fondness and respect for his time at Jesuit. He was not one to be overly excited about what his time at Jesuit meant and always seemed to play it down. But as I said, I couldn't help getting a sense that he was proud of his time here, what he overcame to be here and what he ended up accomplishing. 
He was a kind and gentle human being that obviously found all of life's joy in his wife and family."
Payton Maher '13, Managing Editor, writer of "1955: Jesuit High School and the Struggle for Civil Rights"
"Charles Edmond gave me a profoundly new perspective on Jesuit during the Civil Rights Movement. During our interview, I immediately noticed how calm and collected he was, recognizing the "mild-mannered" student he described himself as at Jesuit. As he spoke of his mother, who single-handedly raised him as he attended Jesuit, I could see his commitment to making her proud, a commitment that jump started the groundbreaking desegregation of Dallas schools. Mr. Edmond's return to Jesuit after our interview gave an entire generation of students an immediate connection to the advancement of civil rights in Dallas. I am humbled by his perseverance through such a tumultuous and uncertain time in our nation's history."
Clark Durham '13, Editor-in-Chief
"The most rewarding article I worked on during my time on The Roundup was the profile of Charles Edmond. Mr. Edmond dealt with adversity and discrimination far beyond what most of us (luckily) will ever experience. And yet, as he told us his story, there wasn't any animosity or resentfulness in his voice. He faced his tribulations with a quiet strength and resolve like few men I've ever met. His courage paved the way for future generations, and we all owe him a great debt."
https://jesuitroundup.org/news/archives/the-roundup-staffers-hit-st-louis-for-interview/
Audio of our interview in St. Louis, December 2011:
https://jesuitroundup.org/news/profile/alumni/charles-edmond-to-visit-jesuit-for-the-first-time-since-1958/
Charles Edmond's Visit to Dallas Jesuit
https://jesuitroundup.org/series/civil-rights/part-iii-arthur-allen-and-charles-edmond-attend-jesuit-high-school/