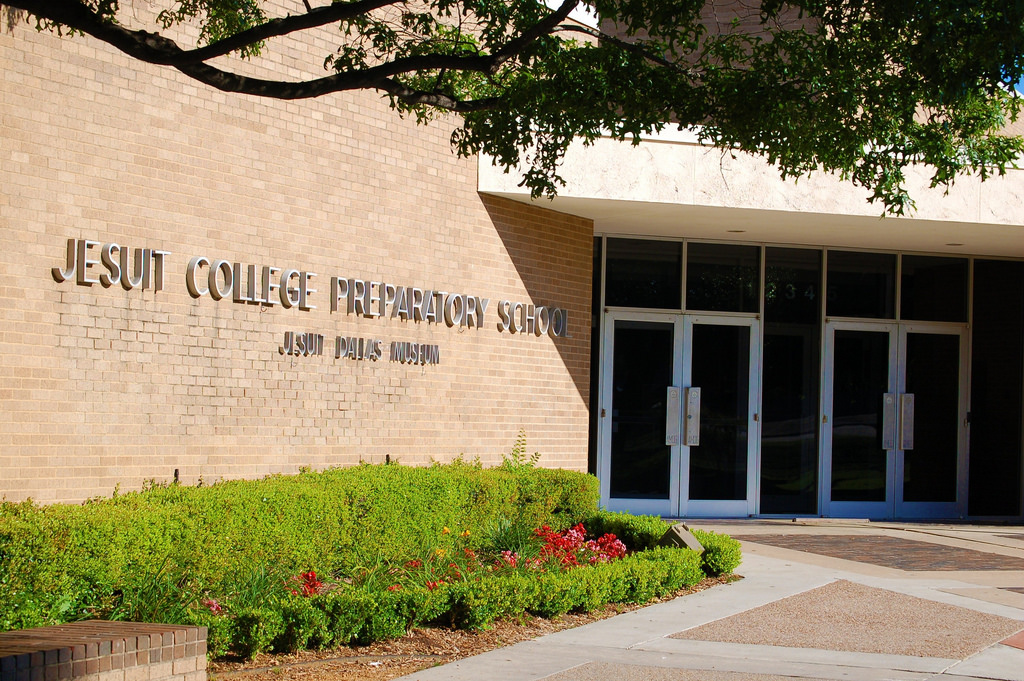 As the label of the "new" school year fades away, the buzz on Jesuit's campus defines the tenor of the year. As many sports, extracurriculars, and classes commence, the task of describing them all in totality remains impossible to put into words. To provide just a sliver of insight into his experiences to the 2016-2017 school year, The Roundup's Martin Flores, Will Aberger, and Bass Stewart sat down with Principal Tom Garrison to take stock of the year thus far.
Beginning with the first prayer Service, Garrison recounted that "something felt different in that first prayer service… I felt a really positive vibe from that day like 'Wow, this is exciting.'"
With an "exceptional" Community Days for Seniors and a strong academic start, Garrison noted a very "positive vibe" after only a couple of weeks.
As a returning student reenters the halls of Jesuit, he's often greeted by numerous renovations, some big and some small. Regarding the major cafeteria renovation, Garrison admitted that "It's been in the works a long time…" Speaking about the decisions on when to complete the renovations, Garrison said that "We [still] have some grand plans for that space and we were kind of waiting so we could do all of these plans at once, and then we finally realized last year that we could do parts of it instead of all of it."
With the exception of the Jesuits on campus, the residential area towards the West of the school remains secretive since it is, after all, their residence. Over the summer, ground was broken on a property just across the creek, the new residence for the Jesuits. "The Residence, as I understand it now, is pretty institutional. It's the same building we're in… it's not very different on the other side of the doors that they live in." Besides a much-needed modernization, Garrison expressed that "The place where they're moving to is a home in the traditional sense of the word," something much deserved and long overdue.
Of course, this vacation from the hidden area behind the school would leave a significant footprint for Jesuit to utilize. Garrison explained the possible immediate goals for that area. "We'll start moving some things back there pretty quickly… There's a room [in the current residence] that we can use as a boardroom… that won't require a lot of construction."
Furthermore, Garrison teased a much-needed theater renovation. "I would not be surprised if [students] see some things happening in the theater sooner than later." Garrison delineated a couple of points for renovation "like new seating, which is really a big thing. Though the seats (over 30 years old) are an obvious point of focus, Garrison likened the process of renovation to children's book– "When You Give A Mouse a Cookie." When you give a mouse a cookie, "when we do the seats, we'll want to do the floor, so the hard part will be figuring out what we can compartmentalize and complete in chunks."
Apart from the minor renovations, Garrison expressed the forthcoming "New lighting equipment… sound equipment" that will enhance the experience for many years to come. In addition, a formal atrium for intermissions could be completed sooner or later.
Many athletic clubs have found success thus far, specifically the Jesuit Football Team, starting 3-0 in district play. Garrison lauded the coaching staff at Jesuit. "What I believe about our coaching staff and about our student athletes is if they believe they can go further, they will. Last year, [before] the game [where] we beat Skyline, Coach Hickman told me that we were going to beat them. He believed that. I'll just put it this way: if he tells me that we're going to win, I believe him now."
Perhaps, with careful preparation and continued stamina, the Rangers will have yet another historic season.
With the birth of non-athletic clubs this year, Garrison commented that "The thing I like about [Jesuit] is that programs develop wherever you guys put the energy and there's not a lot of things in your way which I think is very cool."
Remember to check out The Roundup for future press conferences with various faculty on different issues!