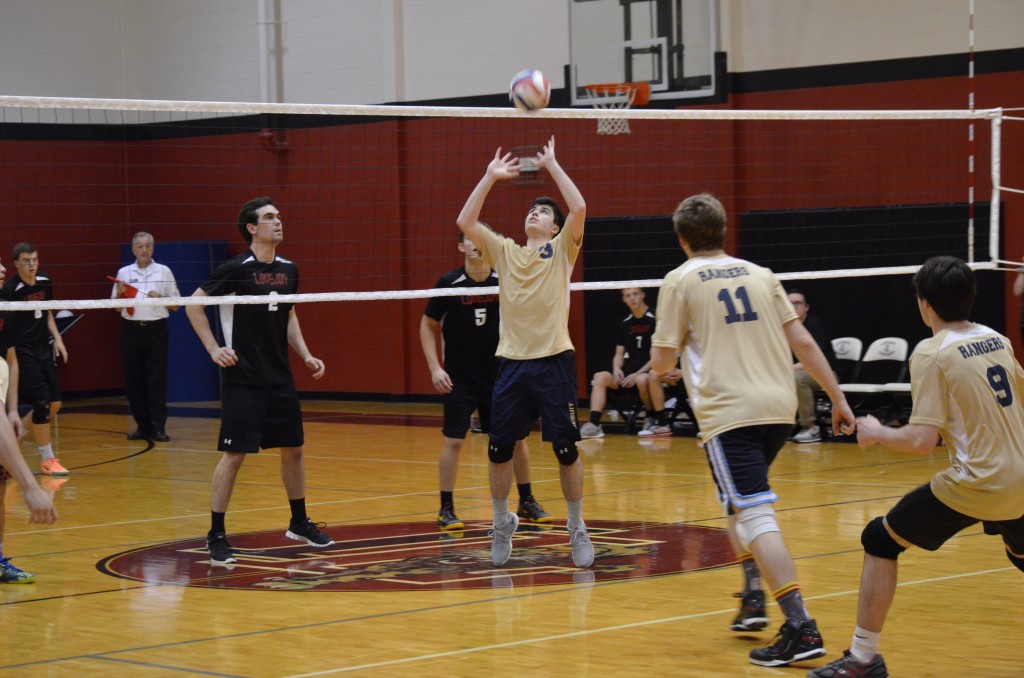 Jesuit College Preparatory School is home to many achievements, a significant amount of them resulting from sports, ranging from Football to Crew. Each team contains students with a variety of skills that make up the success of the team, however the backbone of these organizations rely on the leadership and dedication of a select few: the coaches. And this year, one coach faces the arduous task of forming a united team out of a loosely joined group of men, and to establish a stronger presence of the sport among the halls of Jesuit. That man is Gilberto Quinones, and that sport is Volleyball.
Its 3rd year in the works, the Volleyball program at Jesuit still remains in the early stages of its development. Beginning a few years ago, the program was headed by Coach T.J. Howard, a faculty member well-known for also coaching Football as well as teaching Physics. Howard aided in starting the program after according to him, "Coach Koch put in the announcements the opportunity for a volleyball team, and I went to him and said 'that sounds great…' he said that there's a lot of interest and they need a Coach." Now, after creating and raising the program to where it is today, Howard passes the torch onto the new Volleyball coach, with hopes that the program "continues to grow" under the new leadership.
Meet Gilberto Quinones, graduate of the University of Puerto Rico at Cayey, husband of Jesuit Dallas teacher Enid Sanchez, father of 5, and the new head volleyball coach at Jesuit. Quinones has a degree in Physical Education, having had previous P.E. teaching experience, and currently works at Woodrow Wilson in the security department. He also has a history with Volleyball; Quinones describes his experience saying, "when I [went] to University, I [played] again, and after that visit immediately, one opportunity for coaching [came up] and I started coaching." Likewise, Quinones says his favorite part about coaching is "watching the kids [develop]. I use the sport [to] teach the kids… that they're doing something." After working with the Jesuit team a few practices, Quinones quickly discerns that the Jesuit team is "a very good group of boys," who he says are "very discipline," and concluded, "I see a lot of talent over here."
Jesuit reciprocated the appreciation for the new coach. Senior David Fulkerson reflects on his experiences with volleyball, saying, "I just think [volleyball] is really fun to play," and as for the new coach, Fulkerson responds "Oh I love him, he just brings lots of coordinated drills that we haven't been able to run in the past and they're really fun and the team really gets into it, we're all really excited about the [practices]."
Fellow volleyball player Patrick Rodenbaugh '18, commented on Quinones, "He's high performance and I saw an immediate change the first practice he came to. At first I was worried, but then he came and the entire atmosphere and attitude of the team shifted, and he has so much energy … I really think we're going to achieve great things this season."
Previous volleyball head-coach Howard describes Quinones as a "really, really nice guy, a lot of experience and background … he really gets the kids into it and that's fun to watch and it's really nice because I felt bad stepping away from it because I've been with the same kids for awhile, but kinda seeing what he's been doing with it has been really exciting."
As the new head coach, Quinones has his own plan for the future of the program, including transitioning the team to a larger division. As for his ambitions, Quinones elaborated on one of his goals by saying "My challenge is, in the next 3 years, put another name on that wall (pointing to the wall of previous Jesuit graduates with athletic scholarships), and my big challenge is eventually put 3 boys … no matter what kind of program, division 1, 2, or 3, but the thing is, start with something."
Tune in to the Roundup for more future volleyball coverage under the new coaching of Gilberto Quinones!