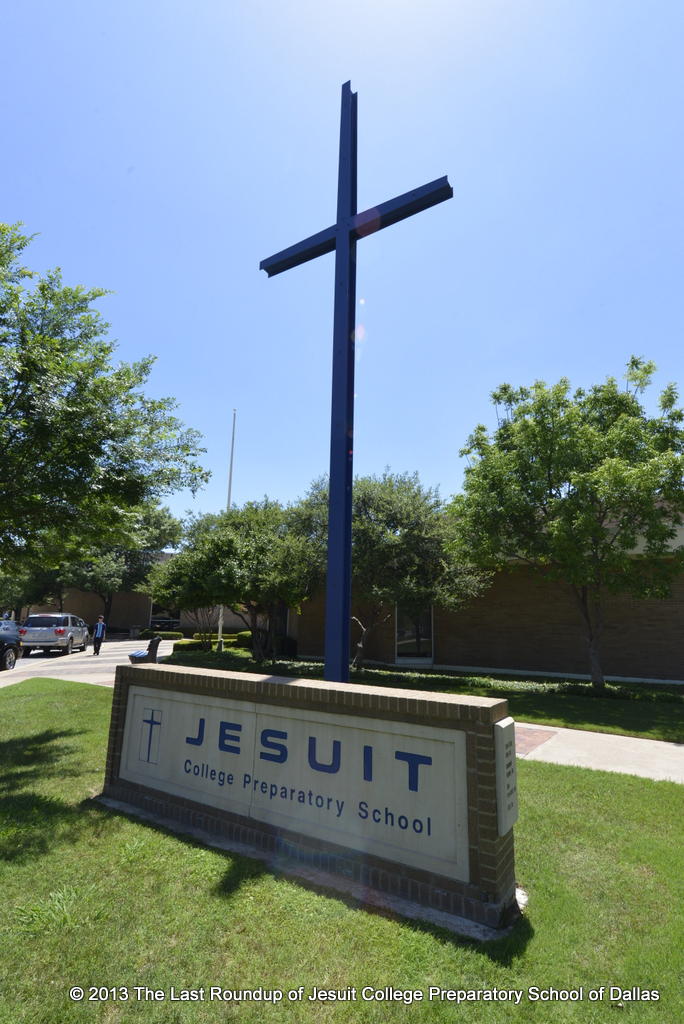 For the last fourteen years, Jesuit seniors have taken a Social Justice and Public Policy course in order to reflect on their service every week. Now, however, this class has been upgraded and renamed to the Service and Justice Capstone course.
Director of Community Service Mr. Rich Perry, who has the most influence over the material and framework of the class, explained, "We changed the name of the course to more accurately define what we are trying to do with this course." And what exactly are they trying to do? "We are asking our students to be on a journey toward better understanding what it means to be a man for others." In order to better understand Jesuit's motto, Men for Others, the students in this class design their own creative "capstone" project about what they learned about service and justice.
"While each student is taking the course, doing the readings, and listening to the guest speakers, they are simultaneously designing their own creative capstone project," Perry continued. Each student must meet one on one with his faculty instructor (either Mrs. Bianchi, Mrs. Crowder, Mr. Hudson, Mr. Kelley, Mr. Leal, Mr. Luisi, Mr. Mattacchione, Mr. O'Brien, or Mr. Perry), discuss the project, design the project, execute the project, and then share the project with his peers.
When asked about the specific directions of the project, Mr. Perry elaborated, "The students begin by recalling a marginalization that they have witnessed at their service sites. This marginalization can be anything coming out of Matthew 25: 35-40." After the students find a marginalization, they come up with a creative way to express a proposal to alleviate it. These proposals should clearly outline how the seniors plan to resolve or diminish their respective social justice issues. Mr. Perry continued, "They present it as a creative 5-7 minute project in front of their peers that can include music, poems, and narratives. Really there is no limit. We do not want to limit creative expression because these social justice concerns in our world right now, they will only be solved if we allow our guys to be genuinely creative."
Zac Bishkin '15 summarized, "The basic premise of the project is for a senior to tell an in-depth story of a marginalization or injustice that he witnesses at his service site." Bishkin, who is a part of the service video production team, has the unique opportunity to go to different places each week for his service site. After observing different kinds of people at different sites, Bishkin realized, "Some of them are very outgoing, while others are afraid of the camera and don't want to be seen." Bishkin's tentative plan for his project is to answer the question: "What might be the cause of their lack of confidence to be in front of the camera?" Bishkin enjoys the class because, as he stated, "Instead of just learning about the quantitative aspects of injustice, we now talk about the qualitative aspects— we form opinions and defend them."
Another student, Nick LoRocco '15, plans to design his capstone project around the idea of the social pressure caused by religious friction. He explained, "I am planning on writing about what happens when a religious minority is pressured by a religious majority." LoRocco further described the class discussion, saying, "I like that we take time to discuss such a wide spread of social justice issues with other students, as the teachers only act as guides for the question or to help us get back on topic." Bishkin and LoRocco provide two great examples of the kinds of social justice issues that the Jesuit seniors are proposing to eliminate through their capstone projects.
While offering seniors the opportunity to reflect on their service once a week, the Service and Justice Capstone course also allows seniors to explore the historical development and application of Catholic Social Teaching. Mr. Perry concluded, "A capstone project is not just beneficial for the student, but it is also beneficial for his peers because it is a shared educational experience."