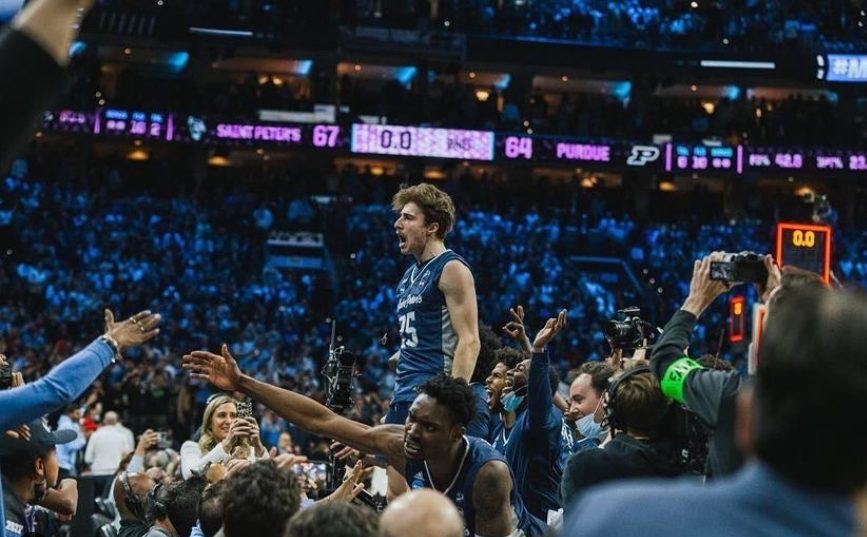 Close your eyes. Picture the pinnacle of a human specimen in peak condition. Multiply it by ten. Open your eyes, because that exists. This mythical creature is named Doug Edert.
Think of all the names of famous basketball legends and icons throughout the years. Sure Michael Jordan, Lebron James, and Kobe Bryant all come to mind. But who comes to mind first? Doug Edert.
Quite possibly the best human being in history, Doug Edert had single-handily lead the St. Peter's University Peacocks through March Madness, coming off the bench to knock off many great teams who could not handle the wrath of the notorious D-O-U-G. Because of Doug Edert, St. Peter's upset the 2-seed Kentucky Wildcats, as well as Murray State and Purdue. Sadly, Disney ruined this Cinderella story, collaborating with the NCAA to make sure that North Carolina won so that Duke could beat them in the Final Four, Coach K redeeming himself and everyone living happily ever after, a perfect Disney movie.
Kentucky
This may go down as one of the greatest upsets in March Madness history, facing off against a coach whose salary (8.5 million) is five times more than their entire basketball budget (1.6 million). Luckily, the Peacocks had Doug. Doug Edert was phenomenal, scoring 20 points with 2 assists and 4 rebounds, going 100% from three-point range in 25 minutes played. With this stellar performance, he took a tough Kentucky squad to overtime, winning 85-79.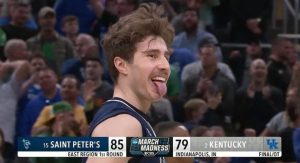 Murray State
After shocking the nation with an upset over Kentucky, Doug hoped to repeat it with a win over Murray State to become just the third 15-seed to ever make it to the Sweet Sixteen. Doug came off the bench strong, scoring 13 points with 2 assists and 3 rebounds, going 50% from range, leading St. Peter's to a 70-60 win over Murray State.
Purdue
Once the world knew about the great power of Doug, Purdue had to make a game plan to attempt to contain the best basketball player in history, double and triple teaming Edert. This horrible plan was not enough however, as even five guys couldn't stop Doug as he scored ten with and assist and three rebounds.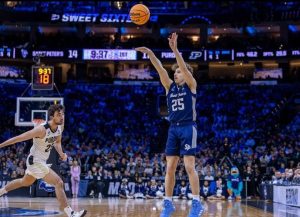 North Carolina
With the win over Purdue, St. Peter's become the first 15-seed in history to make it to the Elite Eight. With a win, they could make it to the Final Four. Like previously mentioned above however, the odds were against them, Disney bribing referees to go against Doug. It was never fair, but even with the whole world against him Doug secured 2 points and 4 rebounds, shooting 100% on free throws. Sadly this valiant effort was not enough as North Carolina tarnished the Peacocks' dreams, winning 69-49.
Sponsorships
Many companies were hot to sign Doug thanks to the new NIL rules, and he recently signed with two big companies. Edert announced last week a partnership with Buffalo Wild Wings. He also announced that he was teaming up with Barstool Sports to come out with Dougie Buckets merchandise, which you can get here. One piece that came out was a crew neck with his face expressing his famous look, smiling with his tongue out, which you can purchase and wear to Jesuit as it is a crew neck, so you can show your show your support for Doug every day at school.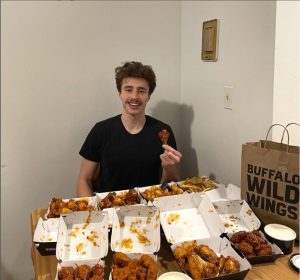 Conclusion
In all seriousness, while Doug was a big contributor to his team in March Madness this year, not only on the court but serving as an image that people can root for, he was not the sole reason the Peacocks made a deep run. Daryl Banks III and KC Ndefo were also key contributors, along with their coach Shaheen Holloway. It was really a team effort to make history. Congratulations to the St. Peter's Peacocks for making March Madness history!
Stay tuned to The Roundup for more college basketball news!