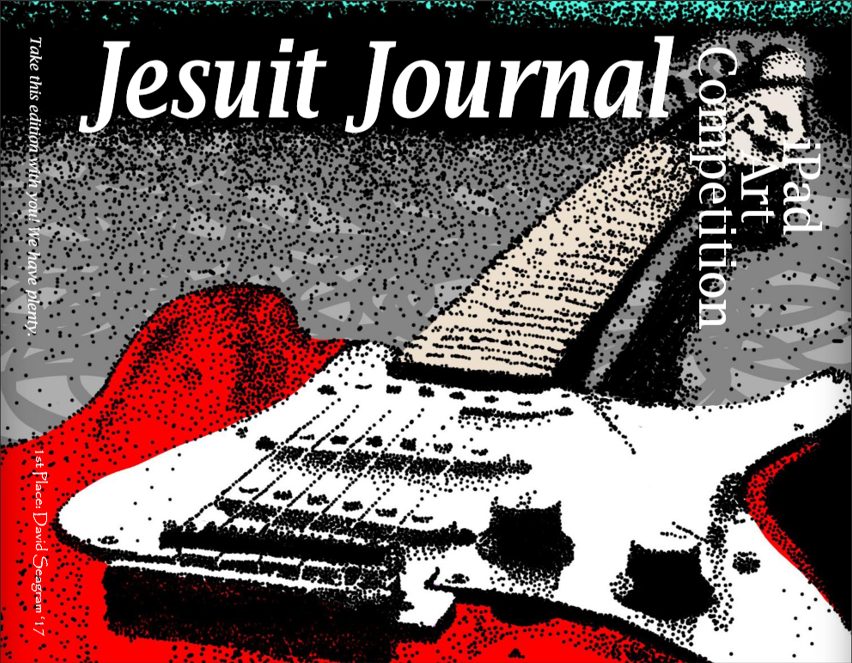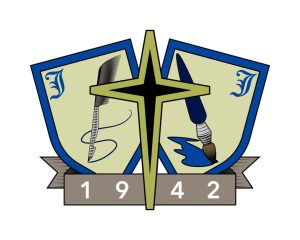 The winter issue of the Jesuit Journal was released last week. It is a magazine that releases twice a year, publishing works of Jesuit students and helping them to reveal their creativity. A variety of creative outlooks are displayed through artwork, photography, poetry, and writing.
Charlie Schwartz '24
Charlie Schwartz '24 has had an interest in art since a young age. His family shares his interest and helps fuel and develop his love for art. He describes his art as, "crazy doodles with a bunch of different aspects adding in a cartoony vibe." Charlie submitted a doodle inspired by the Mario universe, featuring a variety of characters in the popular Nintendo game. Charlie says that he likes, "how at the bottom it is a darker blue and I blended it into a lighter blue as it got higher for the background."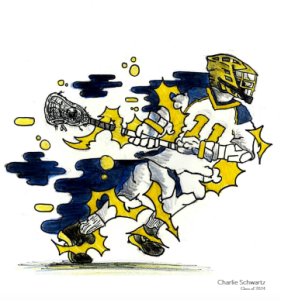 "I just think of an idea, or see something that looks really cool, or get an idea from a friend, then start with a concept. Then I do a rough sketch of the shapes. After that, I go over the lines with a black marker and add details. To add depth afterward, I'll erase the pencil and start choosing colors. After the coloring, it's done."
Charlie likes to add a fun touch to all his pieces. "I hide my name or a logo in each of my art pieces. Sometimes it's my name in another language, other times it's just a logo." Charlie tells novice artists, "you can't just pick up a pencil and watch a YouTube video and expect to know how to draw. You have to find a certain style that fits you and that you are comfortable drawing. Starting out small is better and mistakes happen, that is what an eraser is for."
Dominic Chacko '23
Dominic Chacko '23 first found an interest in art in his middle school art classes. Since coming to Jesuit, he has gotten the chance to work on and improve his skills with Mr. Ochs. He thinks that creating art can be for different reasons. "Art is sometimes expressing yourself, and sometimes your creating something that is nice to look at. 
He mostly focuses on pottery and created his piece, an octopus bowl, based on a similar piece by artist Shayne Grecko seen below. He loves how unpredictable pottery can be, as he found out several times throughout the process of creating his
Dominic is still developing his style, although he says it currently involves a lot of realism. He advises aspiring artists to develop their own style and to, "take as much help as you can get."
Wil Carroll '24
Wil Carroll '24 first got into art through his interest in the military – drawing tanks and airplanes until he grew out of it. He refined his skills in his elementary and middle school art classes where he got into sketching. Wil enjoys art because "it is a unique form of expression where it's like nothing else you could really do."
His piece is based upon an album cover that he enjoyed over the summer, Plastic Beach by Gorillaz, which contains large themes about waste and pollution. "It's kind of an ugly piece, but I found my own individuality by finding the beauty in it." One interesting thing about his piece is that if you look at the "garbage," it is actually a photo from National Geographic of the "slums of a fishing village." He says, "it is almost horrible to realize that what I had been searching for for so long – an ocean filled with garbage – was going to be the poor people of another country. The juxtaposition almost horrified me because it's like I'm treating these people this way and making them garbage." This harsh realization made him feel sad to live in a society like this.
He advises other artists to, "put your feelings and put your thoughts into it," and to, "make it unique and make it yours."
Mr. Berry
Mr. Berry has been into art, especially writing, since his early years, and coming to Jesuit helped him to embrace his creative side. He really started to gain interest in the deeper meaning of writing and art in Dr. Degen's class his junior year. Amongst many other things, Mr. Berry is the faculty moderator for the Jesuit Journal.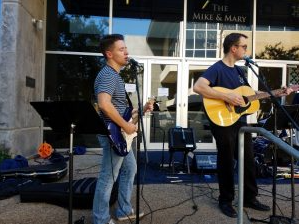 Mr. Berry says that his favorite part of leading it is, "seeing how talented some of our students are." He loves helping students to reach their full potential and encourages many students to submit their pieces to Jesuit Journal. He says that it's always a difficult process to decide which submissions should be placed in the magazine.
Mr. Berry cares deeply about the creativity at Jesuit and says, "what is frustrating for me as the moderator, is that there are a lot of ways our students are creative…that doesn't necessarily translate easily into the pages of the magazine." He adds that "the journal is a small part of the really talented student body," whether it be art, athletics, music, academics, and more.
Mr. Berry advises all novice creators too, "seek out people who are better than you who can guide you."
You can find all of these masterpieces plus more in the latest issue of the Jesuit Journal.
Stay tuned to The Roundup for more art news!