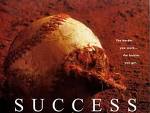 Last Tuesday, October 18, 2011, the Jesuit baseball team completed its fall season. While records are not officially kept, both varsity groups turned in solid performances and many of the seniors are seeking to take their talents to the next level. Last year, the phenomenal Josh Bell led the way for the Ranger baseball team en route to a second round draft selection and $5 million signing bonus. While there will be no Bell on this year's team, plenty of the players are getting looks.
Among these is Christian Bartholomew '12, known for his overpowering fastball and overpowering calves. Christian has been working hard throughout his Jesuit career and it has paid off in the form of a scholarship to Wake Forest University. Christian will pitch for the Demon Deacons next year in the ACC, a potent baseball conference with annual powerhouses such as North Carolina and Virginia.
Chris Cisneros '12 is also looking to go play Division I baseball and is currently in talks with Dallas Baptist University. DBU advanced to the Super-Regionals in last year's College World Series, a huge step forward in their program's development. Jesuit sent former standout shortstop Tanner Kalina to Houston Baptist University, so it will be interesting to see if Cisneros is able to sign with DBU and build a rivalry with an old friend.
Lucas Valelly '12 is also seeking to play at the next level, and several universities, such as Sewanee and Washington and Lee have contacted him. Meanwhile, senior Joe Powell remains in talk with the Tennessee Volunteers, which is where he would ideally like to end up.
Fresh off his summer on the USA national team, senior Cole Enmon is also pursuing a collegiate athletic experience and is currently discussing a potential deal with colleges such as LSU, Millsaps, Furman, Spring Hill, and Creighton.
Catching sensation Connor Glogowski '12 is also pursuing the dream and is looking at Austin College and Sherman.
Some of the seniors, however, do not plan to play in college and are content with hanging up the spikes after their final year at Jesuit. Among these are two-time athlete of the week Michael Scanlin and the mildly entertaining, always interesting, pitcher Scott Weiss.
Also, we will have to wait until spring to discern the future of seniors Ben Wright and Hank Tobolka, both electric ball players who will have a multitude of next level opportunities. One scout was even overheard saying that Ben Wright might have a professional career ahead of him, although, that career may not be in baseball.
As the final season comes to a close, the Jesuit players will have their eyes on a bright future for this spring, hoping to return to the playoffs and make yet another deep run. Some of the players will continue their careers while others will move on to other endeavors. We wish everyone the best of luck and have our sights set on a big future.