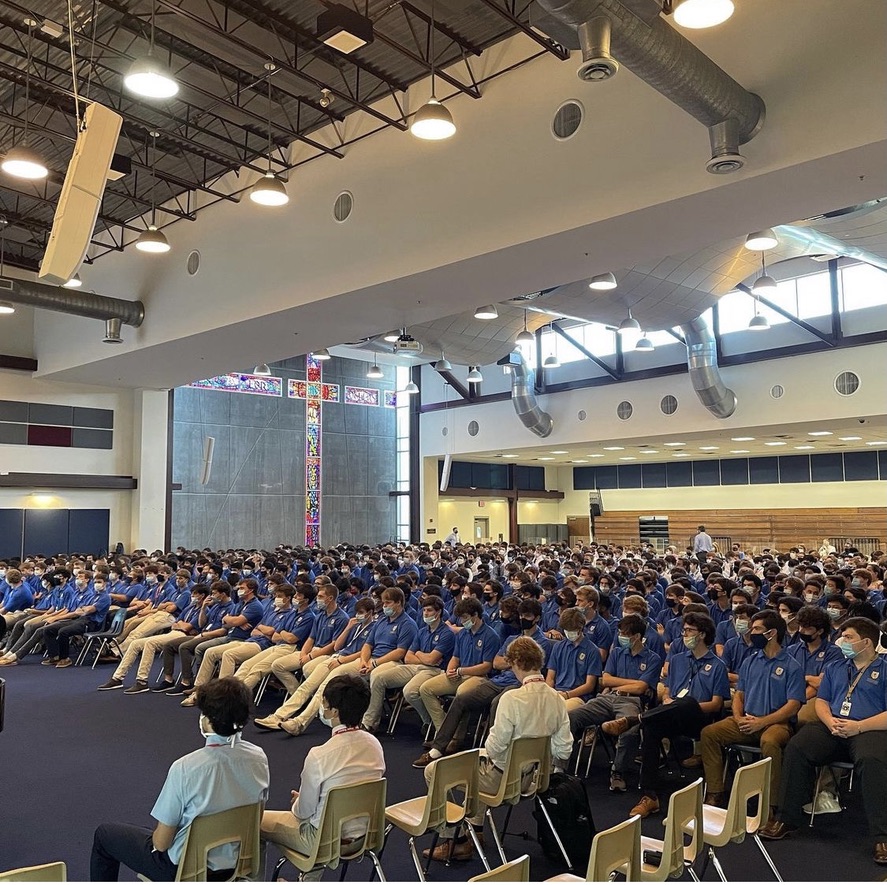 "Energy from the start of the school year is contagious and I have caught it and I hope everyone else does," said Mr. Garrison.
As school begins again, we all must cope with a new year at Jesuit, full of changes with new experiences for many students. It seems like yesterday I was enjoying my summer plans, but now it is the first week of school. And it's that time of year to transition back to our normal school routines. While it is a bummer that it's the end of summer, I know that all of us are ready and excited to begin this great new year at Jesuit!
As a freshman, this year seems both exciting and scary. I am very happy to meet new people and learn a plethora of new information about my new school every day. Although, it does seem like a dramatic change from my middle school, and it will definitely take time to familiarize myself around the campus. I know I can take on the challenge.
My first reaction of Jesuit was that it is very religious because we started the year with a prayer service that made me excited to be a student at Jesuit. The prayer services have been my favorite part of Jesuit so far because I feel that when I start my day praying to God, it makes me feel more happy and relaxed for any of the challenges that may come my way.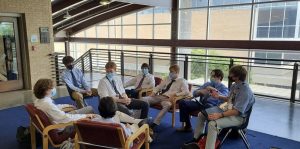 Since all Jesuit students have started the 2021-2022 school year, here are some of their thoughts on the first week of school:
Diego Lesczynski '25 said: "It's very different from middle school."
What is your favorite of the week so far? "All the different classes. I'm excited for the barbecue club too."
Mark Trottier '24 said: "I love Jesuit. Go Rangers! Jesuit has been awesome. It's been great to see everyone back in the community and just reconnecting with everyone over the summer break."
Mr. Civello said: "I mean the one word I could describe it is exciting. It's good to see kids back in the hallways. I think everybody's ready to start again and something we're actually allowing now is all of the fans at football games whereas last year we had a limited number of kids that come in. Last year we are going well and like three hundred or two hundred kids just sell the tickets individually to those kids starting with the seniors first and now it's open outlook and open to all the student body which is you know not what we did last year. We're hoping that the whole student body now it's opened everybody so that'll be fun, interesting, and almost normal circumstance"
Devin  Prempeh '23 said: "It's pretty good so far. Everyone seems friendly…probably community time is my favorite part. I am most excited for rugby."
Aadhi Anbuchezhiyan '25 said: "Jesuit has been awesome and I have made a lot of friends."
Collin Crisco '22 said: "I thought that it was great. It was a good week just to get back into the rhythm of school and be ready for the rest of the year."
Blake Woodard '22 said: "I guess this year is shaping up to be pretty solid overall. I think we're inching closer and closer to what feels like a normal school year. As a senior, I guess my only normal time at Jesuit was for my first 18 months and then my second half of my sophomore year and my entirety of the junior was a different academic experience. I'm hoping that this year a lot of the traditions that we've had in the past can go back into play and I think the first week of school has kind of done that in its own kind of way.  I think a lot of my senior service stuff has been a new experience."
All in all, my first week of Jesuit has been one of the best experiences ever because the community was an eye-opening experience to me, and made me feel more happy for the rest of the year to come.