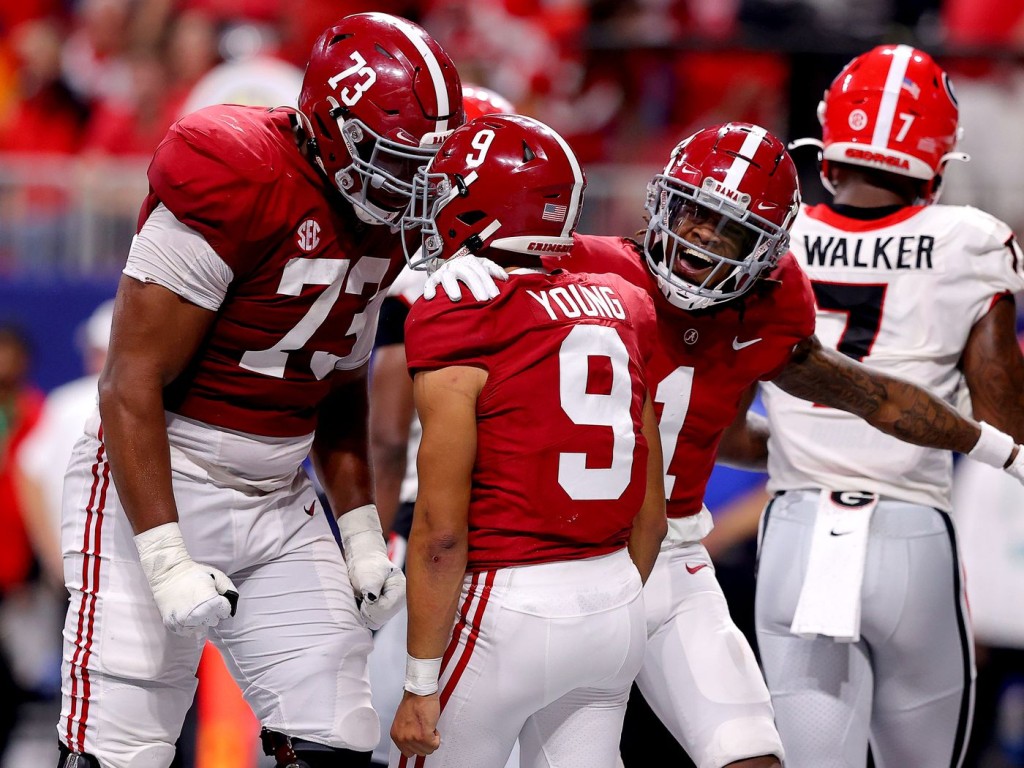 As of Sunday, after a wild series of conference championships, 4 teams have been selected by the College Football Playoff Committee to play against one another. The four teams consist of Alabama, Michigan, Georgia, and Cincinnati. Alabama and Cincinnati are set to play the semi-final on December 31st at the Cotton Bowl in Arlington. Just a few hours later, Michigan and Georgia are set to play the Orange Bowl in the Miami Gardens, Florida. These will be exhilarating football matchups, so let's dive into these match-ups from an in-depth perspective and preview each team.
Preview of Alabama 
Just this past weekend Alabama (11-1) played Georgia in the SEC Championship with a spot in the playoff ripe for the picking. Coming into the game, Alabama was projected to lose by 6.5-7 points in Atlanta on Saturday. Throughout the week many college analysts predicted Georgia to swamp Alabama with their stout defense. But Alabama was having none of that, as they won by 17 by a final score of 41-24. This was no surprise to some people having been their 7th consecutive win against the Bulldogs. Alabama had a total of 536 all-purpose scrimmage yards, with Heisman candidate Bryce Young passing for 421 yards and 3 touchdowns and tacking on one rushing TD. This had been the first time in 92 straight games where Alabama has been an underdog, going back to when the Bulldogs played the Crimson Tide in 2015. John Metichie III during the second half of the game suffered a significant ACL injury in his left knee. A huge target and impressive wideout for Alabama will, unfortunately, miss the rest of the season. His stat line so far has been 8 touchdowns, 1,142 receiving yards, and averaging around 12 yards a play. Jameson Williams, a threat this game, had a total of 184 receiving yards, averaging around 26.3 yards a catch along with 2 touchdowns.
Their defense stepped up in this game, holding Georgia to a 3-13 mark on 3rd down conversions the entire game. Their stifling red zone defense also came up big, especially in the second half, and Georgia could not seem to handle it all game. Alabama has a chance this semi-final game, by not allowing Cincinnati to throw the ball deep and run the ball effectively. This will require pressure on the quarterback and executing early in this game. However, the Crimson Tide's explosive offense consisted of many weapons, and their rugged and experienced defense could become a potential factor. Alabama is favored by around 13.5-14 points.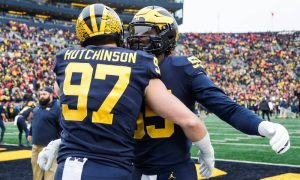 Preview of the 2nd seed Michigan Wolverines
The blue and gold of Michigan so far this season are sitting around 11-1 from a loss to Michigan State. They clinched a spot and played Iowa for the Big 10 Championship last Saturday demolishing the Hawk Eyes 42-3. The Georgia Bulldogs are favored by one touchdown. After losing in a devastating loss to the Crimson Tide in the SEC Championship. Michigan has the momentum after beating rival Ohio State in an unexpected victory, that shocked sports fans. 1-6 since he has become head coach for Michigan, Jim Harbaugh, for the first time has made the CFP, a huge accolade for the Michigan program. Michigan has an established run game with Hassan Haskins and they run many RPO option plays, that fool the defense. Cade McNamara is a solid quarterback, that makes a solid pocket presence. He reads the defense effectively and can make throws on the run if needed. However, his decision-making is questionable at times, throwing unnecessary interceptions in the last couple of games frustrating Michigan fans.
Georgia's front seven may be a serious issue, statistically being in every top 10 category defensively. I think Michigan has a chance to win if they keep Georgia's offense off the field and establish an early lead in the first half of the game. This means for McNamarra to execute on deep-ball throws side-line to sideline and take the check-down throws by not throwing meaningless interceptions. The Wolverine's defense has to pressure the quarterback, play the ball in coverage, and finish tackles. And make stand outplays, whether that be a significant tackle for losses, fumble, or interception.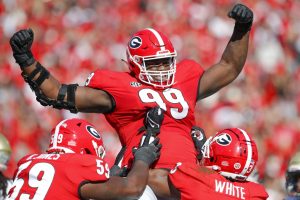 Preview of the 3rd Seed Georgia Bulldogs
With a disappointing loss in the SEC championship against Alabama with high expectations. The Bulldogs surprised the nation by getting outplayed on both offense and defense altogether. They lost 41-24 in a heartbreaking loss, shocking the nation. This Georgia team is filled with talent all around the defensive positions. Certainly, you will see some that will be in NFL uniforms in the next year or two. Georgia has solid, elusive running backs, that can get to the outside and even run screen pass options. Bowers their tight end is their leading receiving yards leader for the offense and racks up yards after the catch. Stetson Bennet took the place of JT Daniels, and seems to be a promising playmaker in the pocket. He looks to read the defense, and recognizes pressure, and is a confident leader. His offensive line as well gives him time to throw and blocks downfield during bubble screens or end-around plays. Lots of people don't give their offensive line credit, but Georgia's line is hard to get through. Their defense is hands-down the best in college football, from the outstanding secondary to the front 7.
This will be a statement game for Georgia, and they need to prove that they deserve a spot in the final. For Georgia to win this game, their defense must rebound back from their last game, and not let Michigan run the ball to the outside. Pressuring the quarterback will also be a huge factor for this defense, due to McNamara's insufficient decision-making. This will be huge for their defense and overall to keep Michigan's offense off the field. This might mean putting a QB spy and bringing an extra defensive back for pressure. Georgia's offense, however, will be in the hands of Kirby Smart, and for Georgia's offense to succeed in this game this will mean to have a two-tight end set for blocking for run plays. And also, possibly trying creative passing plays in deep ball routes. Including, running plays on bootlegs to fake the defense as well could be a solution too.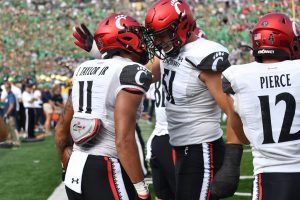 Preview of the 4th Seed Cincinnati Bearcats
For the first time in program history from the American Athletic Conference, the Cincinnati Bearcats went 12-0 and made their first playoff berth to the CFP. In coming years, Cincinnati will join the Big 12 conference in the coming years, a huge expansion for a solid conference, that will make even more noise for college sports. Once the departures of Oklahoma and Texas leave eventually for the SEC. Cincy has made some noise through the last couple of months upsetting Notre Dame 24-13. And winning their conference as well. Desmond Ridder so far has had a huge season with 3,190 passing yards, throwing for about a 65.1 completion percentage rate with 30 touchdowns. Jerome Ford has made an uprising this season so far, as he's rushed for 1,242 yards going for 19 touchdowns. Ridder also keeps the ball and runs a lot of read-option/draw plays, so keep that in mind. Cincy also has a 7th ranked defense in the FBS and they rank 4th in interceptions per game. And even points/against games are also ranked 4th too. Joe Dublanko leads the team with 106 total tackles so far this season. Most of their defensive stats are top 60 among FBS teams statistically. But when watching their conference championship against ranked Houston, they bring the intensity and energy on both sides of the ball. Their defense brings the pressure when needed, and rushes up to 5 or 6 in some scenarios. Cincinnati forced 7 sacks last game, and an interception, which will be crucial if their defense steps up against a huge opponent like Alabama. Cincy's defense can upset Alabama by playing the pass and pressuring Bryce Young as they did so well in the Houston game. Their offense has many weapons to pass to, but overall their run game will be key in this game to establish and be aggressive with throughout. Most importantly, Ridder needs to throw under pressure and not be afraid to throw on the run.
Stay tuned to more Roundup News over collegiate sports. Circle New Year's Eve, or January 31st, on your calendar to watch both CFP semifinal games on ESPN.