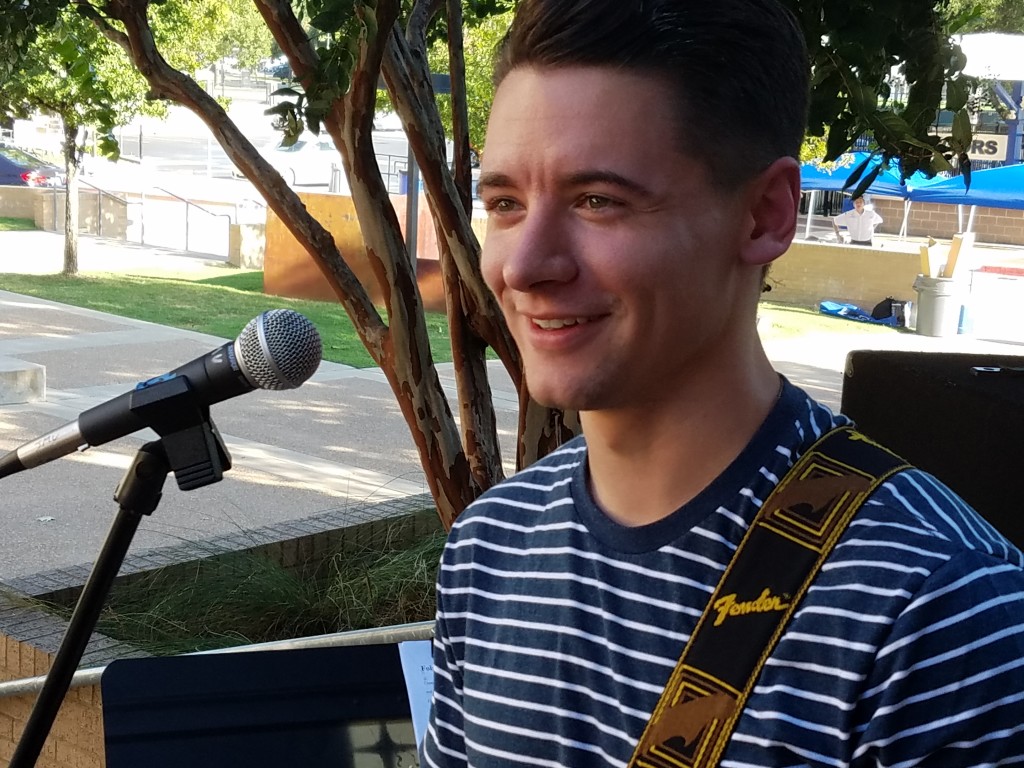 Mr. Ian Berry '05, a current English teacher, has been a creative and dynamic presence throughout his time at Jesuit. Whether he's in the English commons talking to students or watching Arsenal lose, he lives his life with love, compassion, and kindness, seen subtly through his humor and wit.
First, as a student at Jesuit, Mr. Berry found a love for creative expression through the Jesuit Journal, serving as an editor for the Journal during his senior year. This led him to study English at the University of Texas at Austin, aspiring to get a doctorate degree. However, just like the COVID-19 pandemic made a dramatic shift in the goals and focuses of students all across the country, the 2008 recession played a massive role in changing Mr. Berry's goals.
"The Jesuit Journal is one of my extracurricular activities. I got involved in that because when I was a senior at Jesuit, I was the editor of the Journal and was very interested in creative writing and art.
When I left Jesuit, I did not think that I would really come back. I was definitely looking forward to college as a place to start anew. One of the things that Jesuit gave me was by the end of my four years here was a pretty clear sense of some things that I was passionate about: reading, writing. playing guitar and music. 
I decided in college that I wanted to pursue those things further. At UT Austin, I majored in English. By the end of my time there, the country was in a recession a few years before. There was not a lot of opportunity for recent college graduates. I was planning on taking a gap here, going to France, teaching English, and then trying to go get a PhD somewhere. But that was about the time I heard of the Alumni Service Corps."
The ASC program was ultimately the program that created the greatest growth for him, finding his true passion of being a teacher here at Jesuit. But he never gave up on his goals of getting a doctorate, obtaining a Master's degree in Paris. The connections he formed with the students are the motive for remaining at Jesuit, connections which he still cherishes today and seeks to cultivate here.
"And at the time, the ASC guys were actually able to teach classes. I figured that would be a cool opportunity that I didn't want to pass up. So, I went back to Jesuit for a year, and after that, I did end up going to France and getting my master's there. But during that ASC year, it was very important to me because it was a year that showed me that the life of an educator and the high school environment is more interesting to me.
I found something here that I really enjoyed in my rapport with the students that made me want to come back. It was fortunate when I finished my graduate work in Paris that there was an opening in the English department. On my best days, I'm always focused on how I can make this day memorable for that guy over there or this student in my class. That's something that I enjoy. If my job just consisted of teaching grammar and having discussions about literature, I think that that would satisfy me to an extent. However, one of the reasons I really love my job is I think that every day I can have these experiences. 
I see God in other people and experience God's love for other people through encouraging a student or asking a student how his day is going. That's what I most enjoy."
Beyond his love for the students, Mr. Berry loves the historical significance of English and sees the greater purpose of the subject. An engaging and eloquent speaker, Berry understands the impact of studying English for articulating your thoughts with precision and accuracy, a skill that many people lack today.
"One reason that I think education in English is so important is that it's a discipline through which the individual gains access to this vast cultural and artistic heritage that our civilization is built upon. I think if we stop reading Homer and Shakespeare, then these things are gonna eventually be lost.
There is a kind of cultural education there. That's very important. Obviously, regardless of whether somebody wants to become an English teacher like me or wants to go off into business or science, the ability to develop a kind of intellectual strength and patience to confront a problem.
In my class, it is always with literary texts. One of the things that I'm training in my classes is the ability to get inside and focus on this world of meaning. I think that an education in English can give you the ability to express and articulate precise, sophisticated thoughts to others, which aids you in any profession."
His advice to current and graduating seniors is openness, one of the many aspects of being a Jesuit student. He advocates for students to be inquisitive and thoughtful, while also looking towards the future for those who are leaving this place. There are many special things for students to look forward to, and Mr. Berry encourages us to not be restrictive as to ultimately miss or dismiss the blessings given to us.
"Try not to limit yourself by what you think. It's normal that you're trying to figure out who you are and you're trying to fit in. All of you are at some stage of that journey.
I always want to encourage them that the journey is a long one. It takes time. It takes longer than four years. In high school, people can be very concerned about fitting in. Don't limit your horizons out of fear that you won't be accepted or by trying to be somebody that you're not, um,
To the Jesuit student leaving, I think I would echo what Father Josh said in last week's homily. He talked about the gifts that you've received here. Some of them you will open later. That really resonated with me because when I was a senior at Jesuit, I wasn't really grateful for a lot of things that I received here.
Additionally, you don't have everything figured out. It's okay. You don't have to have everything figured out. I think that this goes for you, Jason and me, and all your classmates. You've reached this level of success and competence within the world of Jesuit, and you're going to go out there and discover a whole new world.
Eventually, you're going to discover, "I don't know anything about getting married or buying a house." There's so much of life left to discover. Always be on the lookout for mentors, older men who've gone before and who can guide you through the next chapters of your life."
Check back to The Roundup for more teacher profiles!