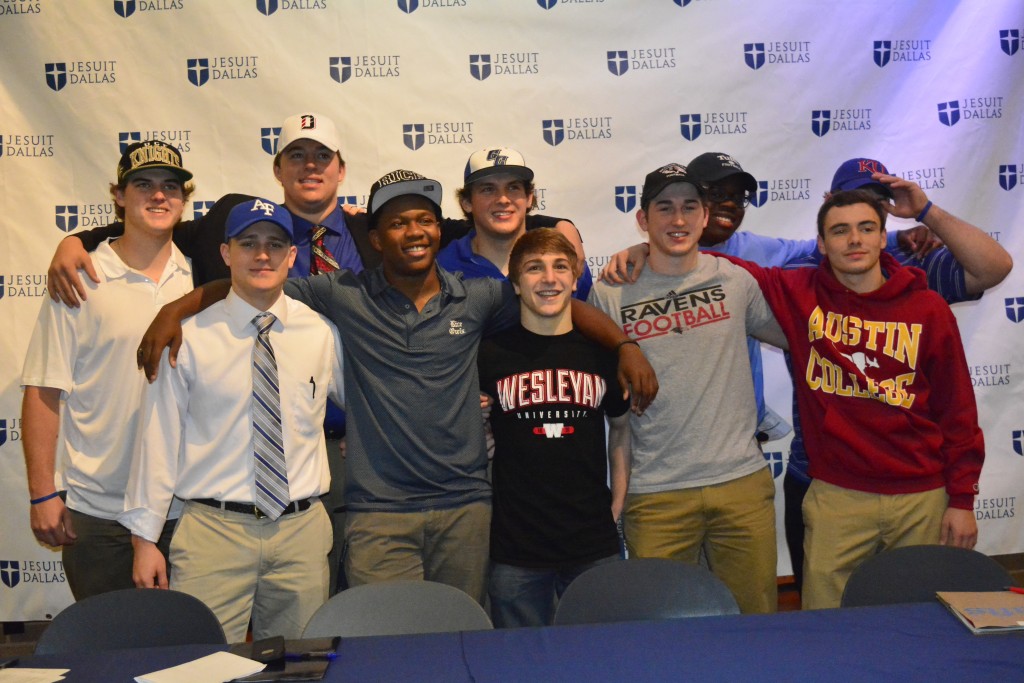 Jesuit College Preparatory not only excels as a very prestigious school academically, but also excels in its nineteen varsity sports. From these varsity sports, ten students have decided to take their talents to the collegiate level. On National Signing Day, February 4th, seven Jesuit students from the football team, one Jesuit student from the baseball team, one from the soccer team, and last but not least, one from the wrestling team all signed to continue their athletic legacy.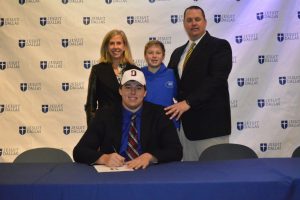 Bo Schneider, Jesuit's senior quarterback, committed to the University of Central Florida for football on June 10, 2014. He has been playing tackle football since he was in the second grade, but started leading his team and playing quarterback in the fourth grade. Bo stated that he, "started wanting to play college football sophomore year." He went on to say, "I hope I can make a difference on the team by competing and working hard to make the team better."
Josh Cummings, Jesuit's beloved cornerback, committed to Rice University for football in April of 2014. Josh has been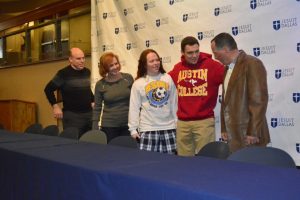 playing football since he has been four years old and stated that, "no matter how much I play the game, I can never get tired of it due to my passion for it." With humbling expectations, he said, "I want to add depth initially and then hopefully earn a starting role by working hard."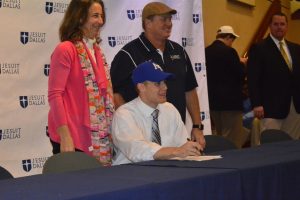 Garrett Amy, Jesuit's star receiver with some of the highest receiving yards in North Texas, decided that with his admittance into the Air Force Academy in January, he would walk-on to the football team. He has been playing flag football since the first grade and tackle football since the fifth grade. Garrett said, "I mean in the back of my mind it's always been a dream of mine, but I haven't really talked about it much – playing ball in college. I mean I've always wanted to go to Air Force so playing football for them is like icing on the cake."
Taylor Stine, a three year starter defensive lineman, committed to Kansas on Monday of the week of signing day. Kansas offered him a preferred walk-on on Christmas Eve, and Stine claimed, "This was so special for me because it's the best present I could have received." Stine started playing ball when he was in the third grade and said, "I grew up knowing I wanted to play college football. It has been a dream of mine because I've always had a little personal romance with football. It's something intimate for me because it's something that gives me a great feeling of comfort."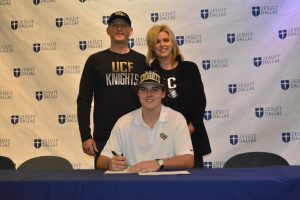 Nmesoma Nwafor, one of the most hard-working Jesuit players who takes pride in his get-off speed, has been committed to Tufts University for football since late October. Even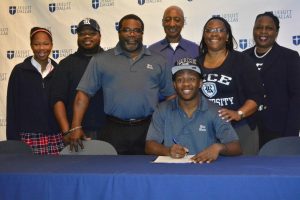 though he has only been playing since freshman year of high school, he knew he wanted to play in college as soon as he started. Nmesoma said, "I saw my older brother's love and passion for the game. I witnessed him eventually getting recruited and go onto play division 1 college football and I knew this was something that I wanted to do." He believes that through the experiences that he has had at Jesuit through numerous organizations, clubs, and sports, he has developed the characteristics to be a leader on the Tufts football team.
Andrew Murphy, Bo's protection on the offensive line, has been committed to Davidson for two months. He has been playing football for five years total – four years in high school and one year in the fourth grade. Murphy said, "I can make a difference on the team by bringing in a string of work ethic and experience playing more competitive football because of the strength of opposition in Texas UIL 6A."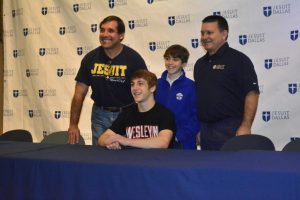 Grant Rueben, a class-act Jesuit baseball player, committed to Cisco College in November. He has been playing for ten years and knew he wanted to play in college ever since he started. Grant, accepting his role on the team, said, "my main duty on the team is to hit so I think I can really help the Cisco baseball team by giving them good offensive statistics."
Ben Sloan, one of the star senior soccer players, has been considering going to Austin College for soccer ever since junior year. Ben has been playing soccer since he was six years old and first realized that he wanted to play in college when he was a freshman at Jesuit. He said, "I think I can bring hard work and physicality to the Austin College soccer team."
Shane Ross, Jesuit's prodigy wrestler, has been committed to Wesleyan since November 15th. He said, "I have been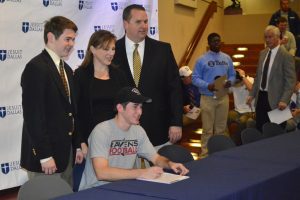 wrestling since seventh grade and have wanted to compete at the collegiate level since my freshman year at Jesuit." He goes on by stating, "I think my persistent work ethic and internal motivation to be the best will allow me to transition into a successful college wrestler, proving a positive influence on my fellow teammates."
All of these Jesuit students are very excited to start their collegiate training and know that they could not have gotten where they are now without the help of the amazing Jesuit training staff and coaches. Make sure to watch these athletes as they rise and become better players due to the fact that they are willing to all work hard and are willing to go all in with their dedication.