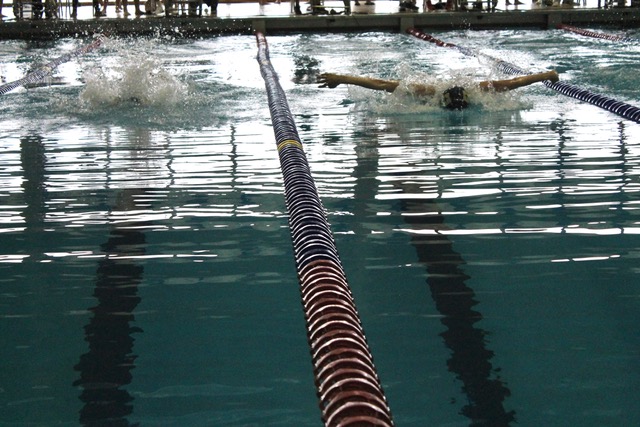 "Swimming has its educational values – mental, moral, and physical – in giving you a sense of mastery over an element, and of power of saving a life, and in the development of wind and limb."
-Robert Baden Powell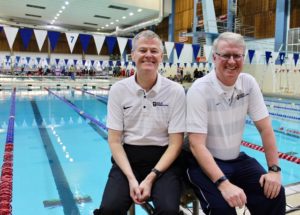 Between the smell of chlorine and the rising sun, a group of Jesuit athletes have been honing their nautical craft since last semester, getting faster and faster every practice until it finally paid off in competition. Recently, the Jesuit varsity and junior varsity swim team competed in the UIL District champions, coming out ahead of most of the competition and earning second place overall.
Leading up to this meet, the team went through intense conditioning to compete. As Nathan Volle-Kolbell expressed  "The swim team is an athletic sport which improves your fitness, laughs, and memories. Even though it starts at 6 AM every weekday, it's a great way to start the day, especially when jumping in the cool pool which gives you full life in your body and spirit."
During the meet, tensions were high but our swim team faced the competition and set new records. Special mentions go to Will Mckinney '21 and Ivan Lopez '20 for getting first in the 200 Individual Medley as well as the 100 fly. Aiden Hoofard '20 mentioned specifically the tension of the final race, stating that "The 400 Free Relay is definitely a highlight in every meet. It's the last event of the meet, and the whole natatorium watches the last heat of boys compete for first place. Winning any relay grants the team significant points, and the 400 Free Relay is one of the most watched events of the meet. The whole Jesuit team cheers for their fellow swimmers, and it is a great experience."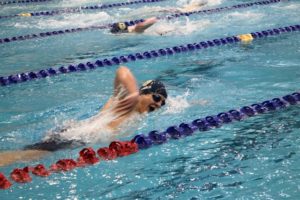 Following their success, the Jesuit swim team is now gearing up for regionals, seeking to get faster and get gold. Although they work hard, the men on the swim team really enjoy all the benefits they get. According to Jake Norvell '20, they include "(getting) in really good shape, infinite showers with your boys, bonding with teammates" while Abraham Martinez '20 states that "it's fun to be with everyone and a lot of memories are created."
"The swim team is a great team, full of fantastic people. I enjoy the swim meals we have and the overall atmosphere. The sport is very hard but it will get you in great shape and the team makes it enjoyable," says Aiden Hoofard.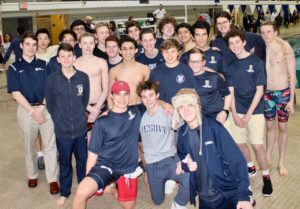 So, go support our Jesuit Swim team this upcoming Friday as they go to regionals!