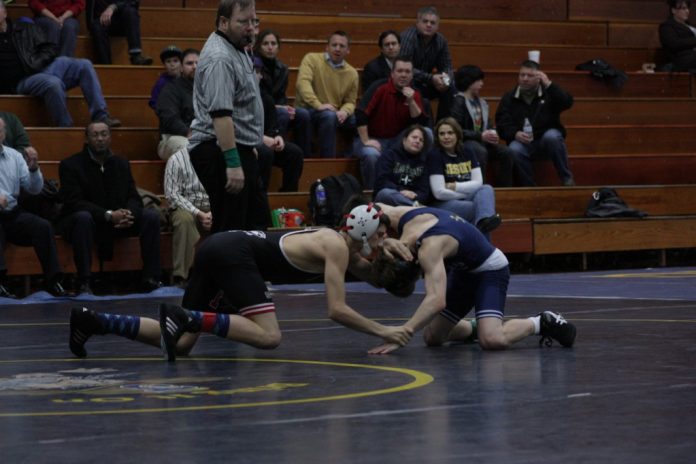 There are high hopes for the Jesuit Wrestling team this season. Head Coach Ryan Menard says of the Junior Varsity team, "[They are] off to a good start, led by freshmen Shane Ross, Kyle Adams, Alfredo Aranda, and sophomore Eric Kirkegaard." Menard went on to say that he has "high hopes" for the team this year.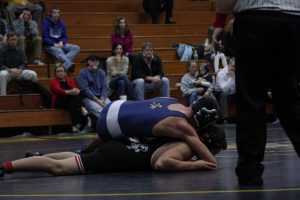 At the Tri-State Tournament hosted by Lake Highlands, Shane Ross won gold, Drew Goethals '14 and Eric Kirkegaard both won silver, and Matt Briskey '14 placed fourth. At the Richardson Tourney, multiple JV members placed. Among them were Kyle Adams and Eric Kirkegaard getting gold, while Mark Vache '15 won silver, and Caleb Kilpatrick '14 and Alfredo Aranda each were awarded bronze.
On the Varsity squad, Coach Menard gives high praise to the captains, Nick Barker '14 (13-1), Antonio Martinez '12 (13-2), and Zach Pearson '13 (12-6). At the Tri State Tournament, competing on the Varsity team, Barker and Nic Bellegarde '12 both won bronze, while Martinez and Pearson came in fourth place.
The Varsity team placed first overall at the Richardson Tournament behind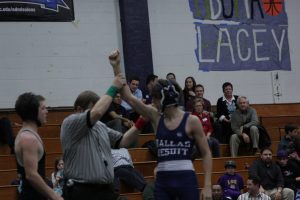 strong performances by Barker, Martinez, and Bellegarde. Coach Menard noted that Nic Bellegarde was "selected as the most outstanding wrestler in this year's Richardson Round-Up for his performance there" and that his "senior leadership has led him to a strong start at 14-3."
Hopefully, many Varsity members will be going to Austin to compete for state. "The team has been working hard," notes Coach Menard. "Several wrestlers are competing at high levels and bringing home hardware from all events, and that's a positive."