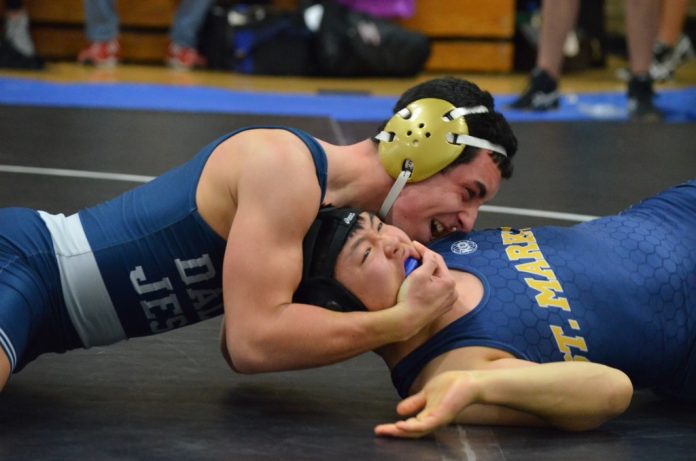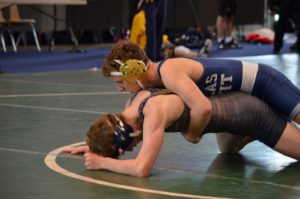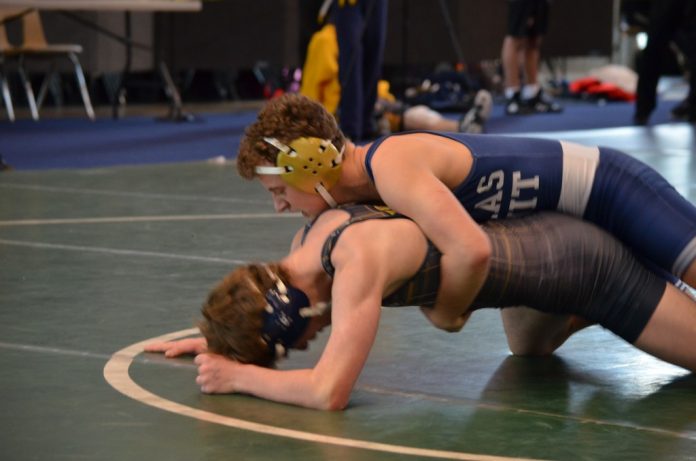 Bus after bus shuttles into the Jesuit parking lot, marking the annual Frank Halloran Classic.  Teams from San Antonio to Highland Park all find their way to 12345 Inwood Road to compete in this year's prestigious tournament.  Tensions are high between the twenty schools, each eager to get on the mat and fight for the first place title.
The 20th annual Frank Halloran Ranger Classic, named in honor of Coach Menard's deceased predecessor, took place from Friday, January 15th to Saturday the 16th, with matches held in the Terry Center, Walsh gym, and the small (practice) gym.  Derek Dumbrigue '18 shined in this tournament, advancing to the finals for the first time, scoring two pins but falling to Hebron with a last second pin, finishing 2nd overall in the tournament.  "I was glad to have success after a year of hard work," commented Dumbrigue.
Junior Jonah Brunel and freshman Gabriel Farrell both earned 3rd place in their respective weight classes, Brunel being unable to continue due to reaching the UIL limit of wrestling five matches in one day.  "I was thrilled to have earned third place," commented Brunel, "I wish I could have gone further."
Blake Heckel '17 advanced to the semi-finals, preceded by a 43 second pin against a Highland Park opponent.  However, he was forced to withdraw from the tournament after suffering a torn ulnar collateral ligament in his semi-finals match against Austin Bennet from Lovejoy.  Blake told the Roundup: "It was a disappointment to wrestle well in the previous two matches and then have to drop out before winning a medal."  Heckel then added, "I hope I will be able to compete to the best of my ability in the upcoming district tournament despite my injury."
On the freshman side, David Reichert '19 landed 4th place in the tournament and Connor Curreri '19 continued his dominating, undefeated season with a first place victory over his Arlington High opponent.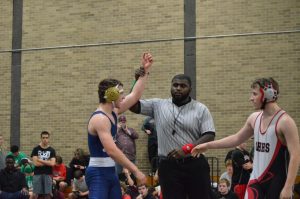 The following Tuesday, January 19th, the rangers traveled to Lake Highlands to duel their highly ranked squad.  Brunel strapped up for varsity, utilizing the skillful lateral drop to overcome his opponent and pin him in the first period.  Reichert asserted his dominance with 2 pins, along with Curreri defeating his heavy weight opponent in an exhibition match.  Brunel exclaimed, "We had a great day of wrestling.  Our juices were flowing and, although Lake Highlands defeated us in the end, we fought hard."
Next came the Ranger Roundup, hosted by Chisholm Trail High School on Saturday, January 23.  The tournament had a "rough start ," Grayson Godfrey '18 remarked, "everyone lost their first match."  After a few initial losses, two Rangers were knocked out of the tournament, inspiring Godfrey to fight even harder.  After "picturing himself winning the match," Godfrey came out on top, winning by decision in his consolation round.
The junior varsity rangers then travelled to Keller for a tournament on Saturday, January 30th.  "The tournament went well," commented Coach Menard, with Phillip Villalba '18 winning 1st place and Gabriel Farrell '19 earning 2nd.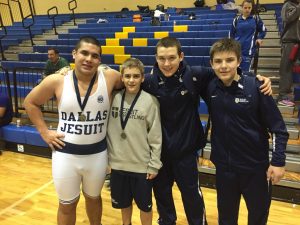 The rangers' next challenge is the district tournament this weekend on Saturday, February 6th, hosted at Richardson High School.  Juniors Blake Heckel and Michael Clarkson will be wrestling for the first time since their injuries, both hoping that they will return strong.
Godfrey hopes that "the team can score enough points to earn 2nd or 3rd place," a difficult goal for they compete against much larger (in number) teams.
The matches begin at 10 AM at Richardson High School so go support your Jesuit Rangers!