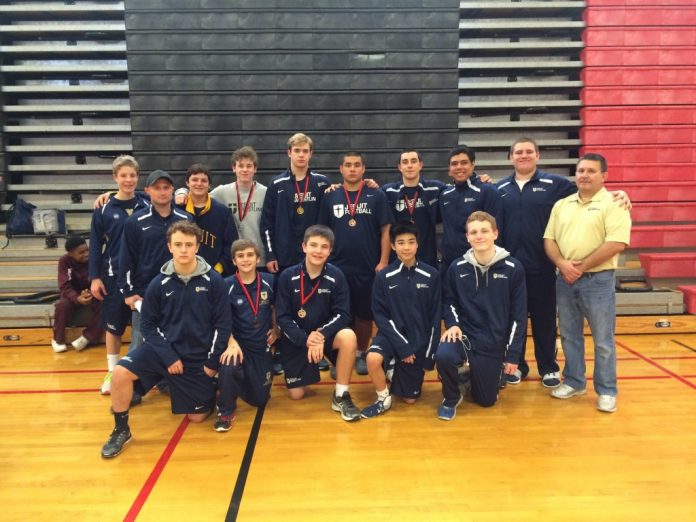 Playoffs: A time when you finally get to see if your hard work will pay off. All those hours training on the mat and in the weight room. Every single word of coaching that has been given to you. It all comes down to one final match.
Three members of the Jesuit Wrestling team, Derek Dumbrigue '18, Philip Villalba '18, and Matt Schonberg '16, travelled to Allen High School for the Regionals Tournament, the climax of the season.
Although he "would have like to have a little more success at regionals," Dumbrigue entered the tournament strong, pinning opponent David Larkowsky (Flowermound) in 4:32. Unfortunately that was his last win of the day, losing his next two matches against Allen and McKinney-Boyd by point decisions. As Derek is only a sophomore, he "learned a lot from this experience" and has plenty of time and room for improvement, as he plans on returning next year "to become a state qualifier."
Villalba emphasised his "nervousness" leading up his match, all of which disappeared when he "stepped on the mat." Unfortunately, Villalba lost both of his matches, purely "out muscled," but satisfied with his performance because "[he] knew [he] did [his] best." His first defeat was to Trevion Sample from Irving Nimitz with a pin about two minutes into the match, moving him to his next match against Luis Valdez of Berkner. Villalba "gave [his] most aggressive fight for [his] last match," but still lost by fall in 55 seconds. Although Villalba was not successful at regionals, he feels "great knowing that he contributed to his team." Only a sophomore, the regionals tournament allotted great experience to him, hopefully allowing him to progress further in the competition next year.
On Villalba's and Dumbrigue's performance, Coach Menard commented, "It was a great experience…and hopefully they'll learn and continue to get better and qualify for state the next two years."
Schonberg, the only senior on the team, entered his last tournament as a Jesuit wrestler. Schonberg described Regionals as a "tough tournament with a lot of excellent wresters," one that he, "convinced himself he could succeed in." Losing his first match against Jose Alonzo of Irving by a 11-2 point decision, Schonberg faced the imminent end of his Jesuit career as he moved onto the mat to wrestle Joaquín Lewis from Irving MacArthur. Schonberg powered through the match, pinning his opponent in exactly five minutes. Sadly, the victory didn't last, and Schonberg fell to Plano opponent Dominic Ramos by a 13-2 point decision, ending his time as a Jesuit wrestler.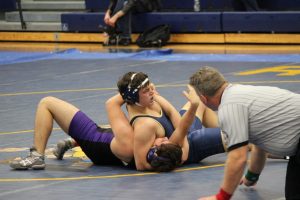 "I wrestled like I was supposed to. I beat who I was supposed to beat and I lost to who I was supposed to lose to. That being said I wish that it wasn't over. The entire year I couldn't wait for the season to end so that I could stop cutting weight, but now I would give up any amount of food and water to have just one more year with this incredible team and incredible sport. Blake Heckel has been one of my biggest peer motivator's this year, always making me go the extra mile in workouts and drills. I could not have asked for a better partner to help me prepare for the post season. Even when he was injured he did everything in his power to get on the mat and beat me up a little bit. Coach Brown, Menard, and Thompson have also been incredibly helpful. Brown the conditioner, Menard the Technician, and Thompson a fair mix of the two. I have to think that wrestling has been one of the biggest parts of my formation as a Jesuit student. Although I now have to say farewell to my wrestling career, I will never let go of the experiences and friends that I have come across during my time here."
When asked about Matt's performance and departure, Coach Menard stated: "Matt wrestled hard in a very tough weight class winning one match. We will miss his leadership and presence in the wrestling room. I want to thank Matt for his 4 years of dedication and commitment to the Jesuit wrestling program!"
The team has high hopes for next year, as Blake Heckel '17 wrapped up the year: "It was already impressive for Derek to place 2nd in the district and qualify for regionals as a sophomore. Then for him to go out and get a dominant victory on the biggest stage he has competed at was icing on the cake of a great season for him, and has we excited to see what we can do in the years to come. We have a great core group of guys and if we could get some more bodies in the practice room, I think we will be contenders for the district championship next year."
Michael Clarkson '17 added, "The experience and friendships I have gained through the program this year are invaluable…everybody supported me during my injury and I hope next year to rise up and be the district champion."
Great season Rangers and good luck next year!