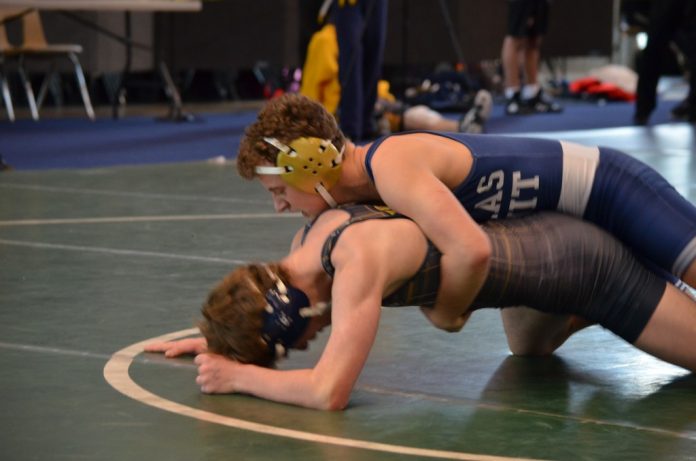 The Jesuit Ranger Wrestling season is just around the corner, and the wrestling team is preparing for a historic year. Here's what to expect this season:
District Changes
While the Rangers remain in UIL District 7-6A, there are two new additions to the already competitive district due to the district realignment. Rockwall-Heath, once the UIL-5A State Champions, have moved up into district 7-6A. Rockwall High School also moved to District 7-6A, although they have already been in 6A. "Overall, the district is tougher." Head Coach Ryan Menard explained, "We're excited for some new competition." Asked if the district changes would affect the performance much at duels, specifically home duels, Coach Menard stated, "The goal is still to win the majority of the matches." The two highlight home duels of the season are against two very talented teams: McKinney Boyd and Lake Highlands.
Freshman Wrestlers
Two freshmen this year are joining the team with wrestling experience: Spencer Buchholtz '20 and Liam Leahy '20 (4th in Texas State middle schools). Spencer Buchholtz was a Freestyle Texas State Champion and middle school Texas State Runner-up last year when he won all of his matches by pin or technical fall (a victory won by being ahead by 15 points or more; essentially a mercy rule) and was undefeated until his State Finals match. In addition to those very difficult and competitive titles, Buchholtz represented Texas in the Schoolboy National Duels. Assisstant Coach Brown commented that it is "exciting to get some guys with experience" going into Freshman year. "My personal goal this year is to go undefeated on the JV level." He continued, "[I want to] win every tournament that I compete in."
Varsity
The varsity Ranger Wrestling team welcomes Gabriel Farrell '19 who will be wrestling at the 106 lb weight class this year. "This season we have a promising team on both JV and varsity." He explained, "I'm hopeful we'll have the drive to compete at the next level." In addition to the exciting new varsity wrestlers, the team also has the returning varsity wrestlers who are looking to build on their experience this upcoming season. According to both Coach Menard and Coach Brown, "We see improvement, [and we are] a better team as a whole." With these improvements, Coach Menard said that "we will compete better and score more points in tournaments and in duels."
Frank Halloran Jesuit Ranger Classic
The premier tournament of the State, the Jesuit Ranger Classic hosts some of the toughest teams in Texas. Coach Menard added that it's a "very tough tournament" but is expecting a lot of wins. The Ranger Classic will be on Friday, January 13th, starting at 6:00 pm.
Season Overview
The Ranger Wrestling Team is excited to begin their season and to embrace the opportunities to get better individually and to grow as a team. Coach Menard added that "it's promising, the different levels of ability," and is enthusiastic about the tough and promising season ahead of the team. The overarching goal for the season "is to improve from last year" Coach Menard stated. The constant goal to improve from the year before will certainly be demonstrated in the success expected for this upcoming season. Coach Brown added, "We hope to get as many regional qualifiers as possible and [from there] hopefully get some state qualifiers." While last year's Ranger wrestlers didn't secure a spot in the UIL State tournament, the returning varsity wrestlers are planning to make a run for the state title.
The Jesuit wrestling team is certainly promising this year, and the goal is always to improve both physically and technically throughout the season. Make sure to support the Ranger wrestlers at their first duel versus McKinney Boyd at home in Walsh Gym on Wednesday, November 16th, at 6:30 pm. Go Rangers!