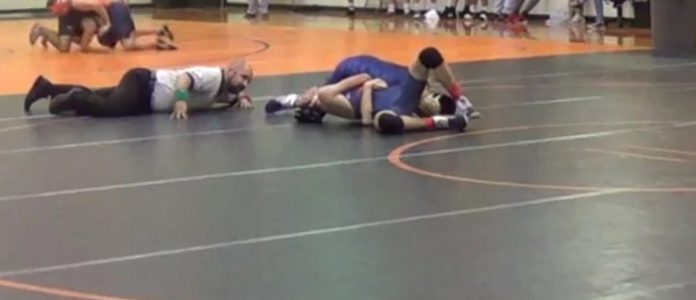 Two hours after school everyday, the Jesuit Ranger wrestlers prepare and work to compete to the best of their ability. With duals one night a week and tournaments on the weekends, the Ranger wrestlers face competition at every turn.
Heath Invitational 
The Ranger Wrestling JV squad took to Rockwall-Heath High School a feeling of both excitement and anxiety. On Friday, November 18th the JV Wrestlers made a historic showing with four wrestlers placing in the top 3 of their respective brackets.
Junior Sean Maguire took home the gold for the 160-pound weight class toppling both of his opponents with two pins in the tournament. Spencer Buchholz '20 (138-pound weight class) secured 1st place and perpetuates his undefeated reign of terror, winning all three of his matches by pin, all three of his opponents collectively only lasting 5 minutes (6 minutes is the duration of one match).
Both Liam Leahy '20 (120-pound weight class) and Eugene Watkins '19 (160-pound weight class) secured 2nd place in their brackets winning both their matches by pin.
"This was a great tournament with four wrestlers making the finals," Coach Menard explained, "their technique and aggressive style of competing is exciting to watch and I'm looking forward to having these wrestlers competing at the varsity level!"
The varsity Ranger wrestlers headed out to Heath on Saturday, November 19 to compete in one of the most difficult tournaments of the season. Derek Dumbrigue '18 secured 3rd place in the 106-pound weight class. Derek started the tournament with a major decison over Abram Gonzalez from RL Turner, winning 13-2, then proceeded to pin Elias Oliver from Fossil Ridge in 30 seconds!
Grayson Buchholz '17 (145-pound weight class) and Grayson Godfrey '18 (160-pound weight class) finished the tournament with a win, each in their respective brackets. Buchholz '17 won with a fall over Chase Hamilton of McKinney North near the end of the second period. Godfrey '18 pinned Parker Rexford from Lovejoy in the second period, finishing the tournament with a win as well.
Coach Menard emphasized how "this was a strong field of teams and wrestlers [and] it was good to see Derek compete and place 3rd in his weight class. "
Wakeland-Rockwall Tri-Dual
The Jesuit Ranger Wrestling team travelled to Rockwall High School to combat the Wakeland High School Wolverines and the Rockwall Highschool Yellowjackets in their annual tri-dual.
The first Varsity matchup for the night was junior Derek Dumbrigue who took on Sam Thompson from Wakeland Highschool, who he pinned in the 1st period. Next was Grayson Buchholz '17 who won with a 10-6 decision over Hunter Lightfoot. Following those two decisive victories, junior Grayson Godfrey answered with a 11-3 major decision against Paxton Neff.
On the JV side, Liam Leahy '20, Eugene Watkins '19, and sophomore Trip Hatton came away with a win each against the Rockwall JV squad.  Sean Maguire '18 finished the dual with two pins. His first opponent from the Rockwall JV, who he pinned in the first period, and his second from the Rockwall Varisty, who he pinned at the end of the 3rd period.
Overall, both the JV and Varsity wrestling squads looked very good in both meets, and they will look to improve and continue their success in the meets to come. Stay tuned for The RoundUp's coverage of the wrestling team!