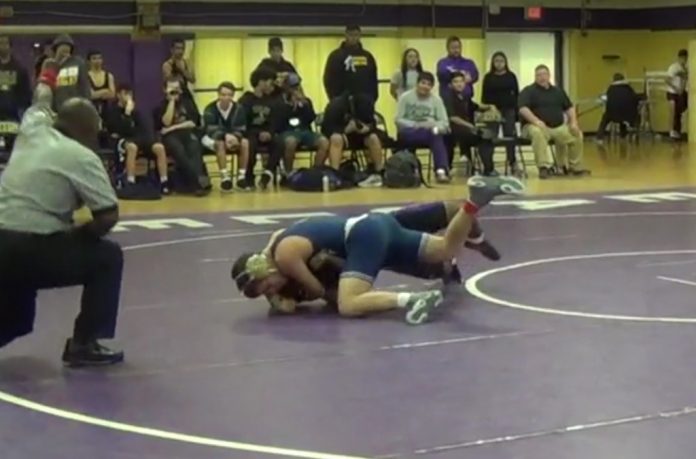 As the match progresses and the fatigue begins to creep into your body, this is when the truly amazing wrestlers shine. The coaches of the Jesuit Rangers Wrestling Team strive to push the wrestlers in practice to that very point and become comfortable there. We can see from the Jesuit wrestling's astounding performance at Richardson and Tri-State that this effort paid off.
Richardson Dual
The Jesuit Ranger wrestlers took on the Richardson Eagles on Wednesday, November 30th at Richardson High school. The anxiety of the first-time wrestlers began to take hold over the course of the fifteen-minute bus ride. But as those wrestlers walked up to the mat and shook hands with their opponent, they all felt their nerves slowly fade away and be replaced by the steady flow of adrenaline.
Junior Sean Maguire outscored his opponent in the third period leading to a win on the JV side. Following Sean's victory, Liam Leahy '20 answered with a win in a varsity exhibition match by nearly tech-falling his opponent (winning by a margin of 15 points) in the final period. Freshman Spencer Buchholz accumulated 10 points before pinning his varsity opponent in the third period.
"The team wrestled well against Richardson winning the majority of the matches they competed in," Coach Menard explained. "Our confidence level was great and hopefully that continues throughout the season!"
Junior Derek Dumbrigue started the varsity dual pinning opponent Aaron Luna after three minutes of racking up takedowns. Sophomore Trip Hatton answered with a pin in the first period. Junior Grayson Godfrey continued the win streak with a major decision victory over his opponent Linve Gomez, winning 12-3.
After the dual, Senior Black Heckel commented that the team "did a good job" winning the majority of the matches. Derek Dumbrigue noted that "we can improve, [but] we had a lot of good effort."
All in all, the team met their goal of winning the majority of the matches, but have found areas that are in need of improvement in order to achieve greater successes. The senior wrestlers and the coaches stressed the importance of practice and setting new goals once old ones have been met. Be sure to follow the Ranger wrestling season! Go Rangers!