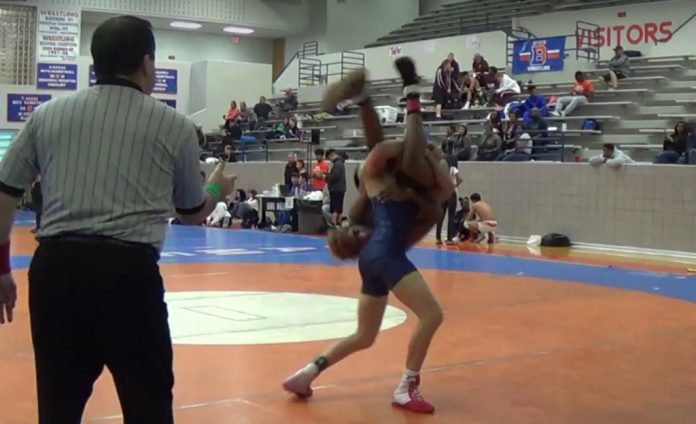 Lacrosse practicing, band kids arriving, early risers rising, the parking lot gradually fills up. This is a typical Friday morning at 7 o'clock on the 28, but this is no ordinary Friday for the varsity Jesuit Rangers Wrestling team. Today, the Ranger wrestlers will embark on their journey to Arlington Bowie High School to compete in the Arlington Bowie Memorial Tournament.
First up after weigh-ins, junior Derek Dumbrigue (113-pound weight class) started the tournament off with a tech fall victory (victory by 15-point margin) over Carrolton Smith High School's Marshall Masvikeni.
Starting off the match with a quick takedown, Derek let Masvikeni up in order to take him down again and earn more points. Repeating this process, Dumbrigue held a commanding 6-2 lead. At the start of the second period, Masvikeni elected to take top and Dumbrigue responds with a reversal to make the score 8-2. Dumbrigue let Masvikeni up and took him down and put him to his back to earn a 2-point near fall to make the score 12-3. Dumbrigue made a mistake that set him back a 2-point reversal after Masvikeni landed himself on top. Dumbrigue quickly earned a reversal and a penalty point to send him and his opponent into the third period with a compelling 15-3 lead.
Finally, following a dominating second period, Dumbrigue finished Masvikeni off with an escape and a takedown straight to Masvikeni's back for a 3-point nearfall that sealed his opponents fate. Dumbrigue will advance from his 21-5 victory to face No. 2 seed Dominic Chavez from Arlington Martin High School.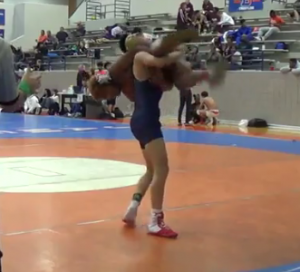 After a tough loss to the wrestler who would go on to get first place in the tournament, Dumbrigue wrestled back with a first period pin against Malechi Teed from Keller Timber Creek High School to land him in the finals match to face Devon Phillips for third place. To start off a rapid third place match, Dumbrigue lifted Phillips over his head and slammed him to the mat. Dumbrigue then followed with a quick pin to secure third place.
"The team wrestled hard through all their matches," the junior wrestler commented. "I think that was a great opportunity to see where we stand before districts."
Sophomore Gabe Farrell (106-pound weight class) won a match in the toughest bracket in the tournament. His bracket consisted of three State Qualifiers, one of which was a UIL State Runner-Up and currently has a 40-3 record, but Farrell pushed through and finished the tournament with a win against Justin Bunyavong from Fort Worth Carter-Riverside. Farrell started the match with a slow start, giving up a takedown and was unable to score until the end of the first period where he scored a reversal to tie the score up 2-2. Electing to go bottom at the start of the second period, Farrell quickly scored a reversal and put his opponent on his back to secure the fall.
"I think we wrestled well," Farrell commented. "This is the best we've ever done at one of the toughest tournaments of the year [which is] a huge improvement from last season."
Following a quick loss to the No. 1 seed Irving Gonzales from Arlington Bowie High School, junior Grayson Godfrey (152-pound weight class) bounced back in the consolation bracket against Cameron Ansel from Plano High School. After a quick takedown from Ansel to Godfrey's back, the junior wrestler started the match off trailing 0-4. But a quick reversal by Godfrey to Ansel's back, tied the match up 4-4. Electing to take top, Ansel put Godfrey to back and recieved a 3-point near fall to reclaim the lead. After fighting off his back again, Godfrey scored another reversal that puts Ansel to his back at the end of the period to take the lead again. Leading 8-7 going into the third period, Godfrey hoped to finish his opponent in the final period. Ansel elected for them both to be neutral (standing up, neither wrestler with an advantage). A takedown by Ansel, once again reclaimed the lead and staid there until 34 seconds left in the match. Down by 1-point and only 30 seconds left in the match, Godfrey scored a reversal once again, this time landing Ansel on his back for good. As the clock wound down to zero, Godfrey led 13-9 and advanced to the consolation quarter-finals where he faced a familiar opponent.
Facing off against Anthony Defreece from Hebron High School once again, Godfrey hopes to improve his record (1-1) against his rival. After a scoreless first period, Godfrey takes bottom at the start of the second period and quickly scores a reversal. A takedown from Defreece and another escape from Godfrey makes the score 2-2. With 10 seconds left on the clock, Godfrey takes the lead with another takedown to make the score 4-2. Taking bottom at the start of the third period, Defreece scores a quick escape to make the score 4-3. Finishing Defreece off, Godfrey scores another takedown with 30 seconds left to extend his lead 6-3. As the clock expires, Defreece scores a final escape, but Godfrey will take the 6-4 victory and improve his record against Defreece (2-1). Godfrey advanced to the consolation semi-finals where he once again lost to the No. 1 seed Irving Gonzales.
"I thought everyone wrestled really well," Godfrey commented. "We were nervous going into such a tough tournament against guys that have gone to State and have almost flawless records, but we competed to the best of our ability and put up a good fight."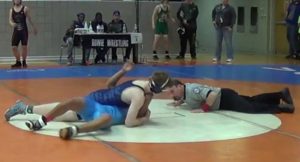 Competing at the 145-pound weight class, senior Grayson Buchholz conquered his first round opponent Omar Vazquez from Thomas Jefferson High School. Buchholz started the match with a quick takedwon and put Vazquez to his back, jumping out to a 5-0 lead. After a 2-point near fall that extended his lead to 7 points, Buchholz finished Vazquez off with a early second period pin to secure a win in another one of the toughest brackets.
"Bowie was a very tough tournament," Coach Menard explained. "It was good seeing Derek place 3rd, but as a team we need to continue to improve in all three phases of wrestling: neutral, top, and bottom."
Stay tuned for the rest of the Ranger Wrestling season! Go Rangers!