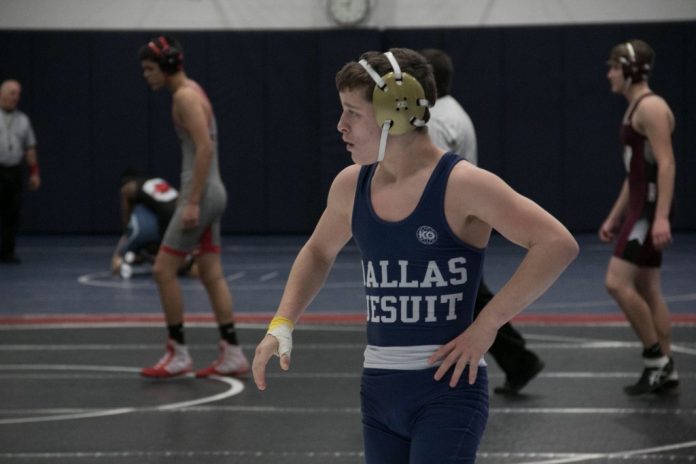 This weekend is the weekend every school has been waiting for all year. This is the tournament towards which every wrestler works.
The UIL District 7 Tournament, hosted by Berkner High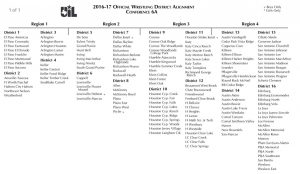 School, put the best wrestlers from around the district in the spotlight to compete for a spot in the top 4 of the district who will advance to the UIL Region II tournament.
Competing at the 106-pound weight class, sophomore Gabe Farrell (9-12) secured a 2nd place finish after a win over Eric Bourcier from Rockwall-Heath High School. The sophomore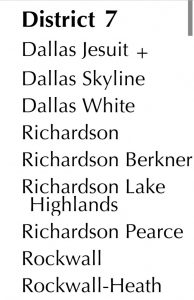 jumped out to a very quick 2-0 lead after a takedown 5 seconds into the match. Heading into the second period, Bourcier fought back with a reversal and a 2-point near fall to take the lead. A reversal from Farrell tied it back up at 4-4. But another reversal from Bourcier and a 3-point near fall left Farrell trailing 4-9 going into the final period.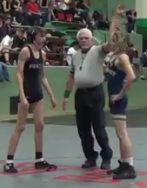 Electing to take neutral, Farrell scored a takedown and put Bourcier right to his back and secured a pin that would advance him to the championship round. Unfortunately, a tough loss to No. 1 seed Stevie Flowers (40-4) from Rockwall High School prevented the sophomore from getting first, and he instead placed second which was enough to earn a berth in the regional tournament, a fantastic finish for his first varsity year.
Representing the Blue and Gold at the 113-pound weight class, junior Derek Dumbrigue (23-12) dominated his first two opponents, securing a pin in the first round in just 1 minute and 11 seconds. Dumbrigue advanced to the semi-finals where he pinned Sean Bryan in 1 minute and 9 seconds. A loss at the hands of No. 1 seed Cody Scales (18-4) from Rockwall High School would secure a second-place finish and a berth in the UIL Region II Championships.
"I am excited to wrestle at regionals," Derek explained. "It will be a tough tournament, but I am looking forward to it."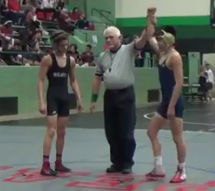 Senior Michael Clarkson picked up two victories at the 170-pound weight class, advancing in the championship bracket with a first period pin over J.J. Pearce's Josh Abeyta. Clarkson would add a consolation round win over David Torres from Skyline to complete his district run.
On the Junior Varsity side, freshmen Spencer Buchholz and Liam Leahy dominated their brackets scoring a total of 35 points between the two of them and only allowing 5 points to be scored on them, all of which were escapes.
"It was good the see Gabriel Farrell wrestle above his seed in an exciting semifinal match," Coach Menard exclaimed. "Both Gabriel and Derek Dumbrigue qualified for the UIL Region II 6A Championships this weekend!" He concluded by explaining that he is "looking forward to working with a young and talented team in the future."
Dumbrigue and Farrell will head out to Allen High School for the UIL Region II Championships Friday, February 17th.