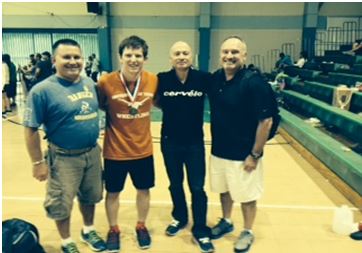 Head Wrestling Coach Ryan Menard recently helped to coach Jesuit Graduate Antonio Martinez '12 to a gold medal finish in the 18th International Copa Sparta tournament in San Juan, Puerto Rico on Oct. 12.  Martinez described Menard as "a big part of [his] success on and off the mat."
Martinez said he asked Menard to help him because "[Menard] taught him how to wrestle and coached me for four years at Jesuit." Because of those four years, Martinez said that Menard "knows him so well" and it was a "great deal of comfort having Coach Menard in my corner" for the tournament.
Competing against some of North America's best contenders from the US, Canada, and Puerto Rico, Martinez managed to win his whole division (145 lbs. FILA Junior, which is composed of boys 18-20), beating out the  Puerto Rican National champion in the first round. For Martinez, a wrestler at the University of Texas at Austin, this is his second gold medal at the international Copa Sparta tournament. In winning, Martinez said "it felt good to win, especially since I was able to beat the wrestler I lost to last May at the Puerto Rico Junior National Championships." He was also very excited about the win because "it is always a good feeling to be able to win gold and know that your hard work has paid off."
For Menard, the three day trip was more than just helping out his  former wrestler. It was also about "seeing a different part of the world." He stayed on an island that was just outside of San Juan and "right on the ocean." Menard noted the large numbers of "old forts" among his sightseeing. He also commented on "[going out] and eating a lot: truly enjoying Puerto Rican culture." But for Martinez, his favorite part about being in Puerto Rico was "being able to compete in front of [his] family who rarely has a chance to see [him] wrestle. "
Looking to the future, Menard believes that Martinez shows true promise in the wrestling world. He predicts that "before he graduates from college, Antonio will be an All American," one of the highest rankings in wrestling. Martinez hopes to place first in the 2014 Puerto Rico Junior National championships, which will take place in May.
Make sure to look out for Martinez's future success!