The weekend of February 21-23, the Jesuit Ranger Wrestling Team, led by Coaches Ryan Menard, Tony Brown, and Andrew Fleming, ended their season at the UIL State Wrestling Tournament 5A division in Austin, Texas at the Austin ISD Burger Center and the Austin ISD Delco Center. The competitors from the Jesuit team included Nick Barker '14 and Shane Ross '15.
It is almost impossible to believe that this was the first time since 2006, the year when Alex Ronaldi won the state tournament, where the Jesuit Ranger Wrestling Team has sent a wrestler to the state tournament.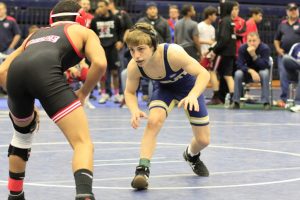 The team was able to end their drought and qualify for the state tournament, due to the team's success at the 5A Regional II Tournament at Allen High School. Shane Ross '15 finished 3rd and Nick Barker '14 finished 4th which allowed them to advance to the state tournament in Austin. Zachary Pearson '13 finished 6th, but this unfortunately did not qualify him for the state tournament.
There where highs and lows for the young Jesuit team. At state, Nick Barker '14 fell short in the first round to Dammion Heard of Keller Fossil Ridge 7-0. Shane Ross '15 continued to advance through the brackets defeating Francisco Tirado of McAllen Rowe in the first round and Andrea Gianetti of Houston Langham Creek in the second round. Ross was defeated in the third round to Howard Smith of Allen 16-4 but was able to achieve 5th place overall in his weight class.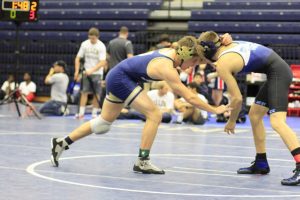 "The team overall is doing very well and they show a lot of promise [for the future]," stated Coach Andrew Fleming, overjoyed at how the team did at the state tournament.
After winning 5thplace, Shane Ross commented that "he felt a sense of accomplishment" because of his work ethic during the season. Ross added, "I was kind of expecting a little bit more out of myself. In the end, I was glad that I just worked hard and I had fun."
Coach Menard had to say that the team had a "very exciting season and the team was challenged and accepted those challenges on a daily basis." He continued, "Congratulations to the seniors and thanks for your dedication, commitment, and leadership throughout your wrestling career."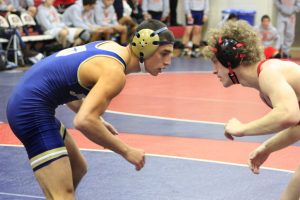 Coming off their most successful season in years, Jesuit Wrestling, with their stupendous skill and their success in past tournaments, looks ready to dominate the competition next year as they start the offseason. Go Rangers!
If you have any questions about the team or want to join the team for next season, contact Coach Ryan Menard (rmenard@jesuitcp.org).