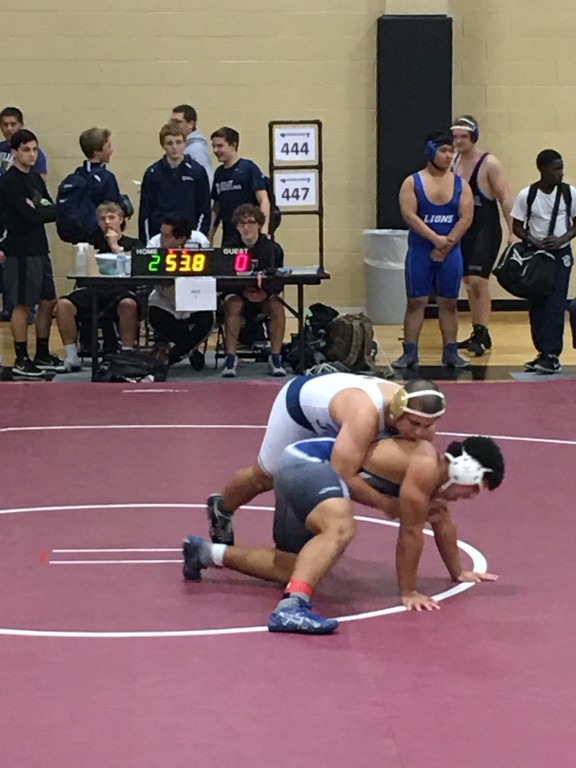 Junior Blake Heckel grapples with his opponent, attempting to turn him on his back.  Sweat drips down his nose as exhaustion creeps throughout his body; however, his hold is unrelenting, for any hesitation or any short rest will allow his opponent to break free. The seconds tick by, and the Skyline Raider finally submits, his back planted firmly on the mat.
This was the scene on Wednesday, January 6th as the Jesuit wrestling team dueled the Skyline Raiders in Walsh Gym.  The varsity squad saw great success, with Greyson Godfrey '18, Grayson Buchholz '17, and Derek Dumbrigue '18 each scoring pins in their respective weight classes.  Also, freshman Connor Curreri wrestled an exhibition match against one of their top contenders and won by a 6-2 point decision. Unfortunately, it was recorded as a forfeit as Curreri is not an eligible varsity wrestler. 
On the JV side, four pins were scored by Gabriel Farrell '19, Blake Heckel, Phillip Villalba '18, and Connor Curreri.  Heckel commented, "It was very rewarding to win in our home gym," and he "looks forward" to the next home duel.  On the downside, Junior Michael Clarkson suffered an ankle injury during his match, potentially putting an end to his highly successful season.  "I hope I'll be back by the end of the season," said Clarkson, as "It would be a very disappointing way to end the year."
The team moved on to the Cougar Classic on Saturday, January 9th, and again had great individual success.  Matthew Schonberg '16, after a delayed season due to difficulties getting certified as a varsity wrestler, competed very well and scored 3rd place overall in the tournament, pinning his opponents three times and winning the last match by default.  Schonberg commented, "This was a huge boost in my confidence and the whole day was very fun," as he not only enjoyed being "on the mat" but also "supporting his teammates." Additionally, Dumbrigue  scored 2 pins overall and Grayson Godfrey scored one of his own.
For JV, Curreri continued his reign and won first place in the tournament.  He has been very successful the entire season, "winning every tournament he has competed in," according to Coach Menard, the freshman hoping to one day "win state."  Jonah Brunel '17 and Gabriel Farrell '19 each won third place for their weight classes.  Although he didn't place, freshman David Reichert also had a successful tournament, winning his first match of the year.  He stated, "It was pretty exciting to get up and see my coaches and teammates there to congratulate me. It was a good feeling."
The team next competes at Jesuit from Friday, January 15th to Saturday, January 16th in the 20th annual Frank Halloran Classic, facing off against 27 other schools. Be sure to come out and support the team!