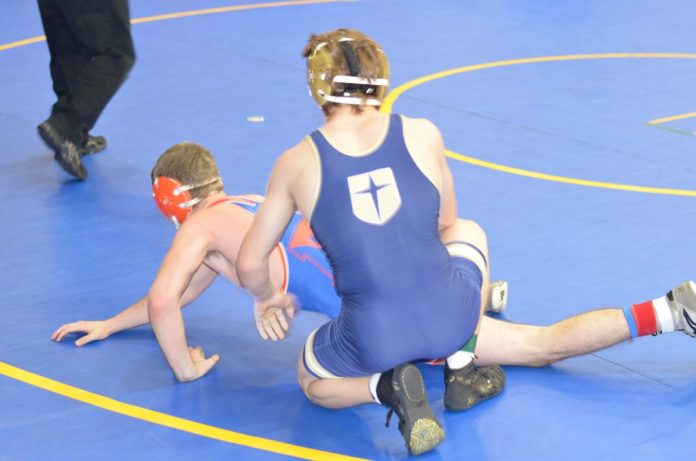 Coming off of an excellent season that saw two wrestlers qualify for State, the Jesuit Wrestling team is gearing up for another fantastic campaign in 2014. With the start of full time practice sessions this past October 27th, the Rangers are working hard to build upon last year's success.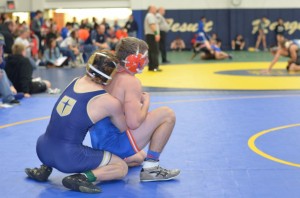 Each and every Jesuit wrestler has been working diligently in the offseason to improve their mat technique, fitness level, and physical build. "The main thing that they are doing now is working with our Athletic Performance Department with Coach Weeks and Coach Cahill," said head coach Ryan Menard. The guys have spent countless hours in the weight room pushing iron, with most of the wrestlers lifting at least three to four times a week leading up to the start of the season. This increased emphasis has payed dividends for the team, as they are beginning to notice improvements in their physical strength. "I have been working hard to bulk up and get bigger, and I have seen some improvement in that area since last year," divulged senior wrestler Michael Ingram.  A lot of emphasis has also been placed on "increasing their cardiovascular systems" to maintain a high level of endurance all the way through the taxing season.
Furthermore, by participating on club teams or in tournaments outside of Jesuit, they have gained invaluable experience through their exposure to a wider array of competition, said Menard. Many wrestlers take part in the freestyle/Greco-Roman season that takes place after the winter season ends, ensuring that their technique doesn't get rusty and that they stay in prime physical shape during the 'offseason.' Some participate in one or more of the eight North Texas tournaments that occur during this time. "They have had opportunities almost every weekend to compete (since the end of the season)"noted Menard.
For one Jesuit wrestler, the offseason was even more beneficial. Senior Shane Ross traveled to Fargo, North Dakota to represent Team Texas at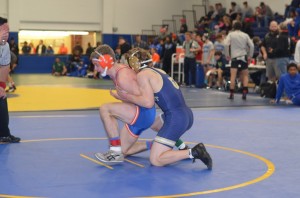 the National Wrestling Championships. "This extensive training during the summer has provided me with a lot more time on the mat, allowing for more fluidity and comfort during competitions, as well as improving my technique," he commented.
Coach Menard expects very big things from Ross this year, especially after his success last season, finishing 2nd in the 126-pound weight class at the State tournament. He commended his admirable dedication and competitive nature, saying that these will propel him to further success come February. "Shane is extremely motivated. He's a hard worker. His goals are at the top and there is an opportunity for him to attain those goals. I'm confident that with his work ethic and his training habits, he's gonna have a great opportunity and I'm excited to see how that unfolds."
However, his high expectations are not only limited to just Ross. "I look for that senior group to have vast improvements from last year to this year. Each and every one of them are going to improve statistically. Their maturity level and confidence level is going up," he commented.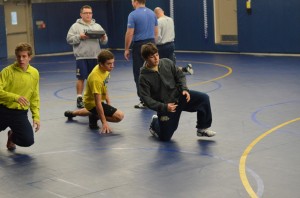 Led by a strong group of senior wrestlers, the team certainly has the ability to surpass last year's achievements. These seniors, compromising about half of the squad, have already taken on a leadership role, and hope that through their example, the younger wrestlers will begin to find success and the team's overall skill level will be elevated. "We have a lot of great leaders on our team," said senior wrestler Michael Ingram. The main benefit of this extensive leadership is the strong sense of motivation that the seniors nurture throughout the entire team. "[We] try to push [the underclassmen] so that they are getting the most out of a work out," expanded Ingram. In reality, the success of the season rests completely in the hands of these seniors. "This year, due to the small size of our team, we will really need our senior class to win tough matches in order to succeed," confessed Ross, also the captain of the squad.
When asked what the team mindset was heading into the upcoming season, Menard simply answered with one word: "Confident." "The nucleus of the boys have been here for all four years, so that would be our strength," Menard asserted, citing the replete experience that the six senior wrestlers have accumulated. He elaborated, saying, "Our skill set is very good… Physically and technically, the boys have a pretty good foundation."
However, the team is not without its weaknesses. While the team has no difficulty with the physical aspect of the game, Menard has noticed problems with the cerebral aspect. "At times we lack the mental part of it… Sometimes they are hesitant to open up and use their abilities. We are really focusing on preparing them mentally so that they are taking more risk and testing their ability… so that come January and early February when we start our State tournament series they are prepared to perform at their highest level."
Also, the team definitely is not as deep as Menard would have liked it to be. "Our weakness would be our numbers. There are 14 weight classes and we only have 11 people right now on the team," he said. However, Menard expects several new acquisitions from other sports, such as senior Chris Artigues, junior Ryan Black, and sophomore Grayson Buchholz, to immediately contribute to the team's overall success. These 'transfers' are certainly excited to begin their wrestling careers. "I'm looking forward to learning a new sport and recognizing both my teammates' potential and my potential when it comes to the sport," said Buchholz. Furthermore, to alleviate this problem at least slightly, Menard also expects some additional students, including some new freshmen, to join the team soon and help bolster their numbers. "There are a couple of football players that have told me that they are coming when their season is over," he indicated.
One thing is clear: lots of hard work and preparation is happening in the practice room underneath the Terry Center that is bound to pay off during the upcoming season. The Rangers open up their anticipated winter campaign on November 12th against The Colony at Jesuit. Come and support your fellow Jesuit brothers!