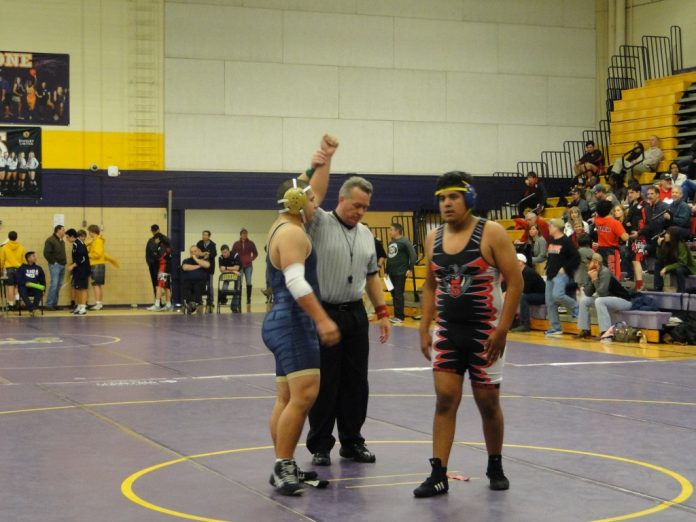 The district tournament, the culmination of the season, and a chance to be recognized for the infinite hours of tireless practice on the mat has finally arrived.  It is all in, succeed or go home, especially for senior Matt Schonberg who must win to keep his Jesuit wrestling career alive.
On Saturday, January 6th the Jesuit wrestlers traveled to Richardson High for their highest stake competition yet, the district tournament.  Tensions were high as no one wanted to lose and end their season.
The Rangers saw great success, with every wrestler winning at least, one of their matches, and three were able to qualify for this week's regional tournament: Matthew Schonberg '16, Derek Dumbrigue '18, Philip Villalba '18.  Schonberg, like all the other Rangers, began the day with a bye round after which he advanced to wrestle Highland Park contender, Stephen Dieb. Schonberg was defeated by a 21-6 point decision.  Determined to not let this loss affect him, Schonberg pinned Gabriel Luna (Sunset) in just over three minutes to advance to the consolation semi-finals where he finished in 4th place.  Schonberg felt "really good about the matches [he] won."
Villalba, dominated his first match versus Richardson opponent Alesio Serrano, pinning him in the first 56 seconds of the match.  He then lost his second match which placed Villalba in the consolation semi-finals, where he again trampled his adversary, Eli Zuniga from Skyline, with a pin in 1 minute and 59 seconds, securing his fourth place victory and his spot in Regionals.
Dumbrigue exercised total control over his 106 weight class opponent Vincent Do (Berkner), throwing him to his back in a mere 1 minute and 14-second pin.  He then proceeded to knock out his next competition, literally.  Dumbrigue hoisted the poor boy up from his waist and dropped him on his head, forbidding Highland Park's Jacob Kroencke to continue and forcing him to injury default, moving Dumbrigue into the final round of the championship bracket where he earned 2nd place.  Dumbrigue commented, "It was such a great learning experience for me.  I felt very confident after dominating my first two matches although it would have been nice to become the district champion."
Although Schonberg, Villalba, and Dumbrigue were the only Jesuit wrestlers to qualify, several Jesuit wrestlers finished in a respectable 6th place: Blake Heckel '17, Grayson Godfrey '18, Jonah Brunel '17, Michael Clarkson '17, and Mark Hernandez '17.
Michael Clarkson, entering the tournament as a 4th seed due to his winning record, was slightly rusty coming off a long ankle injury. This tournament was the first time he had wrestled since early January.  Winning his first match by fall (pin) in 1 minute and 35 seconds, he decided to injury default the next one in order to prevent the number one contender from reinjuring the ankle, which would stop Clarkson from progressing through the tournament.  Therefore, Clarkson moved into the consolation bracket and fell to a JJ. Pearce opponent, placing him in the match for fifth place.  Initially throwing opponent Ardi Isufaj (Berkner) on his back, Clarkson soon rolled over on his ankle and reinjured it, forcing him to injury default.  To close the season, Clarkson thanked his "coaches for teaching him to wrestle successfully," and his fellow players for "supporting him throughout the season even when [he] was injured."  Michael hopes to become "the district champion senior year."
The regionals tournament begins 7 am Friday the 12th to Saturday, hosted at Allen High School. Coach Menard sees the tournament as a "great opportunity for all three boys to advance on to the State tournament.  Sophomores Derek Dumbrigue and Philip Villalba are 1st year varsity wrestlers and thats exciting for the future of our program." Schonberg emphasized that being "seeded fourth in district will put me in a tough spot for the first round, but I think I can overcome the seeding in order to move forward." Dumbrigue "can't wait to test myself against the competition at regionals," and feels "very prepared to perform to the best of his ability."
Good Luck Rangers!