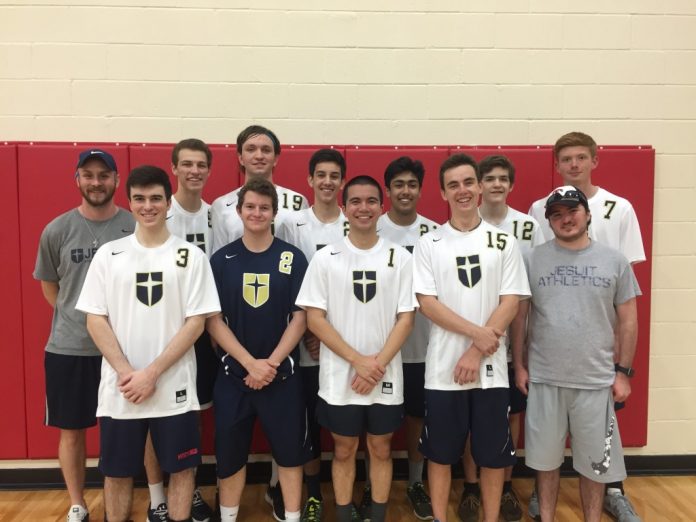 Hit, set, spike. Point to the Jesuit Rangers.
This outcome occurred more than enough for the Jesuit Rangers boys volleyball team in only their 2nd season, playing two tournaments and making it to the boys 6A volleyball playoffs.
"The first tournament was pretty rough, but in the second two, we won most of our games," said Coach T.J. Howard '08, who led the team to the semifinals in the playoffs. "I'm especially proud of the way our team [portrayed] themselves throughout the season."
Going 0-4 in the first tournament on April 16th, the team felt "really down on themselves," said senior Dominic Priolo. "I think we needed that loss; it really helped us to become motivated to do better in the following tournaments."
This type of motivation definitely worked for the team, as they went on to go 3-1 in the second tournament on April 30th and win the whole thing. Their one loss came from a highly ranked and highly talented Prosper team. "I expected the team to rally back as well as we did in the second tournament. I was very impressed with not only our seniors but also the underclassmen," said Dominic Priolo '16.
It was the third tournament of the season where the Rangers really found their groove and began to work as an all-star team. Beating Lovejoy in the first game of the tournament on May 7th, the Rangers rallied together for a dominant 2-0 victory. Carrying the momentum forward, the team once again took a 2-0 victory in the second game against Arlington Heights. Battling an outstanding Red Oak team in the third game of the tournament, the volleyball team worked hard for a 2-1 victory that capped off a great tournament.
Their performance in the regular season merited a postseason berth. Just 5 days after their last tournament of the season on May 12, the squad took down Lovejoy once again in a 2-1 victory to advance in the playoffs. However, the Rangers were not so lucky in the second round, taking a 2-1 loss from Red Oak to end their season. "It was really unfortunate to end the season like that. Red Oak was a very good team," said Coach Howard.
"I'm really going to miss our seniors next year and the hardest part will definitely be finding new players for the team. A majority of our team was seniors, but I have faith in the underclassmen on our team and believe that we will come back stronger next year," reflected Coach Howard.
While the volleyball team's season may be over, the Rangers will be looking towards next year to improve and to hopefully take home a championship.