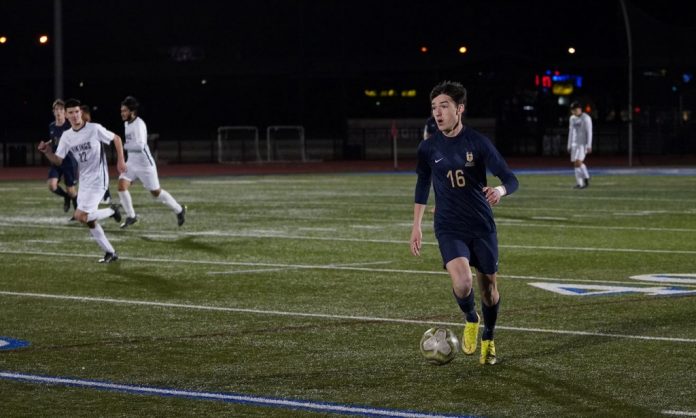 Now, to all of those people out there wondering, "Joe, when are you going to start talking about basketball stuff and intramural stuff? The season starts soon!" Spoiler alert: intramurals/JBA/JBDL was canceled and it's not happening this year. Thanks for that, COVID. Anyway, I may or may not have been assigned a new beat over the weekend: soccer! So anyway, let's get into a recap of the past five games and see how the Jesuit soccer team did.
Jesuit's Season Overview (So Far)
I'll keep this one short because we have to get into the meat and potatoes of this piece (the last five games. There's a reason this one is called "The Latest on Jesuit Soccer".) For the 2020-21 season so far, the Jesuit Dallas soccer team started off with a blistering-hot 8-1-2 start, and for you all non-soccer fans out there, that means they currently 8 wins, 1 loss, and 2 draws/ties to their name. Now, since I've said all that, let's get into the individual recaps.
January 26: vs JJ Pearce HS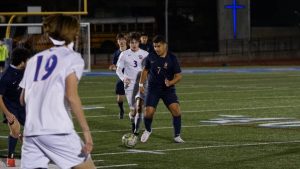 On January 26, 2021, Jesuit took on JJ Pearce at their home at Postell Stadium. They came out with a 3-1 win, and there was excellent play all the way around for the team. They actually started in a 1-0 hole when Pearce's Ford Allen nailed a shot that was assisted by Gabriel Rodriguez. However, that was the last of the goals on the game for Pearce, as they were shut down in the first half with a total of five first-half saves by Jesuit. And it wasn't just the defense that was effective; Jesuit went on top entering the halftime break thanks to two goals by Cullen Scott '21 and Santiago Day '21, respectively. In the second half, Kyle Visintainer '21 buried a shot that put the dagger into JJ Pearce's throat and gave Jesuit a 3-1 win over the Mustangs.
January 29: at Lake Highlands HS
This one had the potential to be a tough game for the Rangers, as LHHS has a strong reputation in almost all sports. And this did turn out to be a gritty and tough game for the Rangers. In the first half, two scores from Henry Gilker '21 and Alec Gomez '21 respectively put the Rangers on top entering the break. However, Lake Highlands would not go down that easy, as two scores from the Wildcats knotted the score at 2 apiece, and despite several good looks at the goal from both teams, sophomore Cole Hines did the job for Jesuit in goal, securing a very impressive five saves, LHHS did their part in goal as well, securing 10 on the game, and the match ended in a 2-2 tie.
February 2: at MacArthur
Now Jesuit came in taking on MacArthur on the road, and they came out guns blazing in the first half, scoring a whopping four goals, two of which coming from Cullen Scott '21, and the other two coming from Jason Davis '21 and Ryan Shea '21, respectively, as Jesuit went into halftime up 4-0. And despite two second-half goals from MacArthur, Jesuit got another goal from Scott, and this one earned him the hat trick, and the Rangers walked away with a 5-2 win.
Regarding the way his team played in this one, Jason Davis '21 remarked, "The team played excellent, as the whole team seemed to link together. Our passing was crisp, and the whole team became very connected. We learned the other team's vulnerabilities early in the game and exploited them to get the win. A couple of defensive mistakes that are easily fixable and not concerning, but overall great performance."
February 5: vs Nimitz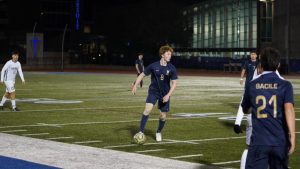 On February 5, Jesuit took on Nimitz HS at Postell Stadium, and this game did not disappoint Rangers fans and players and coaches alike. It was a 5-0 rout, punctuated by a huge penalty kick goal at the end of the first half by Alec Gomez '21. And even though Nimitz tried to rally and make a comeback in the second half, Jesuit was not having it, as they piled it on even more with two second-half goals by Cullen Scott '21 and Ryan Shea '21 respectively. In the end, Jesuit came out on top with a 5-0 win and earned their second win in a row after that impressive win three days prior over MacArthur.
February 8: at Berkner
Geez, these scores are getting out of hand at this point.
Anyway, the team then traveled to Berkner HS to take on the Rams on February 8, and it was a field day for Jesuit as they racked up the goals against a Berkner team that looked lost and helpless out there. The team scored a whopping seven goals and got an even more astounding 27 shots on goal (11 in the first half and 16 in the second half), and, despite a total of eight saves by Berkner compared to Jesuit's three, the Rangers still lit up the scoreboard, starting things off in the first half with a slick Cullen Scott '21 goal off an assist from Arnold Perez-Valenzuela '22 and Ryan Shea '21. Scott '21 ended up scoring three more goals over the course of the game, totaling four on the match and because of that effort, Jesuit walked away with an easy-looking 7-1 win in enemy territory.
Regarding the massive win, Perez-Valenzuela '22 commented, "The game itself was a bit rushed because we had to change the game time. But going into the game we knew if we just played our game we would've been fine and that's what happened. Once we got the first goal they all started coming smoothly. We just needed that first goal to get comfortable in the game and we kept scoring. And as a whole, we just kept the communication up from the start and it went smoothly."
Well, that's all for this recap, but stay tuned to The Roundup for more Jesuit soccer and sports news!