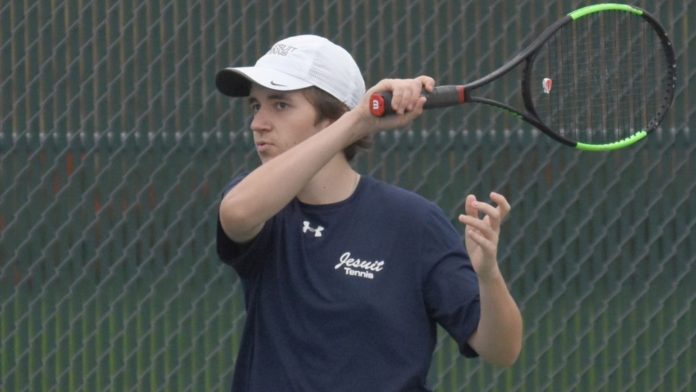 The tennis team continued their dominant performance these past two weeks as the Blue and Gold faced Irving MacArthur and Irving Nimitz. Down below are the results for these two matches.
Irving MacArthur
Against MacArthur, Jesuit almost completed the sweep with an overall score of 17-1. Some match winners include the duo of Jon Ardoin '21 and Calum Taylor '21, winning their doubles match 8-3. Jon reached out to me and said, "This match really gave us our confidence to do better in future matches." In addition, Blake Woodard '22 and Joey Trigiani '22 also performed well, winning with a score of 8-1.
In the singles round, Connor Bryant '21 was able to easily take care of business with a lopsided 6-1, 6-0 victory. Furthermore, Jon Ardoin '21 also had a great performance as he won with a score of 6-1, 6-0 as well. Likewise, Calum Taylor '21 played a lights-out singles match, picking up his second victory of the night with a score of 6-2, 6-2. After a dominant night, the Rangers were able to drive home with a win under their belts.
Irving Nimitz
The Rangers continued their commanding play again, for they almost completely swept Nimitz Vikings, winning by a score of 12-1. In the doubles round, the duo of Carl Wilson '21 and Jon Ardoin '21 dominated their way to a 6-0, 6-1 victory. On the other hand, Calum Taylor '21 and myself (Diego Elizondo '21) played in a more tightly-fought match. However, we managed to win Jesuit a 6-3, 6-2 victory. In addition, the Junior duo of Blake Woodard '22 and Joey Trigiani '22 won with a score of 6-3, 6-2. Jesuit was able to complete the sweep of the doubles matches against Nimitz, which is an impressive feat.
During the singles round, Robbie Bervin '22 led the pack with a 6-0, 6-0 victory. Ryan Lee '21 also came out victorious with a dominant 6-1, 6-0 match win. In all, the team played a great match against the Vikings, leading to back-to-back wins on the season.
Next week the Rangers will play two matches. The first will be against Berkner in Richardson and the second will be against Nolan Catholic in Fort Worth. The Blue and Gold look to ride this winning streak into next week as they prepare to face two formidable opponents in Berkner and Nolan. Check back with The Roundup for the results of those matches.
Go Rangers!