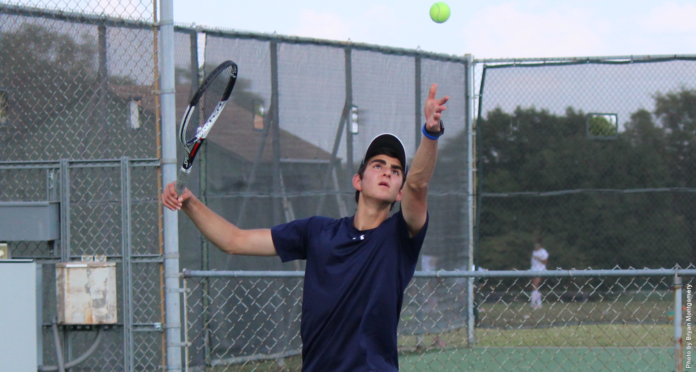 Sprinting up and down the court, painting the lines with their calculated shots, Jesuit tennis amazed in September, coming out victorious. They left with an undefeated record, winning all seven of their preliminary matches.
Treating this first half of the tennis preseason as a trial run, Coach Paul McDaniel has decided to schedule the tougher matches in the spring. This allows him to see which doubles work well together and "who complements who, not just by skill but by personality as well."
"We were looking not so much for more competitive matches at this time of the season, but more so looking forward to the spring where the more competitive matches are, so we know what rol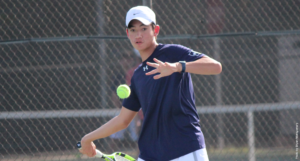 es people will be able to fill. That's why we put a lot of younger players like freshmen and sophomores into matches, because we wanted to figure out their place," added McDaniel.
Judging by the outstanding performance this month, Coach McDaniel may not have much adjusting to do at all. Reid Staples '20 and Diego Trejo '20 started the season strong in their top-flight doubles match against Richardson in the tail end of August, followed by an impressive showing the following week at Skyline by doubles team Nick Slayton '19 and Thomas Cluck '21, securing an 8-0 sweep in the third-flight.
Only days later, senior Nico Elizondo '18 distinguished himself in singles, yielding two back-to-back sweeps at Grapevine in addition to his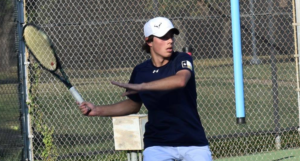 successful doubles matches with Christopher Reynders '18, where they won both matches. In addition, a pair of sophomores performed particularly well at Grapevine in their doubles matches.
Assistant Tennis Coach Andy Civello '97 commented that Staples and Trejo "dominated both of their doubles and singles matches. This is the 2nd year they have played doubles together and they just really complement each other. It seems at times they are reading each other's thoughts. They are very tough to play against." The pair achieved two back-to-back sweeps, scoring 6-0 both times.
At JJ Pierce, Jesuit's singles matches were exceptional. Marcelo Pier '19, Nick Slayton, and Nico Elizondo all managed 8-4 decisions, while Nico Cornejo '18 achieved an 8-3 decision for a Jesuit victory. Juniors Max Platt '19 and Kota Ueshima '19 also had strong showings in singles, with sophomore Trey Ashmore '20 squeezing out a win in the final singles match, 8-7.
Jesuit tennis continued September strong, rocking Lake Highlands with a net result of 17-1 Jesuit, WT White with a net result of 7-0 Jesuit, and Liberty Christian with a net result of 14-2 Jesuit. Such consistent success may seem extraordinary, even if the matches during September are slightly less competitive. However, their extraordinary performance is matched by their extraordinary dedication to the game. Nico Elizondo voiced his opinions regarding the fall season:
"Our performance this fall will be a pretty big reflection of what will come from us in the spring. Although the fall season doesn't count (it's all scrimmages and friendlies against other schools) we still play very very high level programs like Highland Park who have won the state championship many times and Coppell who won 1st place in district last year."
Elizondo continued, "This fall season will give us a good grasp of where we are as a team compared to other schools around us, and that will be taken into consideration over our winter off season to better train and prepare ourselves for the competitions in the spring and the district tournament in April. Overall, knowing that we're undefeated, 8-0 as of October 4th, it's clear to see we have a good program here at Jesuit, yet we won't stop until we're hopefully the best one out there."
For more Jesuit tennis news, including coverage on the fall season, and all things Jesuit sports, stay tuned to the Roundup.