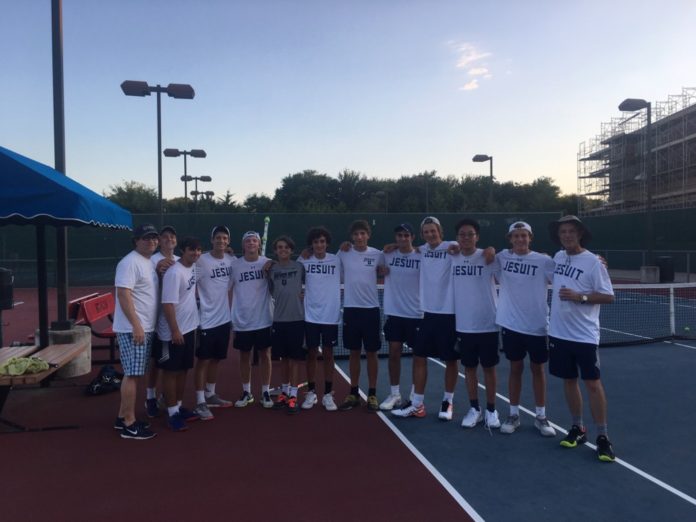 It's the third set tiebreaker. With the match on the line, Jack Murray '21 steps up to the baseline. "5-5," he calls. The tension could be cut with a knife. He shrugs his shoulders back to relax and bounces the ball on the pavement just in front of his left foot. He bounces the ball three more times, then winds his racket back to launch a serve down the T. But before he can toss the ball, he hears a scream in the distance.
"C'mon!" the anonymous voice cries out, the voice of a tennis player pumping himself up from courts that had to be at least 200 yards away.
He was startled by the loud noise, which he originally thought could've been a mating call. But it quickly registered that the voice was that of Thomas Cluck '20, celebrating his first service break. Murray laughed it off then proceeded to serve, acing his opponent down the T.
Tennis is a game of inches.  An inch is all a team needs to squeeze out the match, especially at the UIL 6-A level in which Jesuit competes. Cluck's scream was the inch Murray '21 and Ardoin '21 needed for close out the tiebreaker against Plano West in the Ranger's season opener.
Rangers Tennis vs. McKinney Boyd
Plano West
The Jesuit Dallas tennis team opened its 2019-2020 season with a tough 5-11 loss against Plano West on August 27. West took a 4-1 lead after doubles, Jesuit's doubles team of Jack Murray '21 and Jonathan Ardoin '21 scoring the Rangers' lone doubles victory in comeback 4-6, 6-4, 10-5 win.
The No. 16 recruit in Texas, Reid Staples '20 was locked in a bout with No. 11 in Texas Arjun Kirsten, a match won by Kirsten 6-1, 0-6, 17-15.
Matthew Cole '20 sparked a comeback at No.2 singles, securing a 6-3, 7-6 win over West's Uthem Koduri. Reid Aaron '22 followed with a dramatic three-set battle against Kishan Kirsten, winning in a tiebreaker 6-2, 4-6, 12-10. Jake Darlak '21 earned a 6-2, 7-6 win in his singles match, and Jack Murray '21 scored Jesuit's fourth singles victory with a 6-3, 3-6, 10-2 victory over West's Connor Castro.
"I thought we played pretty well," commented head coach Paul McDaniel. "I was surprised we played better singles than doubles. We spend a great deal of time with doubles. Part of it is doubles is about learning to play as a team. It just takes time. This was our first match, West has played 9. Plus, we still have three players recovering from injuries so it's very difficult to play one of the top three teams in the state down that many players."
McKinney Boyd
The Rangers bounced back from the West match with a convincing victory against McKinney Boyd on September 3, converting a 3-3 split in doubles into a dominant 8-4 victory in singles.
Cole '20 and Aaron '22 started the afternoon with a 6-0, 6-2 win over Boyd's top-flight doubles team before the third-flight duo of Murray and Ardoin battled from a one-set deficit to win 4-6, 6-4, 10-8. Cole '20 swept Boyd's Ethan Kittredge in singles with a 6-0, 6-0, top-flight win as Aaron '22 captured the No. 2 singles victory, 6-2, 6-0.
Junior Jake Darlak (6-0, 6-0), Murray '21 (4-6, 6-1, 10-7), Elizondo '21 (8-5), Paredes '22 (9-8) and Phillips '23 (8-5) also scored victories for the Rangers, Murray increasing his winning streak to six matches with another comeback win.
Stay tuned to The Roundup for more Jesuit tennis updates!