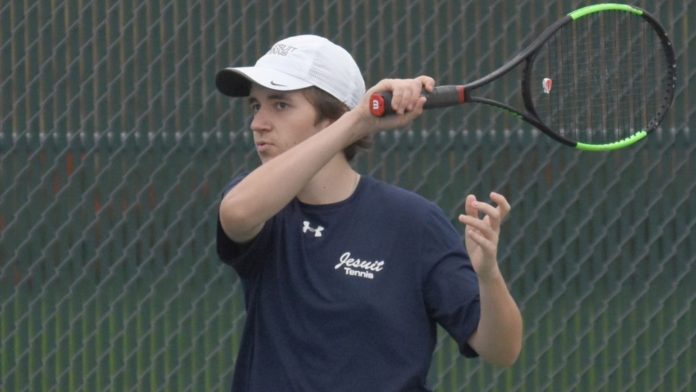 The Jesuit tennis team finished its great season with a 21-1 domination of the Richardson Eagles. From the very start, this match looked to be in the Rangers' favor as they closed out the match with a big win against a good district opponent. This time around, the Eagles came up short.
Doubles
The match started with the usual line of doubles matches. Line #1 Alex Park '22 and Zach Whittington '24 played in a hard-fought match with many great rallies. The formidable duo was able to come away with a 6-4, 6-2 victory over a great Richardson first line. Another great result came from the hands of Carl Wilson '21 and Jonathan Ardoin '21 as they dominated their opponents, only letting them get one game in the whole match. That one finished with a score of 6-0, 6-1, a very great showing from the Jesuit side. Overall, the Rangers swept this round with a perfect 8-0 match record in doubles.
Singles
The singles round that followed was much of the same as doubles. Jesuit dominated most of the matches in this round, such as Jake Darlak's '21 6-1, 6-0 line 3 match. However, the most interesting match of this round was Alex Park's '22 match. This match was the closest match in the whole overall team match as the two opponents split the first two sets, leading to a third-set ten-point tiebreaker. Alex prevailed in this test after a hard-fought and well-deserved 4-6, 6-1, 10-6 result. Great job tennis on your great win to finish out the season!
Next week, Jesuit tennis travels to Coppell High School to face the state-ranked Cowboys. This match is not considered a district match, but it does provide a great test for the Rangers, especially after their dominating performance against Richardson.
Check back with The Roundup for more tennis content.