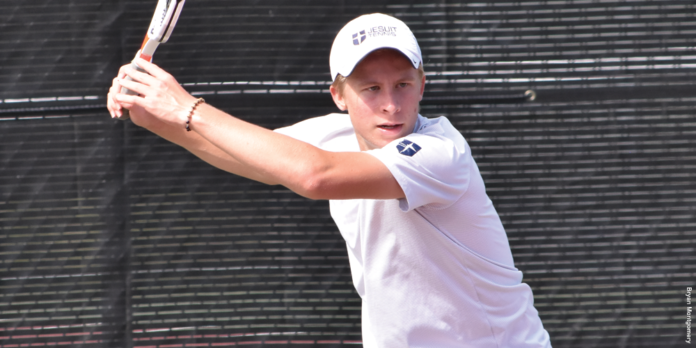 "Nothing can substitute for just plain hard work. I had to put in the time to get back. And it was a grind. It meant training and sweating every day. But I was completely committed to working out to prove to myself that I still could do it." – Andre Agassi
Jesuit recently played three tennis matches towards the end of September, taking on McKinney Boyd, Prosper, and Plano.
Recap
On September 4, Jesuit achieved their first win of the year with a 15-3 victory against McKinney Boyd. Notable performances include Matthew Platt '21 and Matthew Cole '21 in a 6-2,6-0 doubles victory, and Reid Aaron '22 and Trey Ashmore '20 in a 7-5,6-2 doubles victory.
On September 14, Jesuit matched up against Prosper and came away with a remarkable 16-1 win.
On September 18, Jesuit fought in a tough 9-4 loss to Plano. Notable performances included Cole Clement '19 and Alex Gomez '21 in a stunning victory over Plano's best doubles team; Eli Gan-Dy '21 and Trey Ashmore '20 also scored an upset over one of Plano's better doubles team with a 6-4, 5-7, 11-9 victory.
Coach McDaniel Reflects
Coach Paul McDaniel, on the Plano match up, commented, "The match against Plano was the most competitive of the 3 matches, The heat was brutal and we were outmatched- they were much deeper talent wise than us.  Yet, the boys really fought hard and made it a long night before the Plano Wildcats prevailed."
McDaniel continued, "Freshman Reid Aaron and Junior Matthew Cole are undefeated in doubles in a really tough district.  They were supposed to be our #2 team but have really risen to the occasion to play this well.  At #1, they get the other team's best players so there is no easy match for them.  Doubles is more of a thinking man's game and it takes a while and many matches to get a feel for when to hit a variety of shots in a variety of situations.  Jesuit tennis has always prided itself on being a strong doubles team."
Coach McDaniel finished by saying that "The young guys are still trying to learn all the nuances of the doubles game – that's the biggest shortcoming we need to address."
Trey Ashmore
Trey Ashmore '20 said, "This year's tennis team has deviated far from what was expected going into this season. With these abrupt changes, our team as a whole has learned to adapt to these changes and perform to our best ability under our circumstances. Several of our top lines have been out early this season, many underclassmen filling lines previously filled by more experienced players. This has all taken place within a more competitive district, consisting of defending state champions Plano West and the equally tough Allen teams."
He also added, "The matches against Prosper and McKinney Boyd reminded me of Jesuit tennis' dominance in our former district. We won the overwhelming majority of the lines, and the environment was full of confidence and excitement."
With it just being the beginning of the long season, Jesuit is ready to take on the challenge ahead of them.
Check back to the Roundup for more tennis and other news!