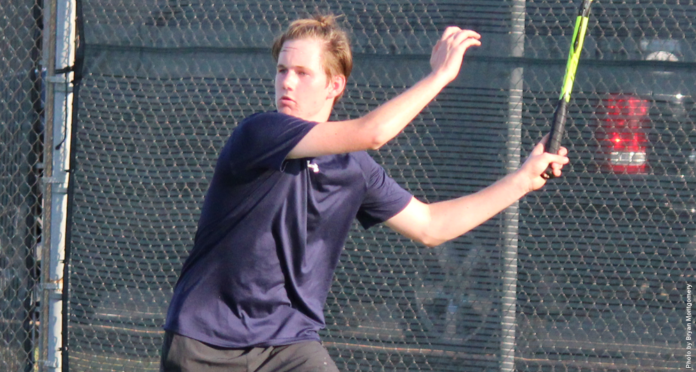 This semester, the Jesuit tennis team brought their all in the second half of their season, with little opposition. The team faced only one defeat in the season's latter half against Highland Park.
The Jesuit tennis team started the month of October with an 8-0 sweep against Berkner, with strong showings from Kota Ueshima '19 and Christopher Reynders '18 in their doubles match. Head coach Paul McDaniel commented: "I thought they really complimented each other's games and looked really confident."
Two days later, however, Jesuit received a crushing loss issued by the Scots of Highland Park. The tennis team dug in their heels, but it seemed like Highland Park was edging them out in all the important places like tiebreakers and close points. Nico Elizondo '18, the tennis team's captain, offered his insight: "The loss against Highland Park gives us the humility to notice that there are still many things to work on during this time to come back even stronger in the spring for tournament season."
Later, determined to finish strong after their win streak was halted, Jesuit stunningly outperformed both JPII and Coppell. On final series of successes, Elizondo commented: "I believe that we ended this fall season extremely strong, beating Coppell, arguably our strongest district competitor, in both varsity and junior varsity matches. This gives us a lot of confidence coming off for the winter off-season."
At JPII, Jesuit struck big with a dominant 6-0 victory, with strong showings from John Lindberg '18 and Reid Staples '20. At Coppell, Jesuit made a strong comeback after briefly losing control in the first two of three doubles matches. The tennis team pulled off a 5-2 victory, with by far the strongest showing among the tennis team being from Marcelo Pier '18. Pier won his third flight singles 6-1.
In an interview with head coach Paul McDaniel, the Roundup searched for the rhyme and reason of the tennis team's success this semester and what it will mean in the coming tournament season.
Coach McDaniel mentioned that the teams they play within the district are "not that strong," so "we try to find matches outside of our district in order to have challenging matches." This allows the team to make adjustments and modifications to how they play, as Jesuit opts "for the spring tournaments next semester."
"I think particularly for our younger players, who are playing at the varsity level, it gets them accustomed to playing against different age groups. This will prepare them so come spring time, it's not always about who's the biggest and the oldest."
"Tennis matches by ability, so sometimes that can be intimidating if you're younger and you're used to playing people your age. We treat this fall semester as somewhat of an acclimating period for new players."
In addition to an interview with Coach McDaniel, the Roundup asked team captain Nico Elizondo to offer a reflection on what improvements he personally noticed in this latter half of the fall season.
"An improvement that I have noticed that will help for the next season is our chemistry as a team. At the beginning of the year, it was a new experience having to bring in 9 new players to the team, almost doubling our team size with that, so the team probably wasn't as close as it could have been at the beginning of the year."
"But now, with an entire season of experience together, I really feel the team coming together as a family and as brothers and I think that this is crucial for a successful spring season."
For what lies ahead, Elizondo is optimistic, and the current tennis seems like a tight-knit group of athletes. Stay tuned for more Roundup coverage as tennis prepares for the spring.