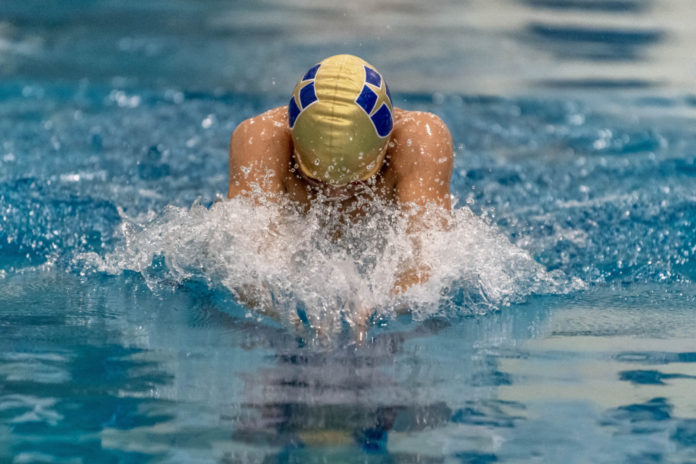 His legs tightly compressed by the glistening colorful tech suit, the swimmer lowers his head and steps up on the blocks. His goggles pressed to his head and his cap stretched over taut, the swimmer prepares for the race ahead. The 100 fly, a sprint, a less than one minute race, a battle. Lowering his chest, he places his hands on the edge for the start. Raised up above the water the swimmer stares into the depths awaiting the official. Upon the beep, the student launches off the blocks and into the stroke he's honed over years and years of practice to take home first at the meet.
Coach Doug Moyse and Coach Michael Meagher led the Jesuit Rangers to their second undefeated season in a row, winning 20 straight meets. This dominance was led by senior Captains Will McKinney, Kevin Grant, Ryan Peckham, Alexander Chong, and Jack Young. In their dominance at Tisca and their sweep against Frisco Wakeland and Frisco Independence, the Rangers cemented their legacy as one of the best in Jesuit history.
Tisca
Taking first out of the six teams competing, Jesuit impressed the competition with a clean sweep of the meet. Will McKinney '21 especially performed, breaking the 500 free record again with a time of 4:38.20, the second time in two meets. McKinney dropped almost an entire second off of his prior best at Highland Park. Outstanding swims include that of Alex Hung '22 with a 22.50 second 50 free, and a first-place finish in the 100 fly with a time of 53.18. Freshman William Savarese '24 showed out with a 200 free relay split of 22.62 and a season-best 59.59 100 breast to secure first. Kevin Grant '21 landed a second-place finish in the 100 free with a time of 50.19
Frisco, Wakeland, and Independence
Jesuit Crushed this meet for the Second Year in a row, winning over Wakeland 177-142, and beating Independence 230-68. Closing out their 10-0 season, the Rangers were led by Ryan Peckham '21 and Will McKinney '21 who each placed first in two of their events. Ryan Peckham '21 also set off a podium sweep in the 100 back with James Savarese '22 and Palmer Bowman '23 taking second and third. Will Mckinney set an impressive season-best 100 free of 49.24, outplaying rival Conner McKenna by a couple hundredths of a second for the win. Diver Jack Young '21 took first place with an impressive performance of 206.40 in a six dive meet. The 200 medley relays took a 2-3 finish with times of 1:40.43, and 1:45.26.
Conclusion
This current class of swimmers and divers may be one of if not the best Jesuit has ever had, setting our only 20-0 undefeated record in the UIL. With great depth in all of the events and relays, this team has proven time and time again their strengths against even the hardest of competition. Despite having unstable access to pools for practice, the team still set records and won meets. Looking on to the District meet the team is poised to take first and set a historic performance at regionals.
A huge thanks to Mr. Chamblee for the amazing pictures!
Stay tuned to the Jesuit Roundup for more Jesuit swimming and diving content!