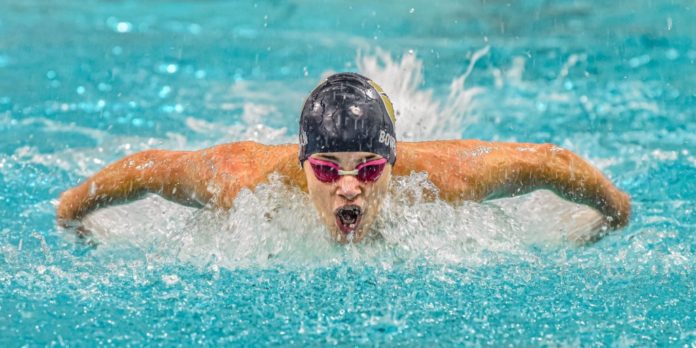 "If you want to be the best, you have to do things that other people aren't willing to do" -Michael Phelps.
The Jesuit Swimming and Diving Team has been on fire all season, setting a new district and UIL record of going 9-0. Head coach Moyse and assistant Mr. Meagher have led their swimmers on a remarkable feat of establishing an undefeated record. The Rangers set themselves up with a perfect record going into their electrifying championship meets.
TISCA: 
To start the meet, Will McKinney '21 placed 4th in the 500, besting his previous time. Ryan Peckham '21 also followed behind with a 7th place finish behind in the A final. Peckham, continuing his speed, earned a 6th place in the A final. The Rangers 400 free relay placed 7th overall, and Alexander Hung '22 won the C final in the 50 free. McKinney won the 100 breast C-Final with a season-best time. James Savarese '22 sneaked into the B final of the 100 backstroke. Jack Young '21 finished 3rd in the three-meter dive, adding a fourth-place finish in the one-meter dive.
Frisco Tri-Meet: 
Jackson Summers '22 won both the 50 and 100-yard freestyle events. McKinney added several wins in the 200 IM and 100 breaststroke. James Savarese '22 took over the 200 freestyle and 100 backstrokes. Peckham, Summers, Savarese, and McKinney finished the meet with a victorious winning the 400 free relays. Ivan Lopez '20 finished 2nd in the 100 butterfly. 
Interview with Coach Moyse
How substantial is the undefeated record thus far? 
"It's a tremendous achievement considering that the team competes in 6A. We carry depth and match kids up for success. We've had a lot of luck this season with meet schedules and conflictions being minimal. We made it a goal from the starting point of this season to be undefeated. As a surprise we are, there were several teams that certainly had a strong chance to overwhelm us. A few meets were canceled, but I'm positive the team would have still been undefeated being 12-0."   
How was the TISCA meet for the team? 
"First off, this meet is competitive and heavily depends on who is in it. We placed 7th this year, that gives us a better indication of where we will be by regionals and we are thinking top 5."
What did you think of the Wakeland Tri-Meet?
"The teams that we swam against, had been a fast team years prior. We brought our 'A-game' and they simply didn't. I knew early on it was going to be difficult to win against, but our depth carried us to minimize points. Diving carried us through the meet as well as relays."  
What's the future schedule for the team looking like?
"Our JV district meet is a meet that we usually dominate and we are looking forward to competing there. And our Varsity district meet will be a big meet for the guys to show their speed and talent."
Captains' Questions:
In your opinion, how has the team been performing? 
Ryan Brown: "The team has been balling out, we are currently undefeated, 9-0 with some of our JV swimmers scoring valuable points. I'd say that this is a result of the team attending practices and working hard together." 
Abraham Martinez: "The team has surpassed everyone's expectation thus far, its amazing to see how much effort and grit everyone from the captains down to the freshman on the team carry." 
Aidan Hoofard: "As Coach Meagher would put it, we've done a bang-up job.  We instilled teamwork and discipline into this team and transformed it from a sluggish steamship to an electrifying speed boat. This is the first time in UIL history that Jesuit had entered in a District meet 9-0. The comradery is a necessity for keeping the team in high spirits. "  
What are the team's goals, for finishing out the season?  
Ryan Brown: "We really want to win districts, and then send a relay to state. Perhaps a swimmer makes it to state." 
Abraham Martinez: "My goal is similar, but we just want to dominate the District meet coming up."
Aidan Hoofard: "I want to see swimmers make it to state this year." 
How special is it to finish your last year on a hot streak? 
Aidan Hoofard: "The only words, that I can think of are just proud. Everyone stayed healthy and as well as a lot of things went perfectly this year compared to years past. I'm just happy to be apart of it." 
What do you want to leave behind for the team? 
Aidan Hoofard: "I've seen captains on the team prior years not put their foot forward and maintain a weak relationship with everyone. That's the exact opposite I want for the team to grow into, the guys are already close like brothers and I want to see the team grow in a communal way." 
"The main reason for our success is having more depth than other teams as well as a coach who knows how to use everyone in the best possible way. Doug instills in us to swim fast and it's paying off." 
Stay tuned to The Roundup for more coverage of Jesuit Swimming & Diving!