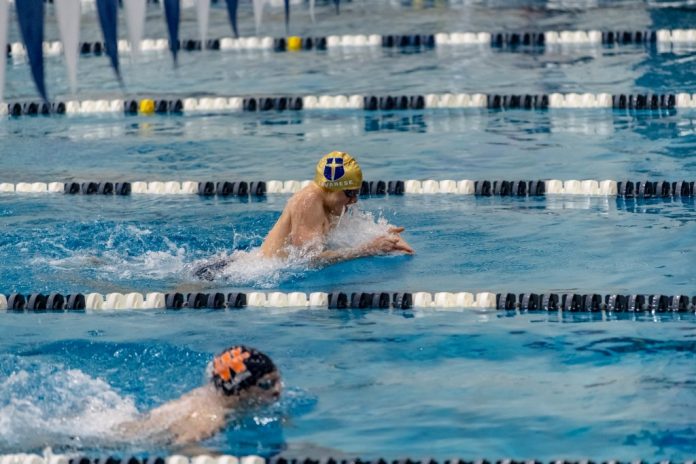 Knowing it's his last race of his high school career, the senior nervously steps onto the blocks. His goggles pressed firmly to his face, the Ranger pulls his cap tightly over his head. Upon hearing the beep, he launches his body with every ounce of force into the water for the race.
Senior Will McKinney '21 and Freshman William Savarese '24 both competed at the UIL Swimming and Diving State Championship meet at the Bill Walker Pool in San Antonio. Both swimmers placed in the top 15 of their events.
State Meet
Will McKinney swam a 1:51.12 200 IM in prelims and finished off his season with a 1:51.64 in finals to place 11th overall. Will earned a call-up opportunity after having one of the eight fastest, non-first-place times across the state in the 200 IM. William Savarese '24 capped off his amazing freshman year performance with a 100 Breastroke prelim time of 58.83. In finals, he swam a 58.77 to earn 13th place in the State. William Savarese was one of only four freshmen who qualified for the state meet this year.
Interview with Will McKinney
How was our performance as a team this year over past years?
"Our performances were much more consistent than they have ever been. As a whole, our team is training better even though we have had to deal with not having a steady pool all season. I actually most of our guys were pretty committed and getting in the water when they needed to. Surprisingly, our training went pretty well and most of our guys were performing really well at the meets. There was always someone stepping up to perform at the meets whereas in the past our performance might have been a little off."
How do you think the Natatorium will impact how Jesuit trains and progresses?
"I think it will be huge in every way, practices will be easier to make it to, not having to deal with complicated transportation will be great. Coaches will also have much more control over the whole facility, now able to adjust temperature and practice times to what they find optimal. We also avoid the risk of the pool shutting down from external circumstances. Loos Natatorium where we have practiced in the past had constant maintenance issues that often impacted practice schedules. Having the convenience of a really new and nice facility on campus is going to help get more people excited about swimming as the team is now front and center on campus."
How do you think the graduation of the current senior class will impact the team?
"It's definitely going to hurt dual meet scoring, they're losing so many fast guys. Two guys from our 400 free relay will graduate. That being said, our 200 IM and 200 free relays have no seniors and both nearly made it to state. This means that both of these will only get faster so it is highly likely we will get 5 or 6 guys to state next year. We will likely have one of the biggest state teams we have ever had looking forward. Whether or not we have as many dual meet wins will be up for grabs because we may not be as strong in those but at the end of the day its about getting guys to state and I think we will have no trouble with that."
How did COVID-19 impact our chances at the State meet?
"The UIL significantly reduced the number of people who qualified this year so that definitely hurt our team. Regional qualifications went from the top 6 to the top 4 at districts. State qualifications went from the top 2 plus 8 of the fastest outside of that to only first place plus 8. This meant a couple of our swimmers who may have had a shot lost out this year."
How did the environment at the Meet change as a result of Covid 19?
"Not having as many people there and a reduced crowd size hurt the environment of the meet. Changing locations to Bill Walker in San Antonio instead of the UT Natatorium affected everyone. Despite having a smaller pool, San Antonio did a great job and the UIL put together a very fun meet. It's pretty much an impossible job to recreate the energy of a normal state meet but they exceeded my expectations. The snowstorm before also hurt the meet as kids were out of training the week prior to the meet. This caused everyone to swim a little bit slower than expected as they weren't in their prime.
How do you feel about both your's and William's performance at the meet?
"I was a little bit disappointed with the times, with all the struggles we didn't really have the most optimal meet. Besides that, I was really happy that I could match my Regionals performance. William also did well, he added a little bit of time to his regionals performance which is something that he didn't want but we both moved up from our predicted place. He was only one of four freshman at the meet and in high company with Cooper Lucas who won and a couple 5a freshman who set some state records. It's very exciting to see what he will do in the future and hopefully, I can carry over some success at Boston College."
A Special thanks to Will Mckinney '21 for the interview and Mr. Chamblee for the pictures!
Stay tuned to The Roundup for more sports content.