"Excuses are like losses. Everyone has them except champions." -Alex Morgan, U.S. World Cup Champion
Jesuit Rangers aren't making any excuses in their push to make the playoffs and rebound after last year's tough season. They look to keep fighting and keep obtaining good results to put them in a good position. Coming off a decisive McKinney Boyd win last week, they play the top two teams in the district, Prosper and Allen, who are close to clinching their spot for playoffs. Let's take a look at how the team performed:
Prosper (February 25, 2020)
Traveling away to Prosper in an important district game, the Rangers looked to close the three-point gap between them and McKinney Boyd. The Rangers got roughly 28 shots on goal against Prosper, showing how many chances they were able to produce. However, the stars did not align for the Rangers, giving up a goal after a rifled shot into the left top corner off a throw-in. Mustering more strong chances, Jesuit, however, was not able to put them into the back of the net. With resilient defending, Prosper was able to hold on and keep their 1-0 lead coming into the second half.
Senior defender Dakota Schau commented, "It was a hard-fought game in both quarters, but there were a few mistakes which ultimately cost us the game."
Allen (February 28, 2020)
Jesuit celebrated its Senior Night before their next game against Plano and games over Spring Break. The crowd was massive and boisterous, and so the Rangers were hyped to play behind the highly-supportive crowd. The first half was roughly even, as both teams mustered a couple of chances, but nothing too spectacular. The Rangers kept up their intensity at the start of the second half, producing a penalty kick calmly slotted in the net by Benton Bacile. However, Allen produced a quick response, scoring two minutes later off a cross from a free-kick to the back post.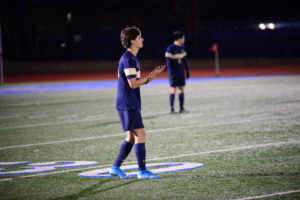 The Eagles were able to score again off a long ball forward, Allen regaining the lead. The goal and the offside controversy around it seemed to distract the team, as the Rangers kind of lost momentum, unable to create a really good chance. At the end of February, Jesuit is in 6th place, still in the playoff race.
Spectator Julian Garcia '21 enjoyed watching the game, remarking, "The game, in my opinion, was just as energetic and fun as the football games. Even though there weren't as many people as a regular football game, the atmosphere in the stadium under Friday Night Lights was exhilarating. It was a very fun night."
Stay tuned to The Roundup for more coverage of Jesuit soccer!