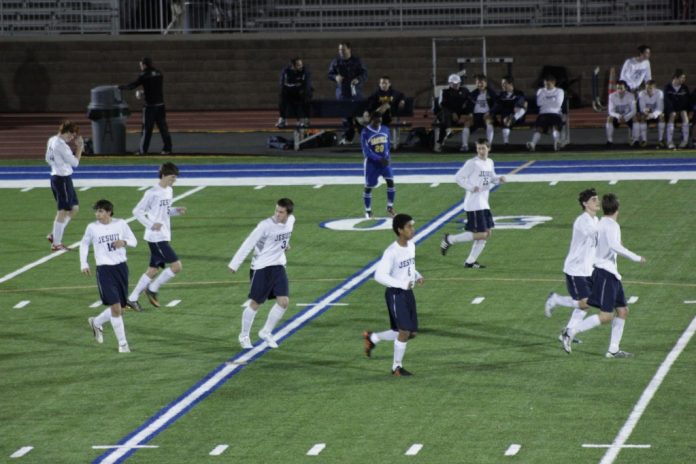 Since school began this August, members of the 2011-2012 Jesuit soccer teams have been practicing hard every morning in hopes of another successful season. Though cuts have not been made yet, the teams are beginning to form in Coach Charlie DeLong's eyes.
After the graduation of a very talented senior class last year, current seniors like Dalton Eudy will need to step up and lead the young Varsity team. There is a good chance that many players from the talented sophomore class will be on Varsity this year, so this year's team will certainly be younger and less experienced than most years' teams.
However, returning Varsity midfielder Chris Mathis '13 sees high underclassmen numbers on Varsity as an advantage. Said Mathis: "Having a younger team is a very good thing. Sophomores have two more years and juniors have one, so both can get experience from the previous season and apply it to the next. If we don't get the desired result this year, we will work harder and learn from our mistakes next year."
Because it is the second year of the same district, the Jesuit soccer team will certainly know what to expect. Many of the Dallas public schools that Jesuit faced last year were not as talented as the previous district's teams, but Jesuit is still working hard to pursue the goal of winning district and make the playoffs. "As long as we play good soccer, and don't get beaten by the size of some of the older teams we should be fine," defender Lane Acosta '12 remarked. "The talent we are bringing this year should be good enough to keep us competitive."
Last year's Junior Varsity team finished first in district with only three losses on the season, so the new energy and talent transferring to Varsity is expected to be very beneficial. There is much speculation about this year's Junior Varsity team, partly because of the Academy League. Academy is an elite select league for players truly devoted to soccer that many Jesuit athletes compete in. If a player decides to play Academy soccer, he is not allowed to play for the school.
Many sophomores who played for the freshman team last year are planning on playing Academy this year, so there are fewer returning sophomores practicing with JV. That being said, the JV prospects who practice every morning during first period are working hard, trying to push themselves and others to get better.
Both Jesuit teams will continue to train hard this offseason with high expectations for this winter. Alex Reinkemeyer '12 summed up his plans for this year: "Have fun, win some games, and win state."