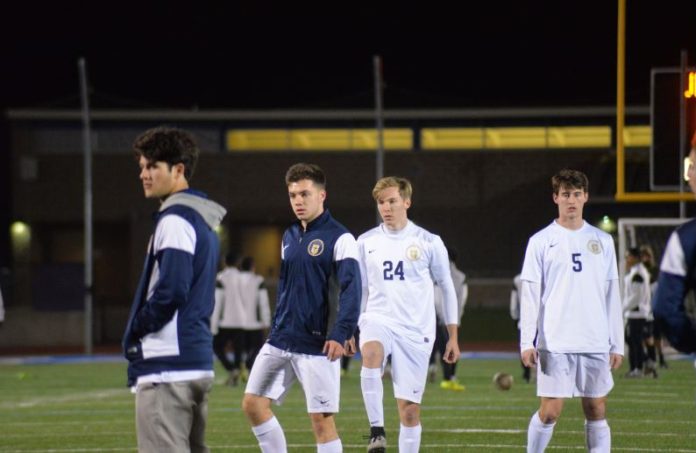 On February 13th the Rangers played a tough Lake Highlands team, with the hope of continuing a winning streak.
Lake Highlands and Jesuit played very defensive first halves. Jesuit had small bursts at the goal but was quickly turned around by a powerful Lake Highlands defense. Likewise, Lake Highlands would turn the ball over to Jesuit whenever they attempted to score.
Jesuit varsity soccer sat nil-nil halfway through the 1st half against Lake Highlands. Despite equal possessions by both teams no opportunities to score were completed.
However, out of nowhere a Lake Highlands striker slipped past the Jesuit defense and scored, making the game 1-0.
The Rangers trailed Lake Highlands 1-0 at the half. There were some great possessions and precise passing by the team but they lacked the creativity to take it to the goal in the first half. Hopefully, that great Jesuit grit would emerge to help them take this victory.
Early in the second half Joe Banul '18 showed this grit as he made a fingertip save early in second half to keep the Rangers at 1 down. This remarkable save showed Banul's skill in soccer, and this skill will take him to college next year
The shootout then took place near the end of the game. The Rangers outshot the Lake Highlands Wildcats 15-9 but couldn't find the goal. Thus, Jesuit ended on the wrong side of a 1-0 game.
JP Koshaji '18 recounted how this was a "tough game," but said, "we'll get them next time."
I had the pleasure of interviewing an avid Lake Highlands Wildcat Soccer player, Senior Cityboy Peng. A close friend, he told me that "winning against the Rangers sucked," because "they played great defense and made passing difficult." These comments reveal how the Rangers strong teamwork always shines through.
Overall, it was a great game for the Rangers, showing their teamwork despite their loss.
Photography by Daniel Nguyen '18