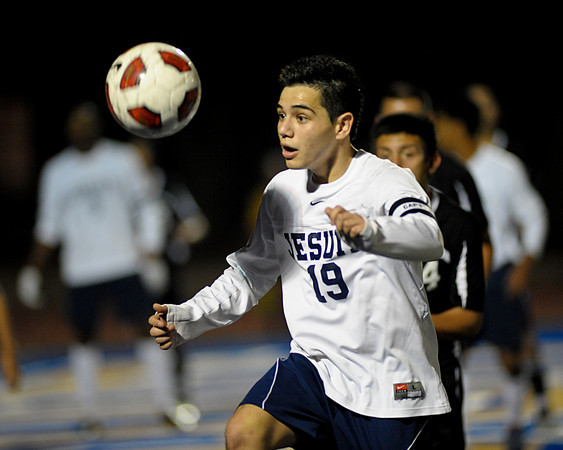 On Tuesday, February 28th, Jesuit welcomes Richardson Berkner to Haggar Stadium in a district championship game with state and national implications. Tanner Davis '13 described the Berkner Rams as an "extremely competitive team in our district" that "will really challenge and test our team to see if we have what it takes to make it all the way to state."
The 2011-2012 soccer season for the Jesuit Rangers began with questions from the returning members like, "How can we get better to go further than two rounds into the playoffs?" Questions came from the coach Charlie DeLong such as, "How do I mold a team with 10 seniors, 6 juniors, and 6 sophomores into a winning team?"
Questions also came from the new members of the squad, who wondered, "How do I fit in and find my place in the team while trying to perform at my best?" Finally, questions arose from the student body, faculty, and Ranger fans, who asked, "Can this team demand my attention like the teams before it have?"
The Rangers answered these questions with resounding wins in two tournaments, the Jesuit-Meinster Tournament and the Duncanville Kickoff Classic.  In both of these prestigious tournaments, Jesuit faced highly skilled teams such as Marcus, Southlake Carroll, Midlothian, and North Mesquite.  The Rangers won every game, undoubtedly winning both tournaments.
Berkner began their season equally as well, shooting into the National spotlight after beating the 2011 Texas State Champions, Southlake Carroll.
Jesuit met the Rams for the first time on February 3 at Richardson Berkner. The Rams came out with a high level of intensity and after a quick goal in the first half, Berkner edged Jesuit 1-0 and thus remained unbeaten in all competitions while Jesuit's record fell to 7-1.
This week Jesuit has a chance for revenge and redemption, and it can't come at a better time.  Coach Charlie DeLong hits his 500th game as head coach of the Jesuit soccer team on Tuesday. According to Tanner Coffin '12, "It's going take all our efforts as a team to win this game. We need everyone to play their hearts out and play as a team in this big game to have a chance of winning number five hundred for Coach."
Kickoff is at 7:30 P.M. at Haggar Stadium.  All are encouraged to come and watch this epic battle between two highly skilled, highly coached, and highly ranked teams.
Follow @jesuitsoccer on Twitter for updates during and after games as well as the latest district, state, and national rankings concerning Jesuit.