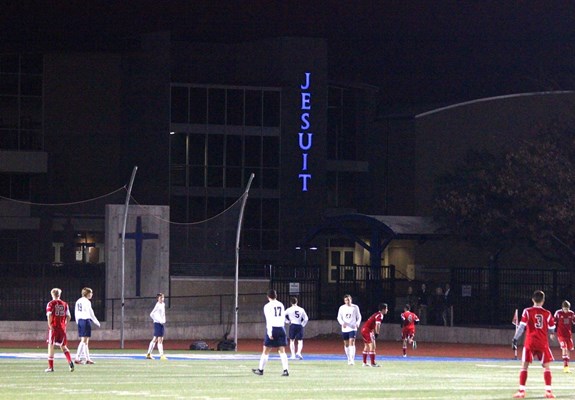 The Jesuit Rangers soccer team line up in formation, awaiting the opening of the game. The team captain meets at mid-field with a member of the opposing team, ready to fight for the ball. Slowly, the referee lifts the whistle to his mouth, as a wave of silence is erupted by the sudden blow of the whistle, signaling the beginning of the game.
This was the scene on January 14-16 as the Jesuit soccer team continued their season competing well in the Duncanville tournament. Jesuit went 1-1-1 in the tournament, playing some very tough competition and adding to their new season record at 4-1-1. However, Jesuit's defense and goalkeeping remain stellar allowing only one point over the course of all three games, contributing to their first loss of the season against El Paso.
Jesuit soccer started off the tournament well maintaining the momentum of the season and getting a big 1-0 win against Irving Nimitz on the first day of tournament play. Luke Ostrander '17 posted his 4th consecutive shutout of the season, with the help of stellar play from the Jesuit defense to keep the Vikings quiet all night. Jesuit's big break came in the 29th minute when Liam Finn '16 netted a huge goal with the help of Will Kennard '17 who came through with the assist. Kennard commented on the game saying, "We just really came together and played well, the whole team really contributed big to the win."
Unfortunately, the winning streak would end in the next game as Jesuit lost a heart throbbing match 0-1 against El Paso. The match was back in forth all game with strong play from the Rangers, but El Paso managed to pull out the victory with a goal in the last 20 minutes game. Although the ending was disappointing, the Jesuit players held their heads high, as Ethan Moore '17 noted: "We gave it our all, but it just didn't fall our way."
Finally, the Jesuit soccer team wrapped up the tournament with a 0-0 tie in a hotly contested match against Duncanville. The defense continued to stand to stop the Panthers from ever really getting their offense going. The Jesuit offense was able to muster multiple great shots including two goals that were waved off for offsides calls. Overall, the match ended with no score as the two teams fought their hardest. Looking forward to the rest of the season, though, Midfielder Chase Burciaga '17 remarked: "The soccer team will only get better from here."
Make sure to congratulate members of the soccer team as they continue on their great season. Their next game will be played against Skyline this Friday, January 29 at Postell Stadium!