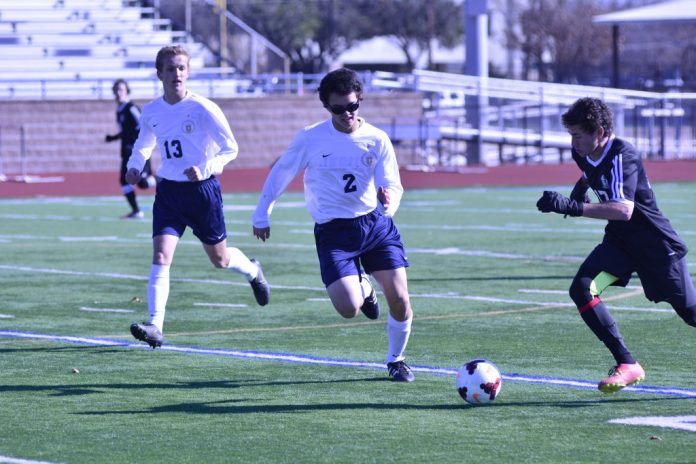 Three weekends ago, the Jesuit varsity soccer team participated in a round-robin tournament in Duncanville, Texas at Old Panther Stadium. With six teams participating, Jesuit went into the tournament with a rather good chance of winning it all.
A two bracket competition, the tournament ran on a 10-point system based off of record and goal differential. The six schools that participated in the tournament were: Jesuit, Grapevine, Molina, Duncanville, Irving, and Irving Nimitz.
Jesuit's first game was a hard fought battle against Grapevine. With Jesuit up 1-0 at halftime off of a goal by Will Kennard '17, Grapevine quickly answered to tie the game. Shortly after the Grapevine goal, Juan Ramirez '15 scored to put Jesuit back in front. Approaching the final minutes of the game, Grapevine was fouled in the box, resulting in a penalty kick goal that tied the game at 2-2. This was sadly the final score, a 2-2 draw in what should have been a win for Jesuit according to forward Patrick Howell '16: "It was a close game all throughout but we had the lead twice and gave it up twice; We should have won that one."
The second game was against Molina, which turned out to be a much easier matchup than the Rangers expected. As Jesuit pulled ahead of Molina early, it seemed like they were capable of scoring at will. Scorers included Nathan Escanuela '16, Liam Finn '16, Will Kennard '17, and Aldo Quevedo '17, who put two in for Jesuit. The varsity squad played with top-notch teamwork and seemed to breeze by Molina to finish the game with a 5-0 win. When asked about the team's performance, junior defender Griffin Scott '16 simply stated, "I'm just here so I won't get fined." He later went on to mention the positive play that occurred throughout the game, and how such experience will act as a building block towards the team's ultimate goal.
To conclude the tournament, the Jesuit varsity team fell 3-1 to a very difficult Duncanville team. With six players unable to play due to injury, Jesuit quickly dropped 2-0 against Duncanville at halftime. Shortly after the second half started, Quevedo scored a header on an assist from Howell to put the Rangers on the scoreboard. Around 10 minutes after the goal from Aldo, Duncanville pocketed another goal to take the lead at 3-1. Neither team ended up scoring again and the game ended in a disappointing 3-1 loss. When asked about the tough loss, Pryor Miller '16 said "We came into the game tired from our last two and worked hard for the first 25 minutes. Our quality dropped off after that and we just didn't have it in us to get the 3 goals back."
The Rangers finished the tournament with a 1-1-1 record and a total of four points. Coach DeLong, who has been the varsity soccer coach for 35 years, gave his thoughts on this year's varsity soccer team: "We have a great group of guys out there this year, and they're one of the hardest working teams I've ever had. They are consistently working hard in practice. They give it their all when they're out there on the field."
Jesuit will meet Irving Nimitz at Postell Stadium on Friday, February 6th. Come support the varsity team!