Video by Jacob Tonah '18, Media Editor
Whether you have heard of him or not, Reggie Stephens has marked Jesuit history by becoming an inductee into the Jesuit Sports Hall of Fame. The Roundup had a chance to sit down with Reggie and ask about his outstanding athletic career.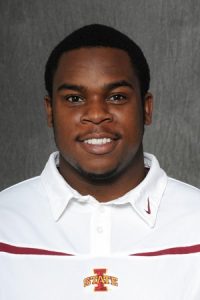 A Dallas native, Stephens entered Jesuit College Prep in 2001 and later graduated with an opportunity to play college football at Iowa State University. After college, Reggie was drafted in the 7th round of the 2010 NFL Draft by the Cincinnati Bengals and later played with the Chicago Bears, the Buffalo Bills, and with the Baltimore Ravens.
In his four years at Jesuit, Reggie tried hard to balance his athletic life with his academic life, keeping his head in the game as well as the classroom. Reggie was not only known for being a star in Football, but was also great at playing for Jesuit's Basketball team. Reggie was very passionate about Football, which reflected in his stellar performance. Robert Wunderlick, a renown Jesuit alumni, said that Reggie "was on the varsity football team for three years and committed himself to the weight room and playing on the field every day." Reggie was always on top of it in athletics and his work ethic continued on with him all the way to Iowa State.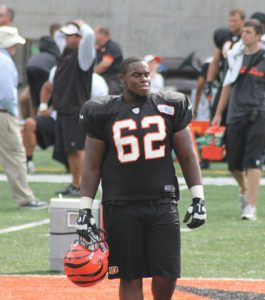 Particularly in his Academic career, Reggie recalled that his parents were very strict with grades and told him that nothing below a 90 was acceptable. Schoolwork was always a priority for his parents as they reminded him that even with his great talent for football, he could not let his academic life slip away. According to him, not only did Jesuit help him become the star athlete he always was since high school, but also excel academically in college thanks to the great teachers that supported him along his four years at Jesuit. Innately driven to be well rounded both academically and athletically in Jesuit, his great work in extracurriculars at Jesuit boosted his want to be Open to Growth. He spent a lot of his time working in PALS,  Big Brothers, and other service-oriented activities that shaped him into a visible model for the profile of the graduate. Even with the college coaches pressuring him to play at his, Reggie worked hard in keeping his fundamental Jesuit integrity from slipping away. Besides his family helping him along his way, Reggie credits all his coaches especially Coach Wunderlick and Coach Hickman in strongly shaping him into an athlete that stands by his other teammates in the motto of "Men for Others." He also greatly credits his math teacher, Coach Perry for supporting and helping him finish his academic year smoothly.
Special night at the Jesuit Sports HOF celebrating the great Reggie Stephens. It was a true honor to be asked to put on his blue coat. pic.twitter.com/ufuDrWH6dn

— Brandon Hickman (@CoachBHickman) April 30, 2017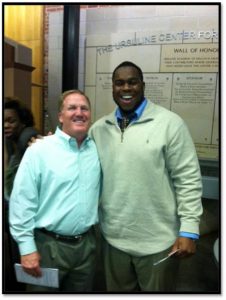 Mr. Stephens believes that looking at the different profiles of the graduate has been a big part in forming what he has become today. From a very early age, Reggie has put those beliefs and core values of love and selflessness as the course for his life. His belief in the Jesuit motto has made him stay part of the greater Jesuit Community. Coach Wunderlick had to comment that "Reggie kind soul and friendliness to everyone has made strive as a husband, father, and friend and a real class act."
Stay tuned to The Roundup for more coverage on Jesuit Alumni and Hall of Fame Inductees!